An ordinary looking pen was confiscated from a passenger at Dulles Airport by Transportation Security Administration (TSA) agents after it turned out the innocuous item wasn't as harmless as it seemed.
The black pen was picked up by security at the Virginia airport when an agent realized it wasn't a normal pen, and instead could pose a threat to security.
On August 28, routine checks revealed that the pen was actually a disguised stun gun in a woman's carry-on bag.
"We use Computed Tomography (CT) 3D, X-ray scanning equipment to enhance threat-detection capabilities for carry-on baggage," Daniel D. Velez, a spokesman for TSA, told Newsweek.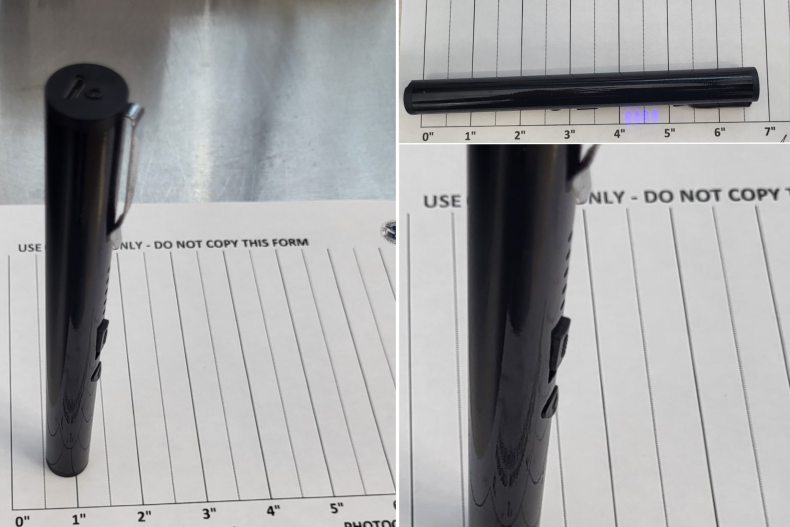 "The CT technology applies sophisticated algorithms for the detection of explosives and other threats by creating a 3D image that can be viewed and rotated 360 degrees for a thorough analysis."
As part of this routine detection, the pen/stun gun was identified and removed from the luggage.
A stun gun pen is a self-defense tool that combines the appearance of a regular pen with the functionality of a stun gun. A discreet invention designed to be easy to carry and allow people to defend themselves in dangerous situations.
Hidden in the casing of a pen, an electrical component allows the user to deliver a low-current electric shock to an attacker.
The legality of stun gun pens varies across the U.S. and while they may be legal to possess and use in some places, they are heavily regulated and even prohibited in others.
In Virginia, it is legal to own a stun gun with a permit, but you must be aged 18 years or older and convicted felons are prohibited from owning or carrying them.
There are, however, restrictions on where you can carry them. It is illegal to carry a stun gun or taser on a school property, in a courthouse or in certain government buildings. It is also illegal to carry them on private property if the owner has explicitly banned them.
They can also only be used in self-defense or in defense of another person. Using the devices for other purposes is always illegal.
Velez told Newsweek: "TSA officers detect hundreds of prohibited items a day and it's not uncommon to see a stun gun in a passenger's bag, although pen stun guns are a minor portion of the stun guns we detect."
Stun guns are not allowed in carry-on bags on aircrafts and must be packed in a passenger's checked bag when traveling.
This isn't the first time a pen has been confiscated by TSA agents. Earlier this year, a Sharpie was caught at an Alabama airport when an agent spotted the sinister secret it was hiding that could turn it into a weapon.