Can Ted Cruz's Presidential Ambitions Survive His 'French Laundry' Moment?
Texas Senator Ted Cruz is already at the bottom of the list of potential 2024 presidential contenders and while his recent travel to Cancun, Mexico, might not be a fatal blow to thoughts of mounting a run, it's a problem Cruz can't really afford to have.
A day after Cruz advised Texans to stay home because the risk of venturing out wasn't worth it, he boarded a flight out of Texas. Leaving the state as his constituents remained without water, power or heat amid freezing temperatures sparked a flurry of criticism and the controversy is likely to follow him to a 2024 campaign, potentially hurting his already slim chances.
"It has the potential to really damage the campaign and Democrats will be dragging him for this as long as he can," Gianno Caldwell, a political analyst and host of Outloud With Gianno Caldwell, told Newsweek. "People are freezing and needing help and that's when you need to stand up and be the hero."
Social media has made it nearly impossible for public figures to move about undetected and photos of Cruz at a Houston airport on Wednesday were met with swift condemnation. At first, Cruz offered an explanation that he was trying to be a "good dad" by acquiescing to his daughters' request that they join their friends on a vacation.
He later told reporters that it was "obviously a mistake" that "in hindsight" he wouldn't have done.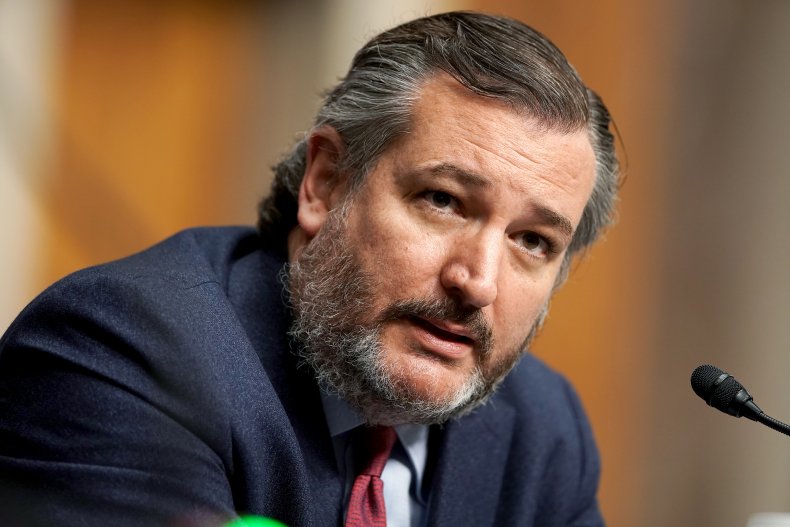 Texas GOP Chair Allen West told the Associated Press the trip is something Cruz will have to answer to his constituents about and a recent poll from Morning Consult found his support was dropping even before the trip.
Cruz's trip sparked comparisons to California Governor Gavin Newsom's French Laundry controversy. Newsom faced heavy criticism for attending a dinner party as he urged people to stay home and avoid social gatherings. Some also targeted him for violating his own indoor dining rules, although Newsom categorized the dinner, which was held in a space that was enclosed on three sides, as being outdoors.
Time has done little to dissipate the criticism, which reignited a recall effort, and Newsom's seen his approval rating drop, although he still maintains majority support from Democrats. However, in the event of a recall vote or the looming 2022 election, Newsom will have to answer to all voters, regardless of party and his 52 percent approval rating puts him in a precarious position.
While Cruz also still has majority support from Texas Republicans, his current chances at the presidency are low. Former President Donald Trump has emerged as the top 2024 presidential contender among Republicans, at 54 percent, followed by former Vice President Mike Pence at 12 percent, according to a Morning Consult poll released on Tuesday.
On the bottom of the list, is Cruz, at just 3 percent, a decline from the 6 percent he had at the beginning of January.
Jeff Timmer, former executive director of the Michigan Republican Party and senior adviser to the Lincoln Project and outspoken critic of Cruz, called the trip "tone-deaf." Despite having "loyal disciples," he said Cruz's chance to become president has passed and without residual support from his 2016 campaign, Timmer didn't see Cruz having the ability to get close in 2024.
"Politicians can fix gaffes and mistakes, but there's gotta be something in their personality that's big enough to overcome this," Timmer said.
The presidential election is still a few years off and Cruz hasn't announced he's going to mount a campaign. But, Caldwell didn't see Cruz as having a good chance at being a successful candidate before the controversy and while people can have short memories, Democrats aren't likely to let Cruz—or voters—forget this.