Can Trump Deploy Military to Mexico Border? President Vows 'Taking Strong Action' Again
After promising to deploy America's military to the U.S.-Mexico border, President Donald Trump said he will be taking "strong action" on the issue early Wednesday.
"We are preparing for the military to secure our border between Mexico and the United States," the president said during a press conference with eastern European leaders Tuesday.
Trump said he would meet later in the day with Defense Secretary James Mattis. Trump vowed that "until we can have a wall and proper security, we're going to be guarding our border with the military."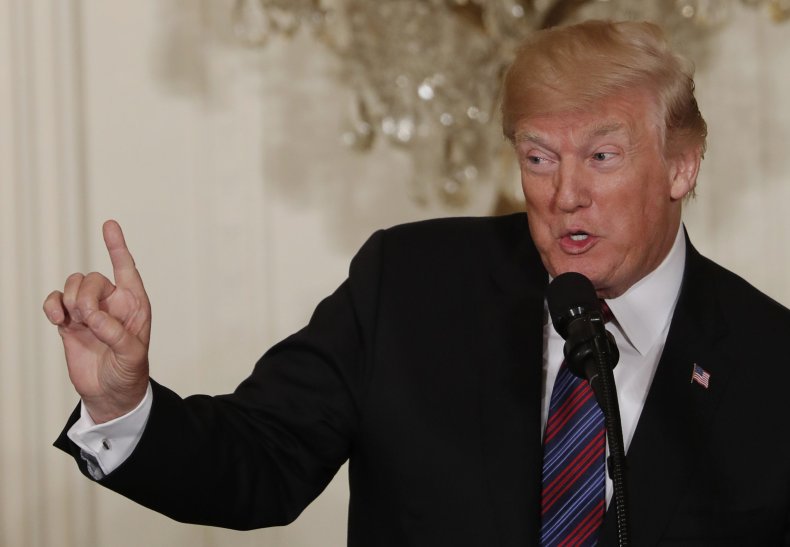 Early Wednesday Trump took to Twitter to announce: "we will be taking strong action today." Trump has been frustrated by his administration's failure to fulfill one of his signature campaign promises: to build a wall on the border and have Mexico pay for it.
Yet Trump cannot deploy active-duty military forces inside the U.S. to enforce the law unless Congress approves, say experts.
"I think the president was confused and doesn't know the difference between the National Guard bureau, which serves under Governors, and, of course, active military, which serves under him," said Juliette Kayyem, former Assistant Secretary of Homeland Security for Intergovernmental Affairs, during an appearance on CNN Tuesday.
The National Guard—reservists for the U.S. Armed Forces—are dually controlled by their respective states and the federal government. Some 1,200 members of the National Guard were deployed on the southern border during the Obama administration and 6,000 were deployed under President George W. Bush to help law enforcement.
Read more: Migrant caravan stopped well before Trump's promise to militarize U.S. border
Kayymen said that if Trump planned to deploy the U.S. military on Mexico's side of the border, it could be seen as an invasion. "We cannot use the active military for law enforcement purposes," she added.
During the same segment, Steve Cortes, a former Trump campaign adviser, said Trump is merely defending the border from a caravan of illegal immigrants coming up from Mexico.
Trump tweeted Tuesday that the caravan of people from Honduras is on its way to the U.S. The group's leaders say they are headed to the city of Puebla outside of Mexico City.
"Our Border Laws are very weak while those of Mexico & Canada are very strong," Trump wrote in his tweet Wednesday. Yet many immigrants to the U.S. have fled across Canada's border during Trump's presidency and claimed asylum there. Trump has often cited a skills-based immigration program like Canada's as a touchstone for reforms he plans to make in the U.S.
Fewer people have been crossing into the U.S. illegally during the Trump administration and there has been a 40 percent reduction in the number of those caught, statistics show—even without the wall.
Trump, however, has been frustrated by his failure to get more money to build the wall on the U.S.-Mexico border he promised his supporters during the 2016 election. Last month's $1.3 trillion omnibus budget bill gave him just $1.6 billion out of the $18 billion he requested for the project.
The president has tried to use preservation of the DACA immigration program as leverage to secure more money from Democrats for the project. He also reportedly said the military could pay for the wall with some of its budget increase.
"Congress must change these Obama era, and other, laws NOW! The Democrats stand in our way—they want people to pour into our country unchecked....CRIME!" the president followed up in his Tweet Wednesday.