Can Trump and Putin Prevent War With Kim Jong Un? Russia Says It's 'Highly Likely' They'll Meet in Vietnam
U.S. President Donald Trump and Russian President Vladimir Putin are "highly likely" to meet on the sidelines of an economic summit in Vietnam to discuss an array of issues, including how to deal with North Korea, Kremlin spokesman Dmitry Peskov said Wednesday.
Trump and Putin have been flirting with the notion of meeting for some time, and on Wednesday Russia's foreign minister, Sergei Lavrov, seemed to confirm this would occur, The Moscow Times reports.
Meanwhile, Kremlin aide Yuri Ushakov also told reporters on Wednesday: "It's entirely logical that [Trump and Putin] will shake hands, that they will discuss certain issues.
"We are also ready to hold a separate, exhaustive bilateral meeting. The time frame for such a separate meeting has not been agreed upon, but the possibility is being assessed," Ushakov added.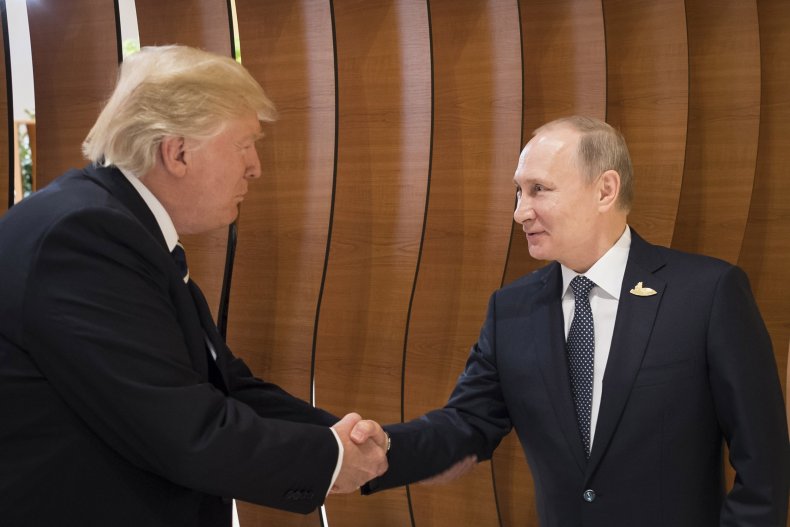 On Sunday, Trump told reporters he "will want Putin's help" in addressing the North Korean nuclear threat. Russia is not an ally of Kim Jong Un's regime, but it does have leverage as an important trading partner and because it's a powerful nation that shares a border with North Korea.
Trump was in China on Wednesday after visiting Japan and South Korea as part of a 12-day trip across Asia. During his visit, the president hoped to convince Chinese President Xi Jinping to put more pressure on Pyongyang to back away from its nuclear program and cease its testing of long-range missiles. China is North Korea's top trading partner and most important ally. Beijing also has close ties to Moscow, and Trump hopes to take advantage of this when it comes to approaching Pyongyang.
"North Korea is a worldwide threat that requires worldwide action," Trump said during a press conference in the South Korean capital on Tuesday. Trump contended that Kim Jong Un is "threatening millions and millions of lives so needlessly" and that "it's time to act with urgency and with great determination."
"If we get China, we get Russia," Trump added. "We think that things will happen and they could happen very quickly."
Trump has issued a number of bombastic threats toward North Korea in recent months, but has been somewhat toned down on the subject and seemingly more open to diplomacy during his Asia trip. "It really makes sense for North Korea to come to the table and make a deal that is good for the people of North Korea and the people of the world," he said at Tuesday's press conference in Seoul.
During an address in front of South Korea's National Assembly in Seoul on Wednesday, Trump said: "We call on every nation—including China and Russia—to fully implement U.N. Security Council resolutions, downgrade diplomatic relations with the regime and sever all ties of trade and technology."
"It is our responsibility and our duty to confront this danger together," Trump added. "Because the longer we wait the greater the danger grows and the fewer the options become."
Trump did warn Pyongyang to not "underestimate" the U.S., but this part of his speech was not nearly as provocative as his threat issued during his address to the United Nations in late September, when he said the U.S. would "totally destroy" North Korea.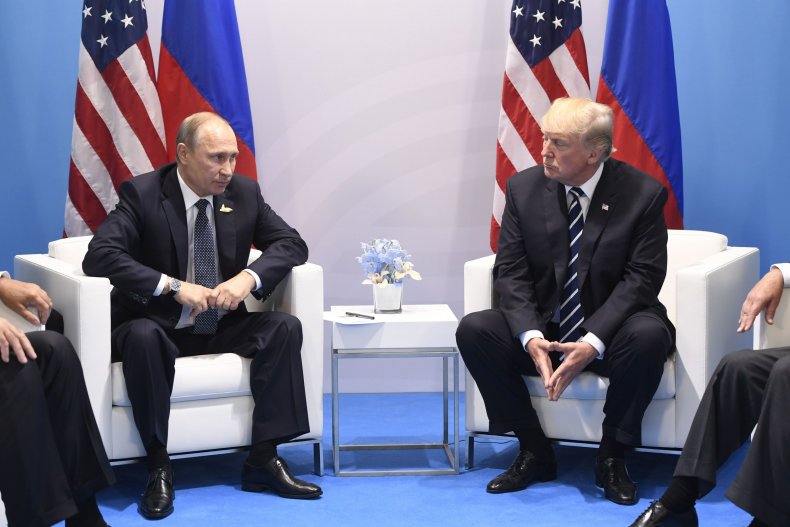 Trump and Putin also have much to discuss in terms of U.S. and Russian involvement in the conflict in Syria, as well as ongoing hostilities in eastern Ukraine. Secretary of State Rex Tillerson, who's long had close ties to Russia, believes Putin—an ally of Syrian President Bashar al-Assad—has an important role to play in bringing stability to Syria.
But any contact between the two remains controversial amid the investigation into the Trump campaign's alleged collusion with Russian during the U.S. presidential election. Some of Trump's aides have reportedly pushed against the idea of him meeting with Putin. There have been many developments domestically that have thrust the investigation into the national spotlight. While the Asia trip had the potential to distract from that, it could achieve the exact opposite if Trump meets with Putin.