Can Trump Recover His Neo-Nazi-Tainted Brand?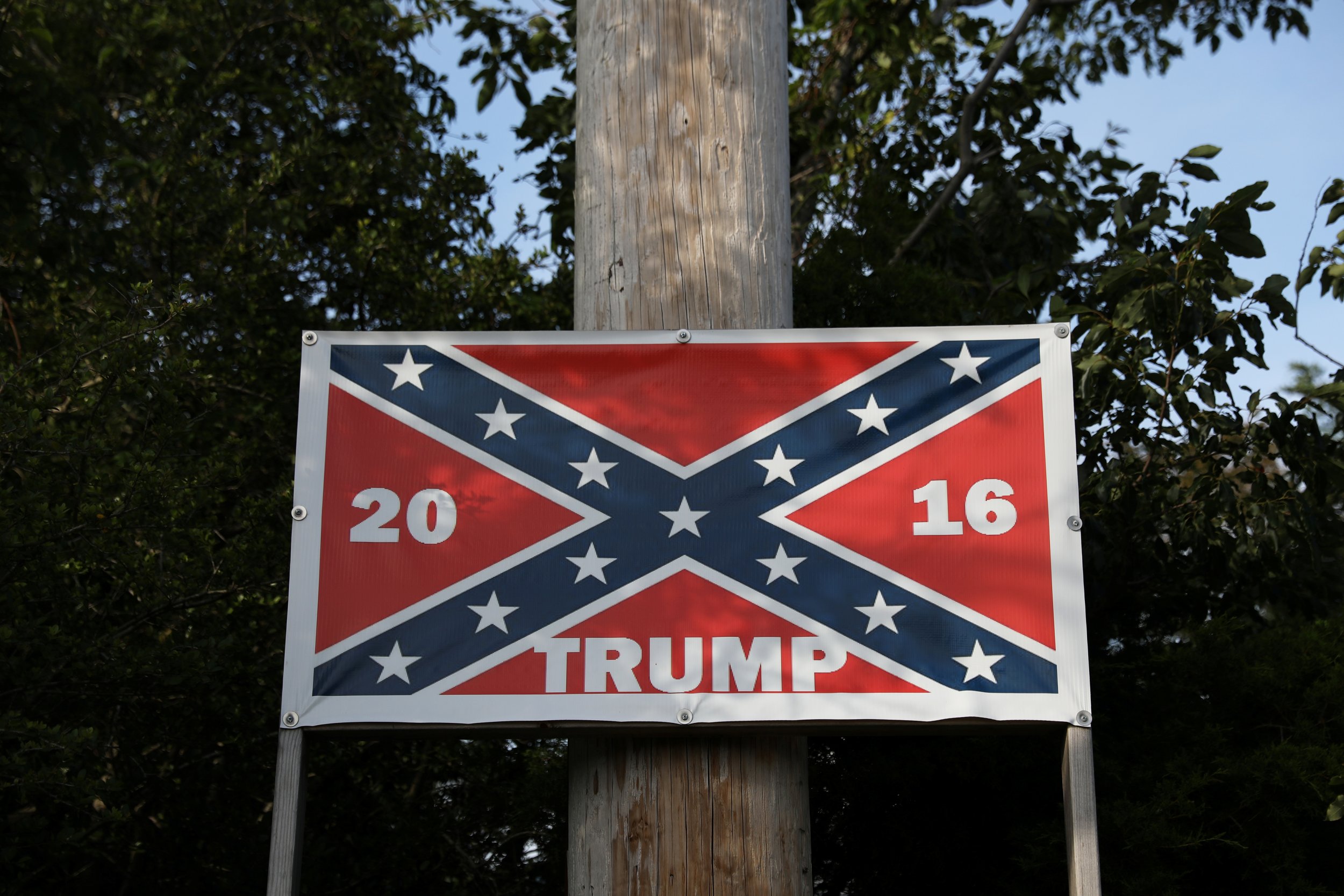 President Donald Trump's brand is one of his most—if not the most—precious possessions. He puts his name on everything: Trump steaks, Trump golf, Trump hotels, Trump condos, Trump ties and the failed Trump University.
Some of these products have been complete flops. But he's recovered from each one, galvanizing his image with The Apprentice reality show. It's difficult, however, to continue trading on a brand if it's been irreparably tainted.
The fallout from Trump's comments this week equating the white supremacists and neo-Nazis who marched in Charlottesville, Virginia, with those who opposed them marks a turning point for the president's commercial and political brands, which have become intertwined, branding experts say.
It remains to be seen, they say, whether Trump can recover. Still, he did, after all, box his way out of bankruptcy.
"I think it's going to frame him historically as aligned with these fringe groups that are not consistent with the character of America," Eric Schiffer, CEO of Reputation Management Consultants, tells Newsweek.
But in the moment, politically, "I think what you're left with is this almost radioactive component to him that is low grade. It's dirty-bomb level. We'll have to see how long the fallout will be on that," Schiffer says.
On Thursday, The Washington Post reported that three large charities, including the American Cancer Society, pulled their gala fundraising events from Trump's Mar-a-Lago resort in Florida. Similar-sized events have brought in $100,000 and $275,000 each. Membership at the golf club now runs at $200,000 a head after prices were hiked early this year.
"People are not going to want to have any association" with the Trump name if he continues to align himself with hard-right groups, says Schiffer. "It's like knowing your neighbor is suddenly a Nazi. You're not going to want to publicly hang out there because of the taint."
Related: U.S. authorities consider shutting down hard-right rallies after Charlottesville
On Wednesday, dozens of CEOs from some of America's largest companies—including Intel, 3M, Johnson & Johnson, JPMorgan Chase, U.S. Steel and Under Armour—abandoned Trump's Manufacturing Council and Strategy and Policy Forum. These business leaders were supposed to drive Trump's pro-jobs agenda.
Their exit followed Trump's explosive press conference Tuesday, in which he said there were some "very fine" people marching among the neo-Nazis and his public chiding of Ken Frazier, CEO of drugmaker Merck, who quit the Manufacturing Council.
"As CEO of Merck, and as a matter of personal conscience, I feel a responsibility to take a stand against intolerance and extremism," Frazier said in a statement after Trump's tepid condemnation of white supremacists.
Trump's response, condemning violence and bigotry "on both sides," followed the death last weekend of counterprotester Heather Heyer after she was rammed by a car that police said was driven by one of the white nationalist marchers. The attack injured 19 others.
"For the vast majority of Americans, there is a defined boundary between backlash to political correctness and overt hatred," Paul Marcum, president of the marketing agency Truffle Pig, told Business Insider. "Charlottesville revealed that boundary—and the president's response missed that distinction and ended up on the wrong side of that boundary."
Social media analytics company Brandwatch has measured sentiment online, and Under Armour and Intel even got a brand boost for standing up to the president.
On Thursday, Trump doubled down on his comments, tweeting that people who marched with neo-Nazis just wanted to protect "our beautiful statues and monuments." The march was ostensibly organized around a push to remove Charlottesville's statue of Confederate General Robert E. Lee.
"This is the first big post-presidential urgent warning to brand Trump," says Schiffer, who recalled that Trump's hotels and properties were down before the inauguration and received a boost from the glow of the presidency.
In early August, just days before the Charlottesville rally, The Washington Post revealed that the Trump International Hotel in Washington, D.C., has turned an impressive $2 million profit in the first months of 2017. These are impressive numbers for a hotel in its first year. Yet after Trump's comments, people could begin avoiding the Trump brand.
"A number of people" on Wall Street have phoned up Trump's chief economic adviser, Gary Cohn, including members of his former employer, Goldman Sachs, and recommended he resign to protect his reputation, said CNBC's Andrew Ross Sorkin Thursday. Cohn, who is Jewish, has reportedly been made squeamish by Trump's comments.
Trump has also lashed out at senior Republicans in the Senate, like Lindsey Graham, John McCain and Jeff Flake, who have criticized his response to the Charlottesville violence. Republicans are deeply anxious that Trump is ruining their party's brand, according to a McClatchy report this week.
Schiffer predicts that Trump's approval rating will sink further, to 31 percent, for his handling of Charlottesville. "To many moderates and Republicans that consider themselves more moderate in nature, this was a strike at the jugular of the president's brand," he says.
Trump will attempt to clean things up because the commercial fortunes of the Trump Organization are a "big underlying force for him," Schiffer predicts, since "you can follow the dotted line on the Trump business brand" and his daughter Ivanka Trump's fashion line and home products.
"But legislatively, this has been a steak through the heart of their agenda for this year," he says.