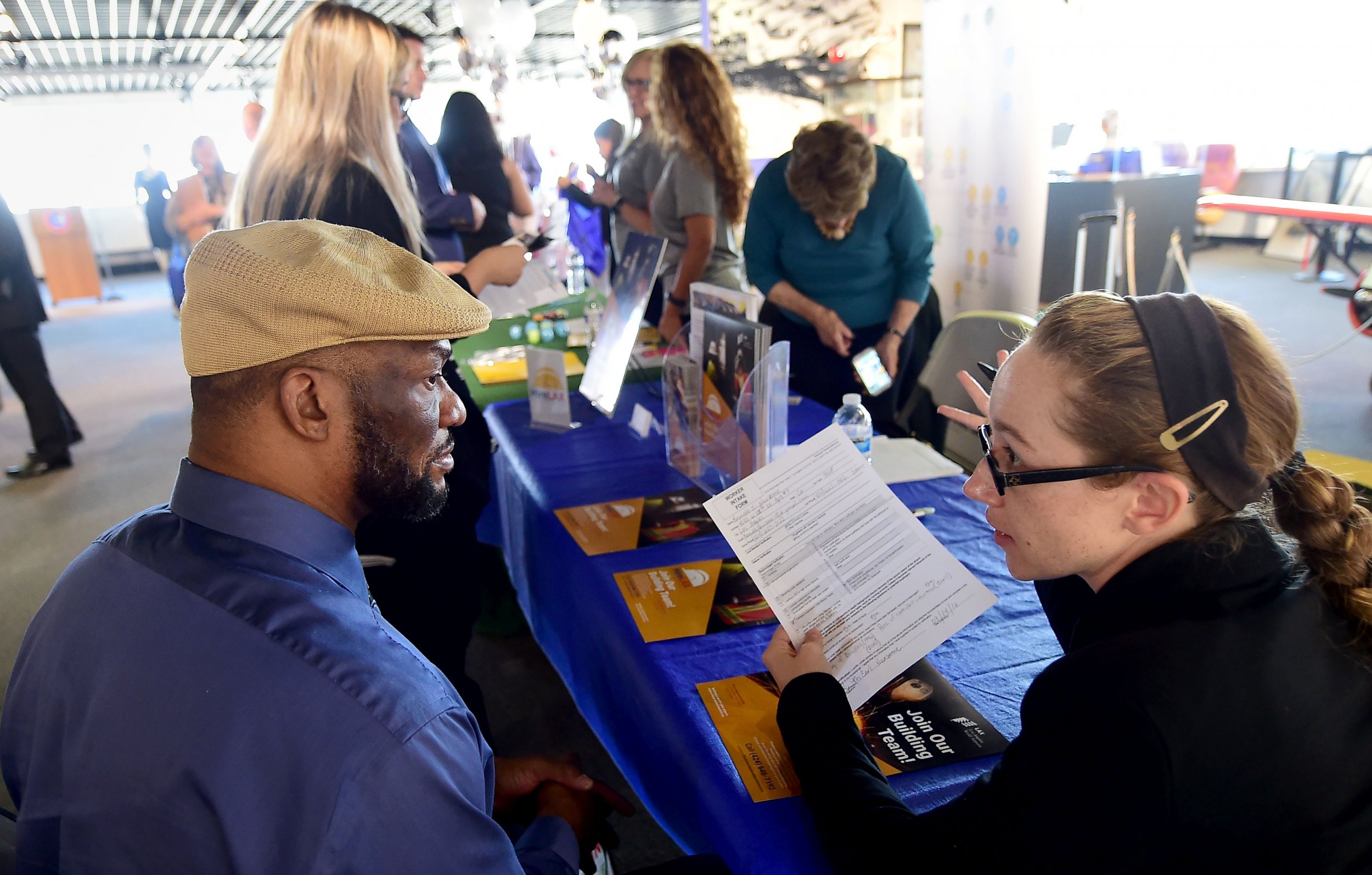 The unemployment rate for black Americans has reached an all-time record low under President Donald Trump and experts are debating whether the current president can take credit for the feat.
The black unemployment rate reached 6.8 percent in December—the lowest it has hit since the early 1970s when the U.S. Labor Department first began keeping track of the data. Some economists say it signals that the economy is headed in the right direction but they're not willing to give the current president any credit.
In fact, economists like Valerie Wilson, director of the program on Race, Ethnicity and the Economy at the Economic Policy Institute told Newsweek that the decline can be attributed to the financial recovery process moving forward since the recession under former President Barack Obama and low federal interest rates—and not Trump.
"Recovery was well underway before he came into office," she said. "All he had to do was not do anything to reverse the process."
The unemployment rate for black Americans has never dropped below 7 percent until now. In 2010 during the recession, the rate hit 16.8 percent but it has continued to decrease since. Furthermore, experts also attribute an increase in educational attainment. Brendan O'Flaherty, Columbia University professor of economics, told Newsweek that the labor force is considerably better educated today.
"One of the big things under Obama was that the black high school completion rate went up," he said. "Black kids stayed longer in high school."
During his campaign, Trump remarked that his economic agenda would lead to 25 million new jobs and boost the economy with a 3.5 percent growth average.
"Trump's best economic policy has been inheriting a solid economy from Barack Obama," Jared Bernstein, a former chief economist to former Vice President Joe Biden and a Center on Budget and Policy Priorities senior fellow, told Newsweek.
Bernstein said Trump can't take credit for helping minorities when all he has done is "hurt the working class and minority workers," with his healthcare and tax bills.
"All of these are disadvantageous to working-class workers," he said.
Some conservatives say there's a reason that the unemployment rate for blacks dropped so quickly in 2017 and it's because of the president. Horace Cooper, an adjunct fellow with the National Center for Public Policy Research, told Newsweek new job opportunities for blacks in the trade industry are expanding because of Trump's regulatory rollbacks.
"Strange idea when black men, in particular, are running so far ahead in job growth than any other group, to want to argue that we have a president that doesn't care about minorities," he said. "This is just the opposite. If you are a black person living in America now, this is a sign of things to come."
While the unemployment rate for black Americans has dropped, the gap between white and black unemployment remains relatively unchanged. Over the years, the gap has maintained with black Americans holding twice the level of unemployment compared to white Americans. The new unemployment rate reveals that the gap is now at about 1.85 times higher for black Americans.
"There is still a large racial disparity and that disparity is still persistent," Wilson said.
Although the unemployment rate fluctuates, Wilson expects that if more jobs continue to be added than economists can expect the unemployment rate to further decline.
"A low employment rate and wage growth together would be the best outcome we would want to see," she said.