Can Donald Trump Use Executive Privilege to Block Testimony from John Bolton at Impeachment Trial?
As the long-anticipated battle over witness testimony in Donald Trump's impeachment trial edges closer, the central question remains: Does the president have a right to block officials from participating based on his executive privilege?
Trump and his defense team certainly think so. Deputy White House counsel Patrick Philbin told the Senate Monday that executive privilege—the president's often-cited reason to withhold information from investigators—is "fundamental to the operation of government." Jay Sekulow, Trump's personal attorney, also hinted at the possibility of going to court over the issue.
When asked about the possibility of additional witness testimony, Trump told Fox News earlier this month that "there are things that you can't do from the standpoint of executive privilege. You have to maintain that."
But legal experts have a different view, arguing that the president doesn't have the power to block officials from the process completely.
"This idea that Trump can tell someone not to show up because of executive privilege is totally false," attorney Nick Akerman told Newsweek. Akerman served as an assistant special prosecutor during the Watergate scandal that brought down President Richard Nixon.
Akerman added that Trump's claim to executive privilege is "contrary to the Constitution, which makes it very clear that trying the impeachment case is solely in the power of the Senate."
Plus, he said, if Trump were to take the issue of executive privilege to court he'd likely fail. During the Watergate probe of President Richard Nixon in 1974, the Supreme Court required the White House to comply with a congressional subpoena to turn over evidence. The president, the justices ruled, can't withhold important information from a criminal investigation. The only possible exceptions are when disclosure of the information would result in impairment to the military, national security issues or disruption of diplomatic relations with a foreign government.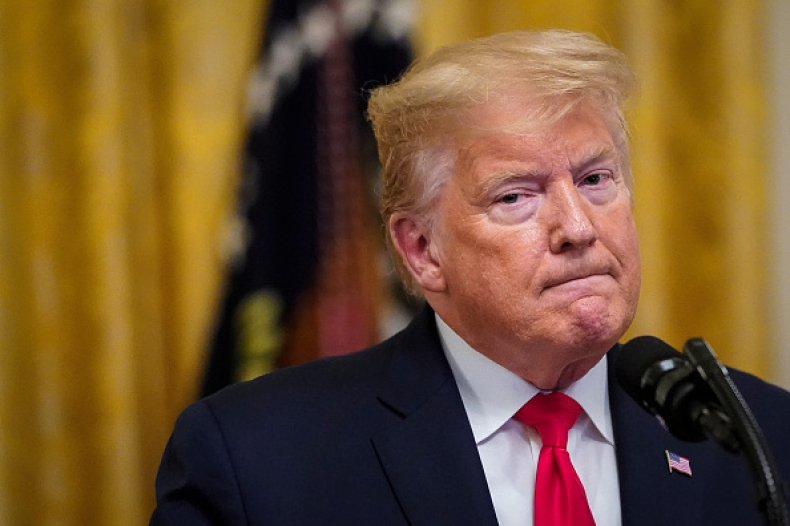 Democrats have requested that four witnesses testify at the trial: acting Chief of Staff Mick Mulvaney, Mulvaney aide Robert Blair, former national security adviser John Bolton and Office of Management and Budget official Michael Duffey. So far, Senate Republicans have been opposed to allowing new testimony or evidence to be introduced.
But pressure for witnesses ramped up this week following reports that Bolton alleged in his forthcoming book that Trump linked U.S. military aid for Ukraine to political investigations into former Vice President Joe Biden—the very issue at the heart of the impeachment proceedings.
Chuck Schumer, the top Democrat in the Senate, called the revelations "stunning" in a press conference Monday on Capitol Hill. "Bolton essentially confirms the president committed the offenses charged in the first article of impeachment."
Trump's legal team is set to give their final arguments advocating for his innocence on Tuesday. After that, the chamber will have to hold a vote on whether or not to call new witnesses or documents as part of the trial.
The president told reporters last week during a news conference in Davos, Switzerland, that he didn't want Bolton to testify because "it's a national security problem."
"He knows some of my thoughts. He knows what I think about leaders. What happens if he reveals what I think about a certain leader and it's not very positive?" Trump said.
Bolton refused to comply with requests for testimony and documentation from the House of Representatives during their impeachment probe last year. But he's since had a change of heart, announcing in December that he'd be willing to testify if he was subpoenaed by the Senate.
"Executive privilege is a shield, not a sword, and cannot be relied upon to silence a former official like John Bolton if he is willing to testify," Bradley Moss, a national security law expert, told Newsweek.
What Trump's defense team can do is claim executive privilege in response to specific questions posed by senators. It would then be up to Supreme Court Justice John Roberts, who has been presiding over the proceedings, to rule on whether the executive privilege argument is valid.
"But remember, executive privilege does not cover criminal conversations or wrongdoing," Akerman noted.