Can Trump Win the Presidency Without Arizona?
As votes continued to be counted in the 2020 presidential election, President Donald Trump is focused on securing victories over Democratic candidate Joe Biden in several states, including Arizona.
As of Wednesday evening, Biden had more paths—27—to win the election than his Republican opponent. Trump must win four of five remaining states to secure a second term in the White House.
Fox News and the Associated Press have already called a Biden victory in Arizona, but a recent data error in the state's voting count gives Trump new hope. The error made it appear that 98 percent of the votes in Arizona had been counted, but in fact the number was closer to 86 percent.
According to the interactive diagram from the Times, Trump only has one path to winning the presidency without securing a victory in Arizona: the incumbent Republican president would have to have to defeat Biden in Pennsylvania, Georgia, North Carolina and Nevada
As of Wednesday evening, according to the Associated Press, Trump has obtained 214 electoral votes, compared to Biden's 264.
Trump requires 56 Electoral College votes to push him pass the 270 votes needed, which could be obtained through winning these four states. A win in each state would give Trump 57 electoral votes, with 20 from Pennsylvania, 16 from Georgia, 15 from North Carolina, and six from Nevada.
According to the AP, Trump is currently leading Biden in three out of four of the states needed to win, sans Arizona.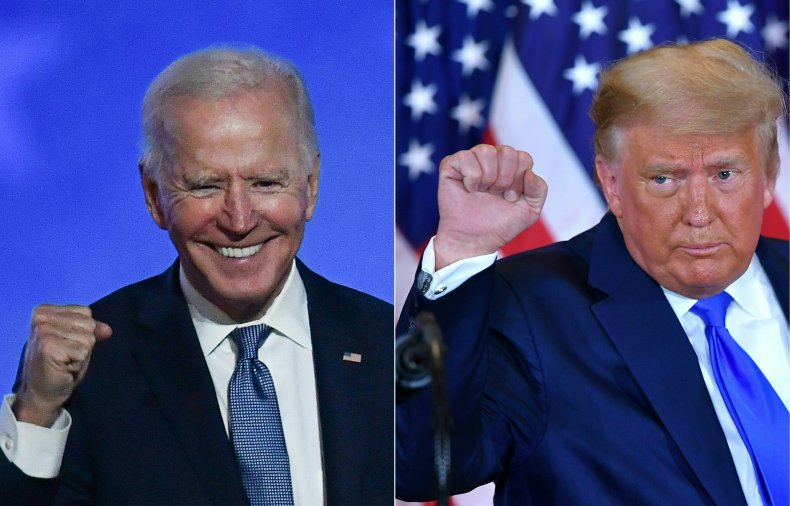 In Georgia, Trump is currently ahead by 0.8 points, with 98 percent of votes reported. In North Carolina, he is ahead by 1.4 points, with 94 percent votes reported. And in Pennsylvania, Trump is leading by 3 points, with 89 percent of votes reported.
Meanwhile, the president is currently trailing Biden by 0.6 points in Nevada, the fourth state that Trump needs to win for a presidential victory without Arizona. According to the AP, 75 percent of votes have been reported in Nevada.
If Trump is able to get a victory in Arizona, his path to the presidency will be slightly easier, as he won't need a win in Nevada where he is currently trailing.
During the 2016 elections, Trump won Arizona by 3.6 points over Hillary Clinton, and eventually emerged victorious in his presidential bid.
Newsweek reached out to Trump's campaign for comment, but did not receive a response in time for publication.