Can Uber Prevent the Traffic Chaos of the L Train Closure?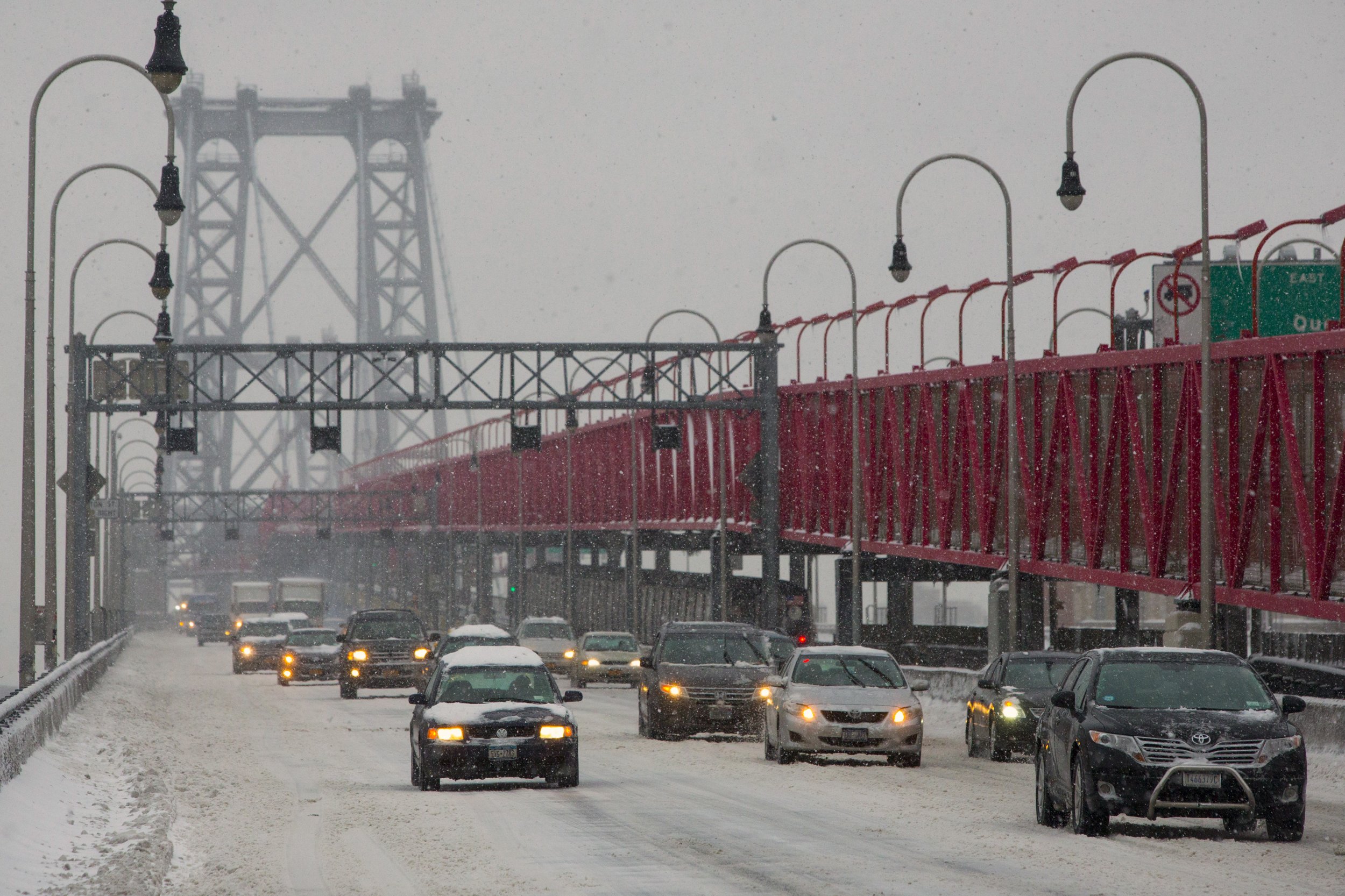 Like a shark in a swimming pool, Uber has now waded into New York City's latest transportation controversy. It wants the city to ax taxi rules so the company's non-credentialed drivers can use its proprietary app to shuttle stranded commuters across the Williamsburg Bridge during the coming shutdown of the L train between Brooklyn and Manhattan.
Uber may be a lobbying whiz, but its proposal marks it as a transportation amateur.
Already, record numbers of yellow taxi, green cab and black cars are driving around empty in search of fares as Uber saturates the market and floods the streets with thousands of additional vehicles. Adding even more cars to the Williamsburg Bridge might help Uber's bottom line, but it won't help the city withstand the L train crisis.
Uber's New York City manager, Josh Mohrer, recently claimed that Uber can reduce the number of private vehicles on the Williamsburg Bridge to supposedly "carve out space for BRT"—that's Bus Rapid Transit, a rolling bus convoy that would get a dedicated lane on the bridge while the L train tunnel is rebuilt in 2019.
"Instead of 30 people using their own cars, you'll have one car serving them all," promised Mohrer. Too good to be true? You betcha.
Each Uber trip will displace at most three trips by private cars, not 30. Right now, traffic is so tight on either side of the Williamsburg, even with the L train humming, that there's nowhere to put the additional vehicles that would be on the road were Uber to get its way.
On a typical weekday, some 8,500 cars, trucks and taxis pile onto the Williamsburg Bridge during the 7 a.m. to 10 a.m. peak. That number must drop by several thousand to clear out the BRT lane. Yet 50,000 L train riders currently pour into Manhattan during those same hours.
If just one-fifth of them avail themselves of Uber's proposed scheme, with three passengers per car, the bridge will see more than 3,000 additional car trips, clogging lanes instead of carving out space for BRT.
You have to wonder if the folks at Uber grasp the true scale of subway service. For every one person who now commutes by car to Manhattan in peak hours, nearly four arrive by subway. Expecting Ubers to offset the loss of a subway line is like asking a stadium peanut vendor to pinch-hit for Babe Ruth.
There is a way to keep moving New Yorkers between the two boroughs when the L train tunnel shuts down: start charging a toll on the Williamsburg Bridge.
All four city bridges across the East River—the others are the Queensboro, the Manhattan and the Brooklyn Bridge—have been toll-free for a century. This seeming windfall has proved disastrous for everyone, including drivers, with unchecked demand cramming too many cars into a limited space.
Based on modeling and experience in other cities, I estimate that tolling the bridges at the same rate as the adjacent Queens-Midtown and Brooklyn-Battery Tunnels, around $11 per round-trip, would cut bridge traffic by around 25 percent. The tolls would be digital, with no toll booths to force cars to halt or slow.
While the precise reduction in traffic volume can't be pinpointed in advance, the magnitude would be in the ballpark needed to carve out the BRT lane that Mohrer and I agree is key to the subway workaround. And for the first time in generations, the approaches to the Williamsburg and other bridges would be unclogged. The Uber plan, in contrast, would likely trap the rapid transit buses in traffic snarls as drivers seeking passengers block local streets.
Moreover, tolling offers the promise of revenue to plug the multibillion-dollar gap in the transit capital plan—a gap that will necessitate costly borrowing or deferring long-awaited modernization of subway signals. Either will cost New Yorkers dearly in fare hikes and further subway crowding leading to more car use with even greater gridlock on roads and bridges.
Further, Uber vehicles are exempt from the 50 cent per ride surcharge that yellow and green cabs pay to fund the Metropolitan Transportation Authority. And wants to be exempt as well from proven safety regulations like criminal background checks, fingerprinting and professional driver training.
If Uber truly wants to be a traffic solver, let it apply its lobbying prowess toward supporting sustainable public transportation, rather than using the L train tunnel shutdown to clog our streets with even more of its vehicles.
Charles Komanoff, an economist, "re-founded" NYC's bike-advocacy group Transportation Alternatives in the 1980s, co-founded the pedestrian rights group Right Of Way in the 1990s, and wrote or edited the landmark reports Subsidies for Traffic, The Bicycle Blueprint and Killed By Automobile. He has done extensive modeling of New York traffic.