'Can We Not Have Any More Questions About Impeachment?' Pelosi Asks During CNN Town Hall
Speaker of the House Nancy Pelosi wanted to talk about climate change and health care tonight during a town hall meeting televised from Washington, D.C. on CNN, but both audience members and moderator Jake Tapper kept bringing up the impeachment proceedings against President Donald Trump.
After approximately an hour of answering questions about Trump and the impeachment Pelosi asked, "Can we not have any more questions about impeachment? Let me tell you about Spain and the COP-25 [the 2019 United Nations Climate Change Conference] and the young people who were there, impatient about what comes next. I don't mind questions about [the impeachment], but to ask me questions through the prism of the White House is like, what?"
When Pelosi did answer impeachment questions, she said the process had less to do with Trump and more with protecting the U.S. Constitution. However, she did not believe the impeachment would be the most important issue in the upcoming election.
"I don't think that the 2020 election is going to ride on this," Pelosi said, naming health care as the most important issue for voters. "I can't answer for the Republicans. They have taken an oath to Donald Trump."
Pelosi said she did not choose to support the impeachment of President George W. Bush over the Iraq war because intelligence she was privy to showed there were no nuclear weapons in Iraq. But she believed the behavior President Bill Clinton was impeached for was "stupid."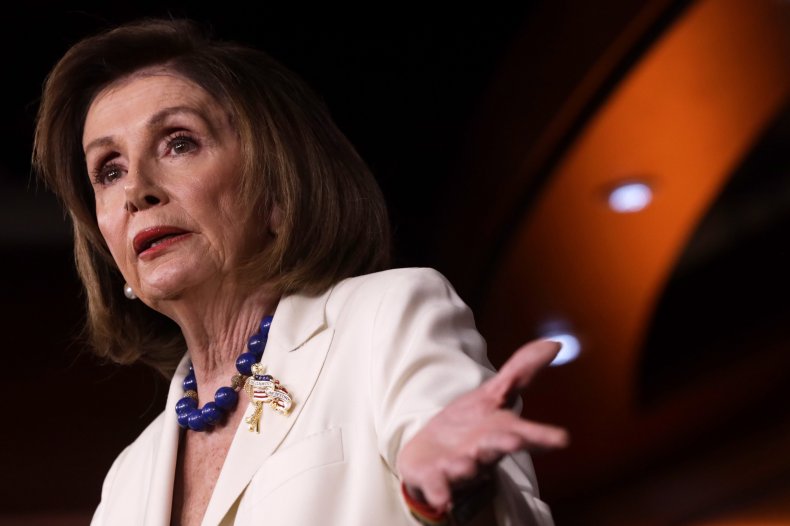 "They impeached Bill Clinton for personal indiscretion and misrepresenting about it," Pelosi said. "Some of these same people are saying, 'Oh, [Trump's alleged offenses] doesn't rise to impeachment.' But right there, impeaching Bill Clinton for being stupid in terms of something like that."
"I mean, I love him," Pelosi continued. "I think he was a great president, but being stupid in terms of that and what would somebody do not to embarrass their family?"
Pelosi said she "didn't have time to keep up" with Rudy Giuliani, specifically his trip back to Ukraine to continue investigating the charges against Trump.
Veering away from the impeachment issue, Pelosi said she was in favor of removing some legal protections for tech companies in the name of keeping children safe.
"I don't think we should have a business model in the tech community predicated on nasty stuff on social media that affects children," Pelosi said.
Pelosi also said that "people don't realize that" the Affordable Care Act has more benefits than Medicare.
"If a Democrat wins in 2020," Tapper asked Pelosi, "would you feel free to go home because Obamacare would be protected, or not?"
"Well, I'll see," Pelosi replied. "I'm not on a timetable. I'm on a mission."
Out of the 11 audience members who asked Pelosi questions, eight were Democrats. Two identified as independent voters. One was a Republican.