Can We Seize the Opportunity for Lebanon and the Region Around It? | Opinion
This week there was a devastating explosion in Beirut which killed at least 137 people, wounded over 4,000 people and displaced over 300,00 people from their homes. It is still unclear how many people remain missing. The city looks like a war zone. Hospitals were overwhelmed and wounded were turned away or transported to hospitals outside Beirut. The Lebanese, who have suffered through many crises, including a civil war and a shattered economy, now must contend with this tragedy.
One does not have to wonder why 2,700 tons of ammonium nitrate were stored in a warehouse at the port. One can pretend that this was to be used for fertilizer, but that would be ludicrous. The purpose was to develop explosives. Now, the Lebanese government must investigate numerous questions. The first is why this dangerous material was stored in such a prominent location. Let me help with the answer: Hezbollah stores its weapons and hides its destructive, evil activity in the midst of civilian populations. Also to be asked is how, and whether, this Lebanese government will protect the Lebanese people in the future. The time has come for Lebanon to ask itself if the malign activities of Hezbollah, the puppets of the Iranian regime, are worth the devastation caused to Lebanon—to its economy, to its country, to its people and now to all those killed in this tragedy and to their loved ones.
Governments around the world jumped to express condolences and to offer assistance to Lebanon, as they absolutely should have. Significantly, Israeli Prime Minister Benjamin Netanyahu expressed condolences to the Lebanese people and reiterated his offer to send humanitarian aid. Israeli President Reuven Rivlin tweeted, "We share the pain of the Lebanese people and sincerely reach out to offer our aid at this difficult time." Israeli hospitals offered to treat Lebanese wounded. All this despite the fact that Lebanon is considered by Israel to be an enemy state, and the two countries have not had diplomatic relations since 1949.
Israeli hospitals treating the wounded of Lebanon should come as no surprise. Israel has treated thousands of Syrians who have suffered as a result of the tragic civil war in Syria. I myself visited a hospital in northern Israel and met some of the health care professionals who have treated these wounded Syrians, and I met the Syrian patients as well. All those I met during that visit, Israeli and Syrian alike, demonstrated what humanity should strive for. Alas, the Lebanese government has thus far rejected Israel's gestures.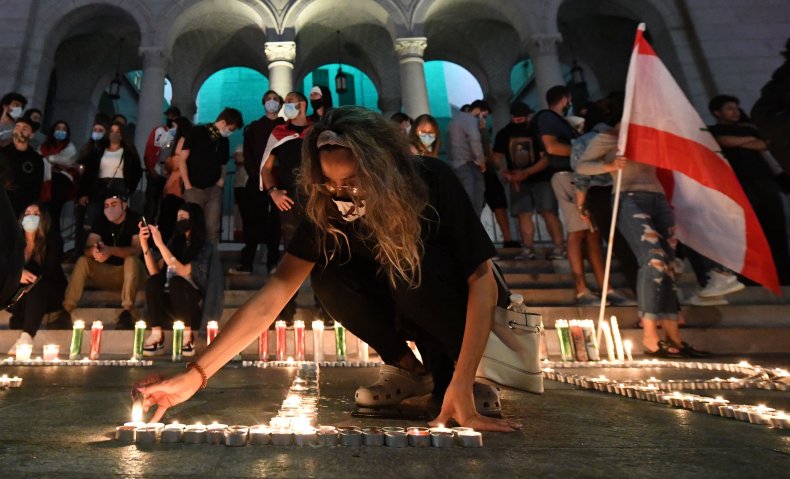 It is time for the government of Lebanon to lead its people and rid itself of the cancer that is Hezbollah. Forget for a moment the threat to Israel that Hezbollah and its ilk poses. Israel has thrived and prospered and will do what it needs (and has the right) to do to defend itself from its enemies and those that seek to harm or destroy it. And it will continue to reach out around the world to those who are suffering, including offering to help its enemies—as it did here.
But when will the world recognize that the activities of Hezbollah have caused nothing but tremendous harm and tragedy to the people of Lebanon? Lebanon's problems have nothing to do with Israel. They have everything to do with allowing a bloodthirsty terrorist group to be a part of the fabric of Lebanon's life, society and government.
After this tragedy has been attended to, donor countries should set realistic expectations from the government of Lebanon and ensure that donor money is not squandered. Donor money should be used in a way that improves the lives of the Lebanese people. Donor countries should demand that Hezbollah and the Iranian regime no longer use Lebanese soil as a staging ground to attack Israel. Moreover, donor countries should hold the Lebanese government accountable for the money being donated. Donations should be made to properly vetted NGOs to ensure that the aid is actually delivered to, and used by, its intended recipients.
I hope that something positive can come out of this tragedy. Perhaps the people of the region and their governments can create a spirit of respect and cooperation that will continue, so that movement toward goodwill and a new dynamic can begin to be developed. It will be a very, very long road. But it is time to begin walking on it, with all of its holes, bumps and seemingly insurmountable obstacles.
I pray for the people of Lebanon and hope from this tragedy we can begin to build a new future for Lebanon, for the relationship between Lebanon and Israel, and for the region. God bless all of you.
Jason D. Greenblatt was the White House's Middle East envoy for nearly three years. Follow him on Twitter: @GreenblattJD.
The views expressed in this article are the writer's own.