Can the West Deal with Putin? | Opinion
The European Union's foreign policy chief Josep Borrell traveled to Moscow on February 4 with a narrow mission: determine whether Russia's Vladimir Putin was interested in getting back to constructive business with the West. Instead, the former Spanish foreign minister returned to Brussels humiliated, jaundiced and publicly castigated for having even attempted a dialogue with his Russian counterpart in the first place.
If Borrell's multi-day trip to the Russian capital revealed anything, it was that the Russian government has no intention of compromising on matters that touch upon its own domestic sensitivities.
This includes Russian activist Alexei Navalny who was poisoned last summer and immediately arrested upon his monthslong recuperation in Germany. He was sentenced to prison this month for the next two-and-a-half years.
The tit-for-tat diplomatic expulsions between Russia and Europe and the stern phone call U.S President Joe Biden held with Russian President Putin in late January are microcosms of an overall relationship between Moscow and the West that is cold—and getting icier.
The current state of relations is clear. Nudging it in a more stable direction, however, is anything but.
Since Moscow's annexation of Crimea in 2014, Europe has struggled internally on what the continent's Russia policy should look like. Some, like Germany and France, favor persistent engagement. Others, particularly in the Baltics and Eastern Europe, are far more reluctant to toe Berlin's line.
The debate in Washington is less contentious. The U.S. has largely stuck with a conventional approach: When Russia behaves badly, call them out for violating the global rules-based order, press for more cooperation through diplomatic channels and use the sanctions tool liberally.
The Navalny case is no exception; after the activist was arrested in January, members of his Anti-Corruption Foundation recommended cutting access to the U.S. financial system for 35 individuals close to Putin's inner circle.
Senator Bob Menendez, chair of the Senate Foreign Relations Committee, is recommending similar action in the hope enough economic pressure will force Putin to free the activist.
Sanctions, however, have had little impact in the recent past on changing Russia's behavior—particularly on issues Moscow considers core to its national interest. Needless to say, maintaining power and promoting domestic stability is at the top of the Russian government's interest list.
Despite U.S. and E.U. sanctions, Russian military personnel remain in eastern Ukraine, ensuring the separatists have enough firepower and resources to preserve a stalemate against the Ukrainian military there.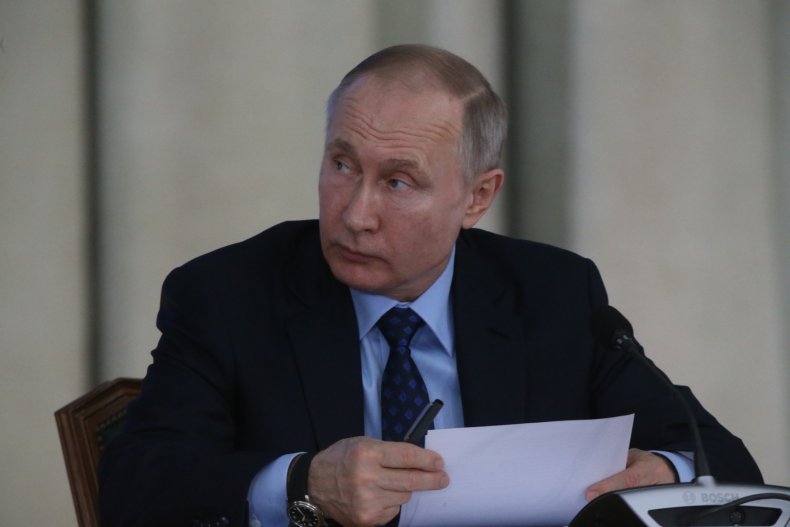 After years of international scorn, diplomatic isolation at the U.N. Security Council and targeted action against Russian vessels delivering fuel to Damascus, Russian military assets remain in Syria, bolstering the Assad government's position as it faces down the last rebel holdouts in the northeast and northwest. Russian-based tankers continue to assist Venezuela's Nicolás Maduro with transporting Venezuelan oil to Asian buyers.
U.S. sanctions against the Russian government in retaliation for the failed assassination of the Skripals in the U.K. in 2018 did nothing to deter Moscow from using a similar chemical agent against Navalny in 2020.
Despite Russia being the second-most sanctioned state by the U.S. over the past decade, Russian foreign policy hasn't changed in any considerable way. As much as Washington is rightly disgusted about the treatment of Navalny and the arrest of thousands of Russian demonstrators for expressing their opinions, it is difficult to envision how an even tougher sanctions package against Russia will compel the Kremlin to submit to U.S. demands.
The history of sanctions shows just how rare they work in achieving a significant evolution in an adversary's foreign policy.
For U.S. policymakers, Russia is a frustrating challenge. Russia's conduct is often questionable or outright infuriating, yet the U.S. can't wish Moscow away or ignore it altogether. Russia may be a declining power internally, with lower household incomes, shoddy public services, an unimaginative economy and a GDP as large as Italy (a state with more than half its population).
But Russia also possesses some weight in the international system. It is the world's largest nuclear weapons power, has proven itself to be a formidable geopolitical player and is making a habit of challenging the U.S. military in multiple regions. An exclusively hostile relationship with Moscow would introduce more risk into a fraying bilateral U.S.-Russia relationship at a time when open communication is getting increasingly unpopular.
The willingness of the Biden administration to work with the Russians on an extension of the New START agreement, the last bilateral accord between the world's two biggest nuclear powers, is a prime example of why both still need to cooperate with one another on subjects—like strategic stability—that serve each another's security interests.
There will continue to be instances over the next four years when Russia's actions tug at Washington's sensibilities or outright shock the conscience. The United States should not hesitate to live up to its values by condemning them strongly and unequivocally.
The Biden administration must also recognize that on some issues, particularly ones that involve Russia's internal situation or core security interests, there is little it can do to pressure Moscow into seeing the world the way Washington sees it. Some may chastise this observation as defeatist. Unfortunately, it happens to be a geopolitical reality.
Daniel R. DePetris is a columnist at the Washington Examiner, a contributor to the National Interest and a fellow with the Defense Priorities think tank.
The views expressed in this article are the writer's own.