'Can You Just Bring My Cleats Back' Falcons Kicker Younghoe Koo Pleads After Jeep Stolen
Atlanta Falcons kicker Younghoe Koo told his Instagram followers over the weekend that his vehicle had been stolen with his cleats inside.
In a series of Instagram story posts that started with an image of an empty space in a parking lot, Koo announced the alleged theft of his black Grand Cherokee Jeep. Koo mentioned he was most concerned about the safe return of his cleats.
"Mfs stole my Jeep smh. Can you just bring my cleats back tho," Koo posted.
"I won't even be mad bro just bring all my cleats back so I can go kick," he added.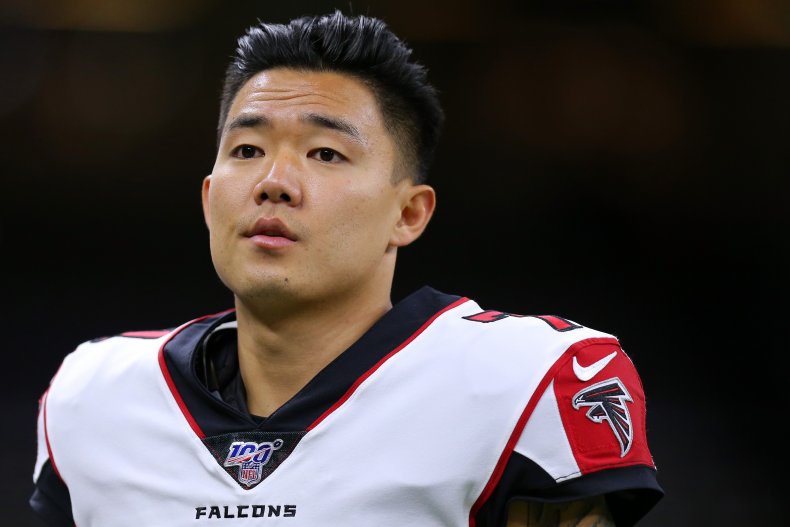 Koo did not mention in the posts exactly where his vehicle was at the time of the alleged theft, but authorities told Newsweek that the incident occurred within the jurisdiction of the Alpharetta Department of Public Safety (ADPS), which covers the suburban city north of Atlanta.
On Monday morning, Koo posted a screenshot that showed him lifting weights with a caption that said, "don't stress over sh*t you can't control."
"Update: no car or cleats," he added.
The ADPS told Newsweek shortly before noon on Monday there were no developments to report regarding the location of Koo's vehicle.
The screenshot Koo that was posted Monday morning was originally posted by Joel Seedman, a fitness trainer who works with Koo. Accompanying videos of Koo's weight room workout was a caption that began, "Operation 'Get Koo's Car Back.'"
Seedman addressed the missing vehicle in the caption and noted the loss of the "very important kicking cleats."
"Keep your eyes peeled if you live in Atlanta area & lets help Koo get his car & cleats back," Seedman wrote.
Koo noted in a comment posted to Seedman's video that he was filmed wearing socks.
"Working out in socks cuz they stole my shoes," Koo wrote.
Authorities in the Atlanta area have noted an uptick in vehicle thefts in recent months. Atlanta Police Public Affairs Officer Anthony Grant told WGCL-TV last week that vehicle thefts have increased this year in the city of Atlanta by an estimated 26 percent, with nearly 1,800 thefts reported in 2021 by mid-July. In more than half of those cases, the keys were left inside the vehicle before it was stolen, according to the station.
Koo, 26, began his career in the NFL in 2017 when he was signed by the Los Angeles Chargers. After brief periods with other teams, he signed with the Atlanta Falcons in 2019.