Can You Read Book 'Big Little Lies' Season 2 is Based On? Liane Moriarty Wrote Novella Just For HBO
As most Big Little Lies fans may already know, the beloved series is based on a book written by Australian author Liane Moriarty. After it was published in 2014, it quickly became a New York Times bestseller and was produced into a limited series on HBO by 2017. With A-list actors like Nicole Kidman, Reese Witherspoon, Laura Dern and Alexander Skarsgård—to name a few—the television adaptation became a massive hit. It won eight Emmy awards and four Golden Globes. There was no denying its grab on viewers. Fans wanted another season with the Monterey Five, but there was just one problem: Moriarty hadn't written a sequel.
To appease fans and HBO, Moriarty penned 50,000-word a novella just for the show. She also specifically wrote a role just for Meryl Streep, who plays Mary Louise, the mother-in-law of Kidman's character, Celeste. It's partly why it took the series two years to return.
"When I was sort of agonizing over whether or not I should do it, it was actually my sister who said to me, 'Only do it if it would be fun, and why not create a role for your favorite actor?' And that's when I came up with this role for Meryl Streep, to be Perry's mother," Moriarty told The Hollywood Reporter in May. "And it was really from there that it all came together because you bring this new character in and the storylines just emerge."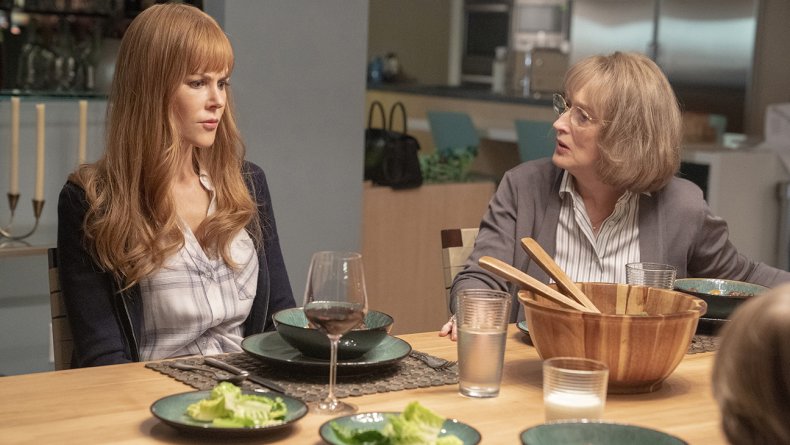 Dern, who plays Renata Klein, previously told Newsweek she loved working with Streep. "It was the greatest gift imaginable. She's everything we want her to be. She's such an extraordinary activist, mother, genius artist, stealth detective for character and she's a team player," Dern told Newsweek. "She's such a partner for everyone and just so generous, amazing and inspiring."
Originally, Moriarty wasn't sure if she wanted to revisit what happened at that fateful at the Elvis-and-Audrey trivia night, which led to Perry's (Skarsgård) death. "I was saying, 'No, no. I think it's a great idea to do a season two, but I'm not interested in writing it,'" Moriarty told THR. "But then I kept saying, 'But if you do it, you could do this.' So I kept coming up with different scenes."
Unlike the first season of Big Little Lies, where fans could have read the book and watched the show, the novella which season 2 is based on is unpublished. For now, fans will have to wait for each new episode to premiere on Sunday to find out what happens next.
Season 2 of Big Little Lies airs Sundays at 9 p.m. ET on HBO.