Can You Solve it? Bizarre Math Exam Question Leaves Students Scratching Their Heads in China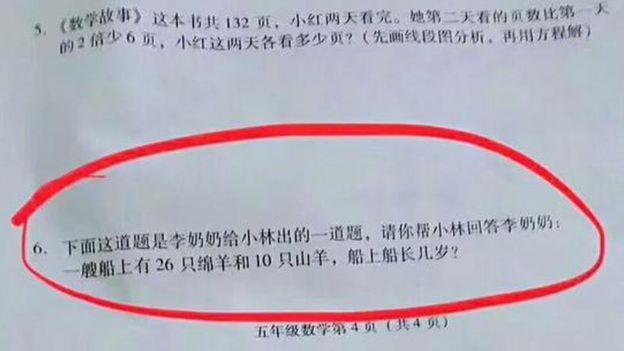 An unsolvable exam question on a mathematics paper left young children in China stumped—before going viral on social media and sparking a nationwide debate on critical thinking.
Fifth-grade students in China's Shunqing District in the city of Nanchong, in Sichuan province, were faced with this apparently unsolvable exam question: "If a ship had 26 sheep and 10 goats onboard, how old is the ship's captain?"
"The captain should be at least 18 years old because a minor is not allowed by law to operate a vessel," one student answered.
"The captain is 36 years old. He is quite narcissistic, so the number of animals corresponds to his age," another wrote.
After surfacing on Weibo, a popular Chinese social media platform, earlier this week, the question sparked widespread discussions among both adults and children.
Some users criticized the school for putting the bizarre question with no logical answer in a mathematics paper.
"This question makes no logical sense at all. Does the teacher even know the answer?" one user wrote.
"If a school had 26 teachers, 10 of which weren't thinking, how old is the principal?" another said.
Some commenters praised the school for testing the students' critical awareness and independent thinking.
"The whole point of it is to make the students think. It's done that," one user wrote.
"This question forces children to explain their thinking and gives them space to be creative. We should have more questions like this," another added.
Others attempted to answer the unsolvable question by applying common sense principles.
"The captain must have a wealth of sailing experience and abundant energy, therefore, the captain's age should be between 30 to 60 years," one user guessed.
In a statement posted on January 26, Shunqing Education Department admitted that there was no right answer and explained that the intent of the question was to test student's abilities to think outside the box.
"The role of education is not to produce standardized spare parts.... Each answer can reflect a different personality. A question that can have different answers is a good question," it said.