Can You Track Your Government Stimulus Check?
Rebates appropriated by the United States' Coronavirus Aid, Relief, and Economic Security (CARES) Act will be administered to eligible individuals starting roughly three weeks from now.
The Treasury Department and the Internal Revenue Service (IRS) released an announcement on Monday detailing the payment process, which stated that checks will be distributed "automatically, with no action required for most people." Late Wednesday, the Treasury Department and IRS issued a new statement with updated instructions for Social Security beneficiaries who do not usually file tax returns, saying those individuals do not need to file an abridged tax form to receive their payments. This amended the agency's original guidelines, which, along with the legislation itself, provided additional steps for others who did not file tax returns in 2018 or 2019 and anyone who was issued a check but did not receive it. It also clarified the particular payment sums different individuals can receive and why.
As outlined by the terms of the emergency relief act—a $2 trillion economic stimulus package enacted March 27 in response to the COVID-19 pandemic—most U.S. citizens and permanent residents qualify for some degree of compensation, as do nonresidents with certain visa statuses. The legislation stated that individuals could receive as much as $1,200, while married couples could receive up to $2,400. Eligible parents would additionally receive $500 per child.
How much each person is entitled to recover depends on their income, number of dependents and marital status.
Newsweek subscription offers >
Since the amount recipients are offered will be determined by the IRS using information extracted from federal tax filings, the agency's Monday announcement asked obligated taxpayers who did not file a tax return in 2019 or 2018 to do so as soon as possible.
When Your Check Will Arrive?
Newsweek subscription offers >
According to language included in the CARES Act, recipients will be notified of their payments by mail "not later than 15 days" after individual checks are issued.
"Such notice shall indicate the method by which such payment was made, the amount of such payment, and a phone number for the appropriate point of contact at the Internal Revenue Service to report any failure to receive such payment," it explained. Unlike its digital tracking module for federal tax returns, the IRS has not indicated that stimulus check recipients will be able to monitor the status of their payment deliveries online.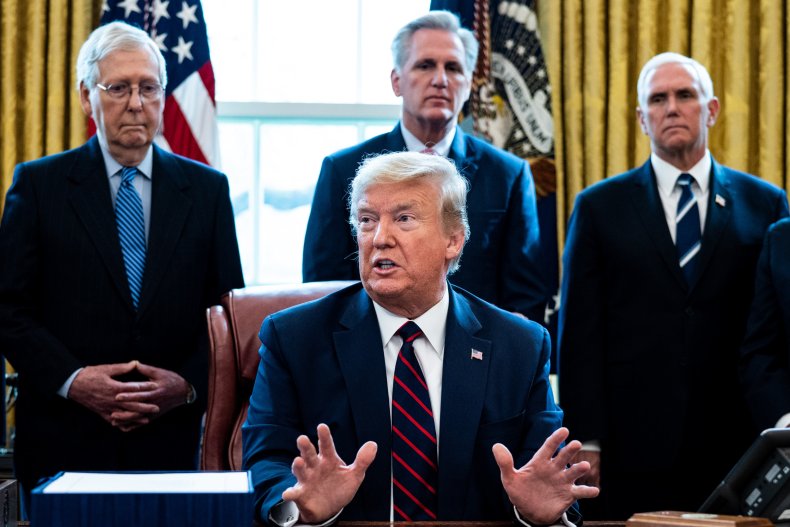 Will Check Come In Mail Or Direct Deposit?
Monday's announcement stipulated that the majority of stimulus payments would be dispensed through direct deposits. The IRS stated it would issue the checks to bank accounts attached to recipients' most recent tax returns and introduced plans to develop "a web-based portal for individuals to provide their banking information to the IRS online "if they have not already established a channel for direct deposit with the bureau." The release said this portal would become available "in the coming weeks," along with more specific information about tax filings for groups typically exempt.
For those without bank accounts, acquiring a stimulus check could be more complicated, as TIME acknowledged in a report on Tuesday, noting that stimulus payments distributed amid the 2008 recession did not reach taxpayers without direct deposit until months after the checks were issued. The IRS did not offer guidance on this in its announcement, though it stated that more information about the stimulus aid will be shared on its website as it becomes available.
Update: This story has been updated to include new information from the Treasury Department and the Internal Revenue Service regarding stimulus payments issued to Social Security beneficiaries.
Can You Track Your Government Stimulus Check? | U.S.