Canada Says Anyone Caught Crossing Border Outside Designated Entry Points Will Be Subjected To 24-Hour Coronavirus Screening
The Canadian government is enforcing a new policy in response to the coronavirus outbreak that will see anyone caught trying to enter the country outside designated ports of entry be forced to undergo a 24-hour medical screening.
Speaking at a press conference on Tuesday, Canada's Minister of Public Safety Bill Blair said those caught crossing into the country irregularly would still be allowed to enter, but they would be required to undergo the medical screening first and could potentially face quarantining, if deemed necessary.
Already, Blair said, Canada has introduced an "enhanced border officer presence" along its border in response to the COVID-19 outbreak, which has so far affected 598 people in Canada, according to an online tracker maintained by the Johns Hopkins University.
"Officers are on the lookout for any traveler who looks sick or who reports that they are feeling symptoms," Blair said.
A spokesperson for the Canada Border Services Agency told Newsweek that the situation was "evolving rapidly and details are being finalized as quickly as possible." They said the agency would provide an update on the policy's enforcement as soon as one becomes available.
Since February 2017, when the Immigration and Refugee Board of Canada began tracking irregular border crossings, Canada has seen at least 54,739 people claiming refugee status. As of December 2019, 12,255 of those had been accepted, while 10,627 were rejected and 29,843 cases were still pending.
Canada's response to the coronavirus outbreak at its border differs from that being carried out in the U.S., with the Trump administration expected to announce a new rule that would force anyone caught entering the country outside designated ports of entry at the southern border turned back to Mexico.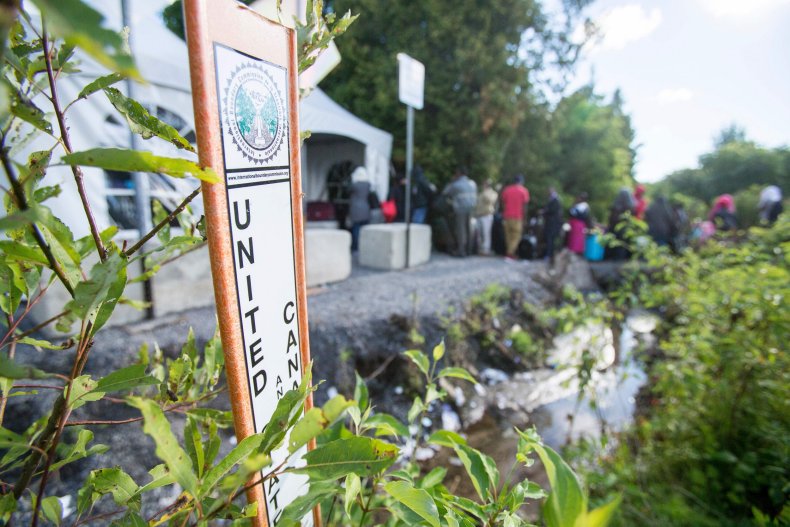 According to The New York Times, the government is expected to announce a new rule requiring Border Patrol agents to immediately return anyone who tries to cross the U.S.-Mexico border outside designated ports of entry back to Mexico.
Citing four administration officials, The Times reported this week that the Trump administration plans to stop holding asylum seekers and migrants who cross into the country in U.S. facilities and instead return them to Mexico.
Otherwise, the officials told the newspaper, designated ports of entry will remain open to U.S. citizens, as well as to green card holders and others with valid documentation who aren't affected by current restrictions imposed in response to the COVID-19 outbreak.
Among those who are affected by restrictions are Europeans, who have been barred from traveling to the U.S., with exceptions made for U.S. citizens and their family members.