Canada COVID Tensions Surge as Trudeau Declares First Emergency in 50 Years
Calling the ongoing Canadian trucker vaccine protest a threat to democratic institutions, the government of Prime Minister Justin Trudeau took the unprecedented step of using emergency powers to stop the blockades.
Trudeau announced on Monday he was invoking the Emergencies Act in response to the ongoing Freedom Convoy that began last month as a protest against new requirements that truckers get vaccinated against COVID-19 or face possible quarantine or testing. Since then, thousands of truckers have taken to Canada's highways, upending supply chains, choking major entry points to the U.S. and occupying a portion of capital city Ottawa.
"These illegal blockades are hurting Canadians, and they need to stop," said Trudeau.
Calling the ongoing blockades destabilizing and hindering to Canada's economic recovery, Trudeau said he was taking the extraordinary measure to bolster local law enforcement and give the federal government authority to target protesters financially.
This is the first time a Canadian prime minister has used the Emergencies Act, which can be invoked in national emergencies that "seriously threatens the ability of the Government of Canada to preserve the sovereignty, security and territorial integrity of Canada."
While invoking the act grants the Canadian federal government sweeping powers, officials stressed there were guardrails in place to prevent the country from entering full-blown martial law.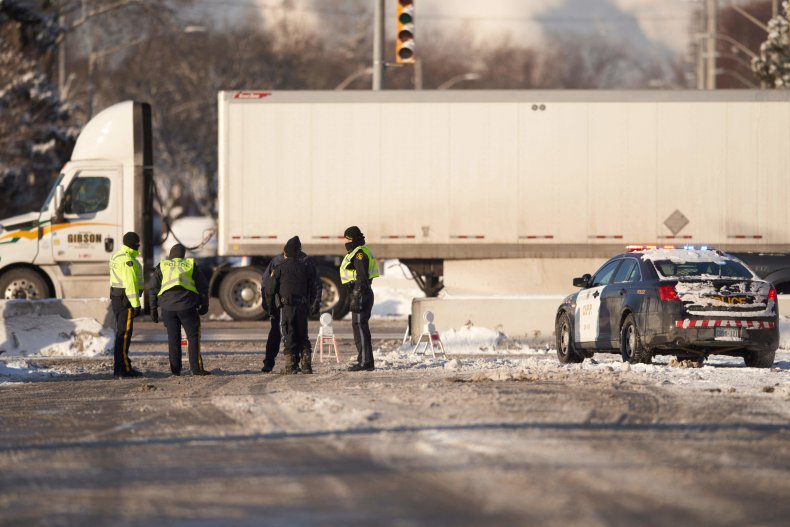 Officials said Monday that the emergency authority would be used for a limited time, be subject to parliamentary review and must comply with the Canadian Charter of Rights and Freedoms (the country's equivalent to the U.S. Bill of Rights).
Trudeau said the new powers, which take effect immediately, would only be used in areas that have seen disruptions by protests. Specifically, he said emergency measures would be used to break up the occupation of Ottawa, now entering its third week, and to keep the Ambassador Bridge, a major supply route to Detroit, open after the blockade was cleared earlier.
The bridge was reopened on Sunday after police dispersed protesters and made multiple arrests. However, protests have drug on in Ottawa where the city's mayor, Jim Watson, said Friday that demonstrators had turned an area of the city into a "bit of a dump."
Trudeau said that invoking the emergency powers in "no way" brings in the military. Instead, he said it centers on the Royal Canadian Mounted Police, Canada's national police force or "Mounties," providing aid to local law enforcement. Trudeau said the Mounted Police will not have jurisdiction over local police.
Canada's Attorney General David Lametti said new emergency powers will be used to ban assemblies that "go beyond lawful protest," allowing authorities access to services such as tow trucks, authorizing Mounted Police to enforce local laws and freezing money or other assets used to support the blockades.
Deputy Prime Minister and Minister of Finance Chrystia Freeland said the government was broadening Canada's anti-money laundering and "anti-terrorist financing" rules to cover crowdfunding platforms and payment service providers, including cryptocurrencies and other digital assets. These crowdfunding platforms and service providers are now required to register with the government and report large or suspicious transactions while providing information to law enforcement, she said.
"We are making these changes because we know that these platforms are being used to support illegal blockades and illegal activity, which is damaging the Canadian economy," Freeland said.
The government is also ordering Canadian financial institutions to temporarily cease providing services to accounts suspected of being used to support the blockades and report them to the Royal Canadian Mounted Police, Freeland continued.
"We are today serving notice, if your truck is being used in these illegal blockades, your corporate accounts will be frozen," she said. "The insurance on your vehicle will be suspended and you're sending trailers home. The Canadian economy needs them to be doing legitimate work, not to be illegally making us all poorer."
Canada's Minister of Public Safety Marco Mendicino said the federal government has been working closely with authorities in Ottawa. He said it's "difficult to overstate" the conduct that's played out on Wellington Street, home to Canada's Parliament.
"It is not just an inconvenience, it is not simply a matter of a trivial interruption," he said. "We've seen intimidation, harassment and expressions of hate. And at times, the scenes on the streets of Wellington have seemed completely lawless."
Mendicino said the emergency powers will allow "greater agility between the [Mounted Police] who will work seamlessly with local law enforcement, including in Ottawa, to restore order."
In addition to helping police secure hard-to-come-by tow trucks, the emergency powers will also allow police to access crowd control measures, such as jersey barriers, he said.
Over half of Canadians are not supportive of the protests, according to an Ipsos poll released Friday.
However, some prominent Canadians oppose Trudeau's move. Quebec Premier François Legault told reporters that the emergency measures would be divisive in Quebec at a time when he was seeking to bring them together by easing pandemic restrictions, according to the CBC.
"I think that at this moment, it would not help the social climate," Legault said. "There's a lot of pressure right now, and I think we have to be careful."
He added, "We really don't need to throw oil on the fire."
Scott Aitchison, a Conservative Party Member of Parliament for Parry Sound-Muskoka, said in a video posted to Twitter on Monday that Trudeau was using vaccination requirements to divide the country.
"The hard truth is that Justin Trudeau has stopped talking to Canadians he disagrees with," said Aitchison. "He slices and dices the electorate for political points."
He also said it was time for the protests in Ottawa to end.
The Emergencies Act was approved by Parliament in 1988, replacing the War Measures Act. The updated law included safeguards, such as parliamentary review and for the government to observe the Canadian Charter of Rights and Freedoms.
Update (2/14, 7 p.m.): This story has been updated to include comment from from government officials and opposition.
This is a breaking news story and will be updated.