Canada Day: Trump Administration Celebrates Partnership With Northern Neighbor, Offers Best Wishes for 'Bright Future'
The Trump administration is celebrating Canada Day by marking its relationship with its northern neighbor, which Secretary of State Mike Pompeo branded "one of the most successful partnerships between any two nations in the world."
"On behalf of the Government of the United States of America, I extend my sincere congratulations to Canada as you celebrate Canada Day on July 1," Pompeo said in a statement published on Sunday ahead of Monday's Canada Day.
"The United States and Canada share one of the most successful partnerships between any two nations in the world," Pompeo said. "We are proud to partner with Canada to promote democracy, human rights, and respect for the rule of law around the globe."
The secretary of state's message appeared to gloss over frayed tensions from trade talks between President Donald Trump and Canadian Prime Minister Justin Trudeau.
"We share the world's largest and most dynamic trading relationship that supports millions of jobs in both of our countries. We collaborate closely to expand growth and opportunity in the region," Pompeo said.
Meanwhile, he added: "Our joint efforts to combat terrorism, respond to humanitarian crises, and prevent global drug trafficking and human rights abuses protect not only our own citizens, but vulnerable people around the world."
A Canada Day message from Donald Trump
The U.S. Embassy in Canada also shared a message delivered from Trump himself to Canadian Governor General the Right Honorable Julie Payette, with the U.S. leader offering his "warm congratulations" on the 152nd anniversary of the Constitution Act of 1867.
"Since its founding, Canada has represented a powerful, positive force in the world," Trump wrote to Payette, a former member of the Canadian Astronaut Corps, who completed two spaceflights during her tenure.
"Our people share many strong bonds, including a common history, close cultural, economic, and familial ties, and a deep sense of duty to promote peace and prosperity in the world," he continued. "The United States views its bilateral relationship with Canada as one of the most important, and places tremendous value on maintaining it."
"I wish you and all Canadians a very happy Canada Day, and express my best wishes for your nation's bright future," the president said.
...But did Trump actually write that?
While the letter was signed "sincerely" from "Donald J. Trump," some Canadians took to Twitter to jokingly question whether the U.S. leader actually penned the kind words.
"He didn't write that. There's no mention of the wall we need to keep our southern border safe from the attack on democracy that's attempting to invade us," one social media user wrote.
"Zero percent chance he wrote that," another weighed in.
"Well, he didn't write it and he doesn't consider us a worthy ally anyway, so hard pass," another maintained.
"Agree with others, he didn't write this," a fourth person added.
Others, however, welcomed the president's words, with one social media user writing: "Not a side of Trump I'm used to. Nice gesture."
What is Canada Day?
For Canadians, July 1 marks the joining of Canada's original three provinces, including Nova Scotia, New Brunswick and the Canada province, which is now Ontario and Quebec, in 1867.
Once called "Dominion Day," the Dominion of Canada was formed by the British Parliament through the British North America Act, which is now known as the Constitution Act.
While the July 1 festivities celebrate the dominion of the country on July 1, 1867, it wasn't until 1868 that then-Governor General Lord Monck signed a proclamation declaring it a day to be celebrated across the country.
Further, it was only in 1879 that a federal law marked July 1 as a statutory holiday, calling it the "anniversary of Confederation," a name that was later changed to "Dominion Day."
"Canada Day" did not arrive until the early 80s, with Dominion Day officially being renamed to reflect Canada's independence from Britain on October 27, 1982.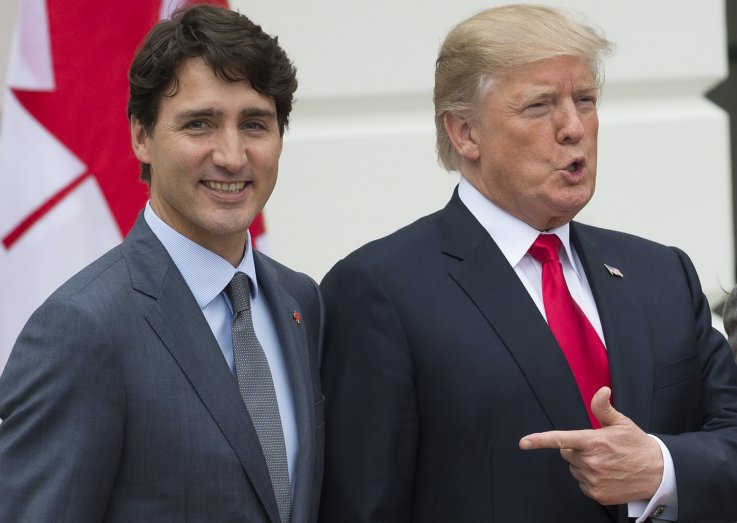 Canada Day: Trump Administration Celebrates Partnership With Northern Neighbor, Offers Best Wishes for 'Bright Future' | U.S.