Canada Demands China Release Two Canadians From 'Arbitrary' Detention
Canada has formally demanded the release of two Canadians who were detained by Chinese authorities in apparent retaliation for the arrest of Huawei's Chief Financial Officer Meng Wanzhou in Vancouver.
On Friday, Canadian Foreign Minister Chrystia Freeland deemed the detainment of former Canadian diplomat Michael Kovrig and entrepreneur Michael Spavor "arbitrary," and called for their "immediate release."
"We are deeply concerned by the arbitrary detention by Chinese authorities of two Canadians earlier this month and call for their immediate release," Freeland said. "We also believe this is not only a Canadian issue," she said during a conference call on Saturday, according to The New York Times. "It is an issue that concerns our allies."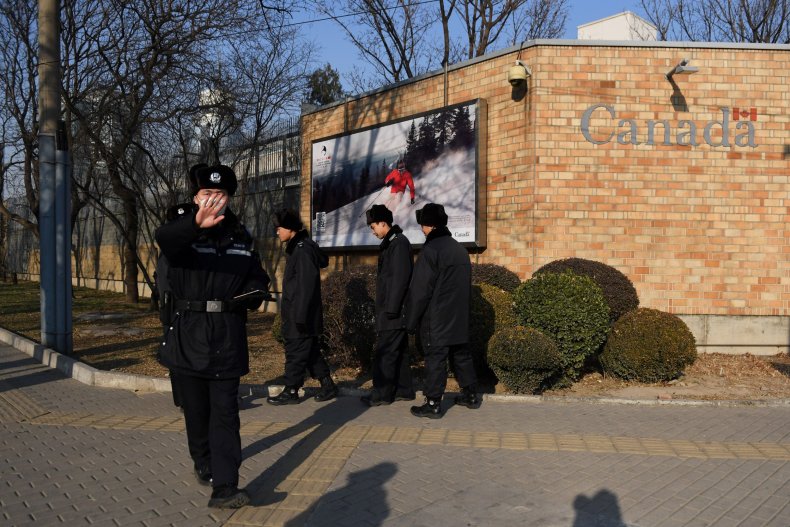 Canadian officials arrested Meng, 46, at Vancouver airport on December 1 on the request of U.S. officials over accusations she violated Iran sanctions between 2009 and 2014. She was later granted bail at $7.4 million on the condition that she is monitored with an ankle bracelet while under 24-hour surveillance.
In the weeks following her arrest and amid rising diplomatic tensions between China and Canada, Beijing seized Kovrig and Spavor for "engaging in activities that endanger the national security" of the mainland, without detailing any specific allegations.
Kovrig was arrested while walking on a Beijing street nine days after Weng's detainment. At the time of his arrest, he was employed as a North East Asia senior adviser by the International Crisis Group (ICG)—a Brussels-based nonprofit that conducts research on violent conflicts in order to advance policies to resolve them. According to his LinkedIn page, Kovrig previously served as a Canadian diplomat, with stints in Hong Kong and Beijing. Chinese police detained Spavor—a Canadian writer and businessman—shortly after.
In a statement emailed to Newsweek, ICG's President and CEO, Rob Malley, denied Kovrig was involved in any wrongdoing. "Michael did not engage in illegal activities nor did he do anything that endangered Chinese national security. He was doing what all Crisis Group analysts do: undertaking objective and impartial research."
Although no proven links have been established between their arrests and Meng's, a Chinese official penned an op-ed last week which was widely interrpeted as an admission. "Those who accuse China of detaining some person in retaliation for the arrest of Ms. Meng should first reflect on the actions of the Canadian side," Chinese ambassador to Canada, Lu Shaye, wrote in a Globe and Mail article titled "On China, has Canada lost its sense of justice?"
However, Freeland said China has not admitted to a direct connection between the two arrests. "It would, of course, be highly inappropriate for there to be any connection," she said. "Canada has been behaving scrupulously... Ms. Meng has been given absolute access to due process."