Canada Faces 'Chaos' Over Trump Administration's Decision to Refuse Asylum to Victims Of Violence
A recent ruling by Attorney General Jeff Sessions that makes it more difficult for victims of domestic violence to claim asylum in the U.S. has put Canadian lawmakers in a difficult position, a Canadian immigration researcher says.
As part of a longstanding agreement with the U.S., Canada is expected to turn back would-be asylum seekers under the understanding that the two countries have similar asylum systems based on comparable values and legislation.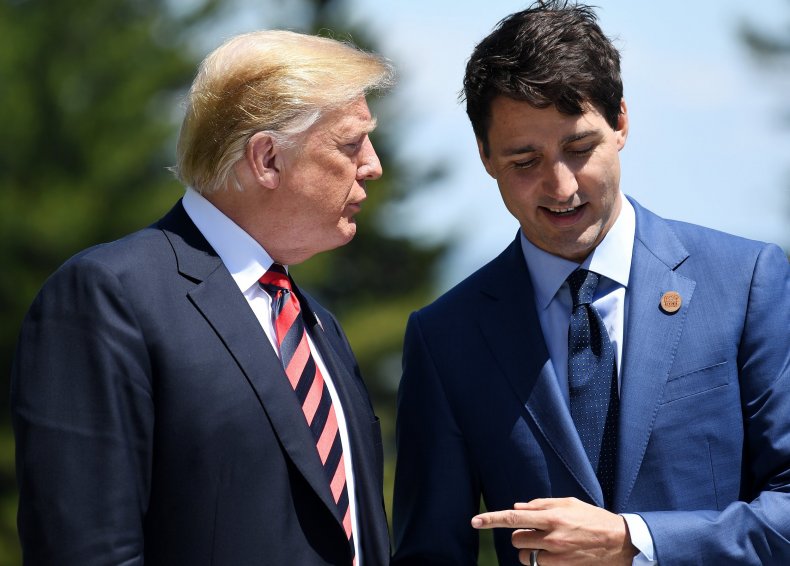 The 2002 Safe Third Country Agreement rests on three pillars, according to University of King's College Associate Professor Kelly Toughill, who owns Polestar Immigration Research, and who wrote about the issue in The Conversation.
"That both countries follow two United Nations treaties, the 1951 Convention Relating to the Status of Refugees and the 1984 Convention on Torture; that both have administrative systems that fairly and properly evaluate refugee claims; and that both respect human rights and have an independent and impartial judicial system," Toughill noted.
In light of Sessions's recent decision, however, as well as the Trump administration's "zero tolerance" policy seeing families caught entering the U.S. illegally separated at the border, Canadian Prime Minister Justin Trudeau may be forced to reconsider the agreement, Toughill told Newsweek in a phone interview.
"It will cause some political chaos and could potentially change what's happening at our borders quite dramatically," Toughill said. "If Trudeau is seen as complicit in immigration policies in the U.S. that are very unpopular that would be a very big problem for him."
Already, Trudeau has faced competing calls for his government to both crack down on the growing number of people trying to seek asylum in Canada at the U.S. border and to protect undocumented immigrants in the wake of the Trump administration's "zero tolerance" policies.
Immigration advocates and politicians have demanded that Trudeau's Liberal government quit the Safe Third Country Agreement, saying the U.S. is no longer holding up to its side of the deal under the Trump administration's current crackdown.
Meanwhile, the Conservative Party has launched repeated attacks on the Trudeau government over rising numbers of asylum claims in the country.
On Wednesday, Conservative Party Leader Andrew Scheer accused Trudeau of having "allowed a crisis to develop at our border, hurting those who try to come to Canada through the correct process," in a Twitter statement.
"That's not fair," he added, asserting that "Canada's Conservatives will keep fighting for an orderly, safe and compassionate immigration system."
Since the Trump administration began putting its hardline immigration policies into effect, Canada has seen a surge in the number of people seeking asylum in the country, with as many as 7,995 asylum claims processed by Immigration, Refugees and Citizenship Canada (IRCC) offices from January to April this year.
The IRCC processed a total of 28,250 asylum claims in 2017–nearly triple the 11,870 claims it processed in 2016, according to data shared on the Government of Canada's website.
Further complicating things is the fact that asylum seekers who enter Canada outside of official border crossings are not turned away by the northern country. Instead, they are able to make asylum claims, unlike those who present themselves at legal ports of entry.
According to Toughill, such crossings from the U.S. into Canada were once rare, "but that changed after Donald Trump won the U.S. presidency."
Last year, more than 18,000 people made the difficult journey to Canada in both freezing and sweltering conditions in a bid to enter the country without having to face screening at an official border station, where they would have simply been turned back.
In the wake of a surge of asylum claims being made in Canada, the country's Minister of Immigration, Refugees and Citizenship Ahmed Hussen had "started negotiations with the U.S. to discourage people from crossing the border outside the official crossings," Toughill said.
After Sessions's ruling, however, she said it will be much more difficult for the Trudeau government to justify such a policy shift if victims of violence are potentially being put at risk by being forced to return to their home countries at the hands of the U.S.
"Irregular migration was causing a bit of a backlash internally in Canada, so there were all sorts of reasons for them to stop this flow," Toughill said. "But it will be much more difficult for the Liberal government to do any sort of crackdown on irregular migrants if that crackdown is going to result in a loss of life."
Toughill then added, "It would be very different to do that if you're returning women who are going to be sent back to the U.S. and then could end up getting killed by being sent back to their home countries."
The researcher said Trudeau's government will eventually have to consider whether Canada can still participate in the Safe Third Country Agreement.
"Will this fundamentally change our politics and perhaps the nature of the way we're governed? I think that's entirely possible," Toughill said. "I think it's a confluence of law, policy and politics that puts the government in a very difficult position and it's getting seized on by some political parties that want to keep criticisms of the government."