Canada Fires 2018: B.C. Wildfire Map Shows Where 566 Fires Are Burning as Emergency Declared
A state of emergency was declared in British Columbia, Canada, on Wednesday due to 566 wildfires burning in the region. Almost 20,000 people were impacted by the fires and evacuation orders, according to Global News.
The state of emergency, issued by Minister of Public Safety and Solicitor General Mike Farnworth, was to remain in effect for at least 14 days.
"Public safety is always our first priority and as wildfire activity is expected to increase, this is a progressive step in our wildfire response to make sure British Columbia has access to any and all resources necessary," Farnworth said. "Taking this step will further ensure we can protect the public, property and infrastructure and assist with firefighting efforts."
The fire danger rating was listed as high or extreme for much of British Columbia on Wednesday. A high risk is defined as when forest fuels are very dry and the risk for fire is serious. In cases of extreme risk, "new fires will start easily, spread rapidly and challenge fire suppression efforts," according to the B.C. government.
A map of the fires shows the locations of the hundreds burning in British Columbia.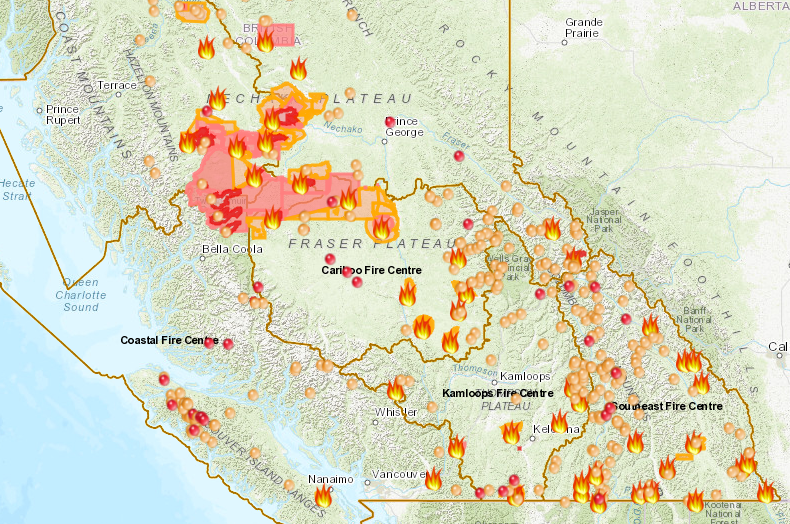 The federal government said on Monday it would deploy help in the form of aircraft and hundreds of soldiers to aid British Columbia in its firefighting efforts, according to The Star Vancouver. Help also came from other places outside of Canada, as Mexico, New Zealand and Australia sent firefighters to British Columbia.
Some 47 of the 566 fires burning in British Columbia are considered large enough to be highly visible or a threat to public safety, Global News reported. Smoke from the wildfires in British Columbia was drifting down into the United States, contributing to an air quality advisory issued this week for parts of Oregon.
Updates on evacuation orders issued in response to the fires are available from the B.C. Wildfire Service.