Canada 'Freedom Convoy' Leader Charged with Assault at Rally
The lead vehicle of a convoy of truckers protesting COVID-19 vaccine mandates across Canada has been charged with assault after an alleged altercation with a pickup driver, according to the Alberta branch of the Royal Canadian Mounted Police.
Glen Daniel Carritt, 56, is also facing a charge of mischief.
The trucker protests began in late January and have been growing in size and support as they block roads, sound their horns, and disturb residents in central Ottawa, Newsweek previously reported. They began in response to industry COVID vaccine mandates imposed by Canadian Prime Minister Justin Trudeau that require truckers to get the shot in order to cross the U.S.-Canada border.
The alleged assault took place on February 3 during a so-called "Freedom Convoy" rally traveling from Eckville to Sylvan Lake, according to a press release obtained by Newsweek. While the convoy drove through Sylvan Lake, a pickup driver pulled in front to block them.
Carritt, described by the RCMP as the "lead participant" of the convoy, then approached the driver and an altercation followed, according to the RCMP. The release did not provide additional details on what happened during the altercation.
Carritt was charged with assault and mischief, and was released to await an appearance at Red Deer Provincial Court on May 18.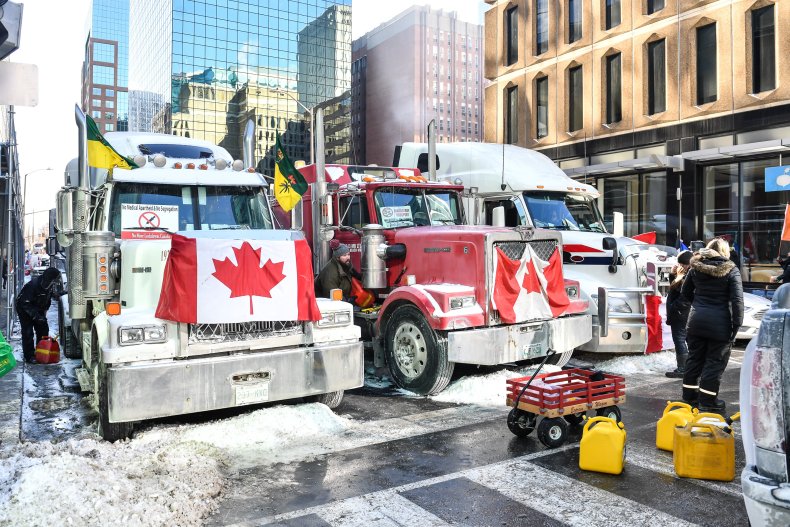 The pickup driver, who was not named in the RCMP release, is also facing a charge for failing to yield to pedestrian.
"The Alberta RCMP ask that motorists and pedestrians remain calm and obey all laws when encountering any type of protest. Confronting people and committing unsafe acts only serve to further inflame the situation. Individuals are asked to drive slowly, with increased caution and patience," the release said.
Carritt announced in a Facebook post on Jan. 11 that he had been tabbed as the leader of an unregistered political party called the Alberta Statehood Party, rdnewsNOW reported. In the post, which appears to have been since deleted from his Facebook page, Carritt wrote that he was "honored" to be chosen as the party's leader and described it as an "exciting opportunity" for Alberta. The party was focused on Alberta leaving Canada to become a U.S. state.
His Facebook page also includes several videos of him participating in the trucker convoy.
Newsweek has reached out to Carritt for comment on the allegations and charges.
Update 2/8/2021 1:39 p.m.: This story was updated with additional background information on Glen Daniel Carritt and the trucker convoy.