Boy, 8, Dangles Off Ski Chairlift Before Plummeting to the Ground Only To Be Saved By Quick-thinking Teens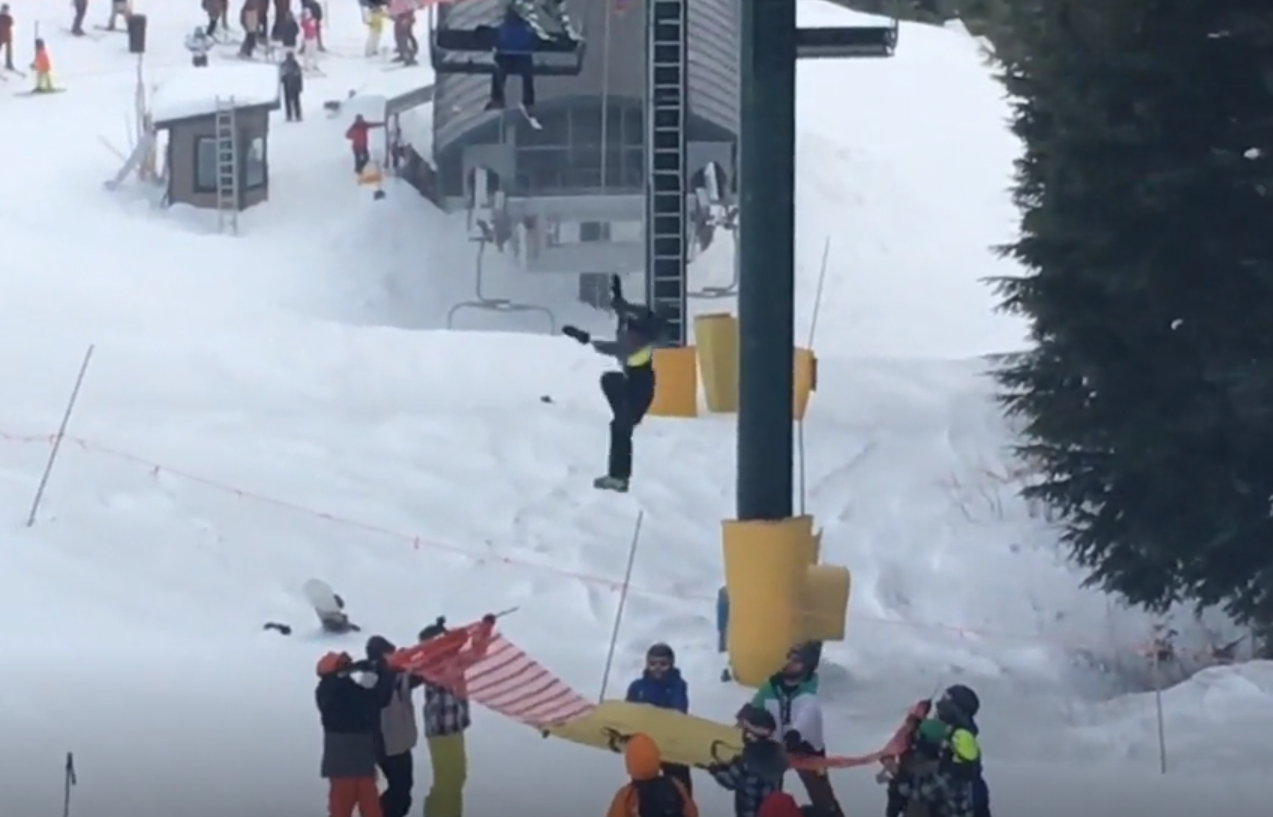 Dramatic footage recorded at a Canadian ski resort last week shows a screaming child dangling from a chairlift before being rescued by quick-thinking teens.
The incident, which occurred last Wednesday at Vancouver's Grouse Mountain, ended with an 8-year-old boy falling to a makeshift safety net and escaping without serious injury. The teens had used a section or orange out-of-bounds netting to help soften the child's fall.
The teenagers—all aged 13 and 14—were identified by local Canadian media outlets as Gabriel, Sam, James, Ethan and Joshua. The video ends with them clapping and cheering.
Eyewitness Carolina Akoglu, who Global News credited with taking the video, said: "We got in the chairlift and [a] few seconds after we heard a horrible scream. There was a man with a kid struggling to keep the kid in the chair yelling at the operator to stop the chair, but the operator didn't hear because the music was too loud. The chair kept on going up and up and up."
One teenager, Gabriel Nielson, explained: "I yelled up and I said 'you need to take your skis off because if you fall with your skis on it is probably going to be worse.' And then at one point we said 'you just need to trust us, you just need to drop.' And so he dropped. We caught him."
Another teenager, named James MacDonald, 14, told CNN the boy had been "starting to flail about and get extremely panicked" just prior to the rescue attempt.
Cam Surine, of Vancouver-based Technical Safety BC, which oversees the safe installation of equipment in the province, told Global News the incident was caused by a loading issue.
"In this particular circumstance it was a loading issue so I encourage people when they enter the loading area to be aware of their surroundings and if they feel like they need some special attention or help getting on the chair that they notify the lift operator." Surine said. The news outlet also reported that district mayor Mike Little branded the rescue "heroic" and "creative."
Julia Grant, a spokesperson for Grouse Mountain, said in a statement to CNN published yesterday: "Safety is our top priority and we will be taking appropriate action based on the results of the investigation."
"Grouse Mountain is incredibly appreciative of those who assisted in Wednesday's chairlift incident. Their quick thinking and immediate actions are commendable," Grant added. Officials said the context around the incident remains under investigation. The named teenagers have each been granted a complimentary season pass to Grouse Mountain as a thank you.