Canada's Immigration Minister Demands That Iran Take 'Full Responsibility' For Compensating Downed Plane Victims' Families
Iran must take "full responsibility" for compensating the families of those who died in last week's downed plane tragedy, Canada's immigration minister has asserted.
In an interview with the Canadian Broadcasting Corporation's The Current, Canada's Minister of Immigration, Refugees and Citizenship Marco Mendicino said the Trudeau government was doing everything it could to hold Iran accountable over the incident.
On Saturday, Iran admitted that its military was responsible for shooting down a Ukrainian jetliner departing the Imam Khomeini International Airport in Tehran on Tuesday.
Iran said the jet's downing had been unintentional, explaining that officials had thought the plan was a "hostile target" after it flew towards a "sensitive military center" of the Revolutionary Guard.
Newsweek subscription offers >
The country's admission came following the revelation, first reported by Newsweek, that U.S. intelligence believed a likely mistake by Iran's armed forces caused the downing of the jet.
The deadly incident saw 176 passengers and crew members killed, with many of the passengers on board being Canadian.
In Monday's interview, Mendicino said that it "cannot be overstated how important it is that we get the accountability that families are asking for."
Asked by The Current's Matt Galloway what exactly that meant, Mendicino said that "in the short-term, it begins with the devastating admission that Iran provided." However, he said, "it certainly doesn't end there and there are many more questions."
Newsweek subscription offers >
In addition to looking for answers from Iran, the immigration minister said Canadians would also need "timely access" for families who would like to repatriate the remains of those that they have lost."
Grieving families would also need to be compensated, he said, suggesting that Iran should bear the full brunt of that support.
Asserting that the government was working to "break down the silos" between government branches so they could work together to ensure justice for grieving families, Mendicino said ensuring that families are compensated would also be a priority.
"Iran will have to take full responsibility," the Canadian immigration minister said.
Asked how Canada would keep Iran accountable, Mendicino said the North American country would "continue to engage Iran" on the issue.
It is still unclear what compensation for families might look like.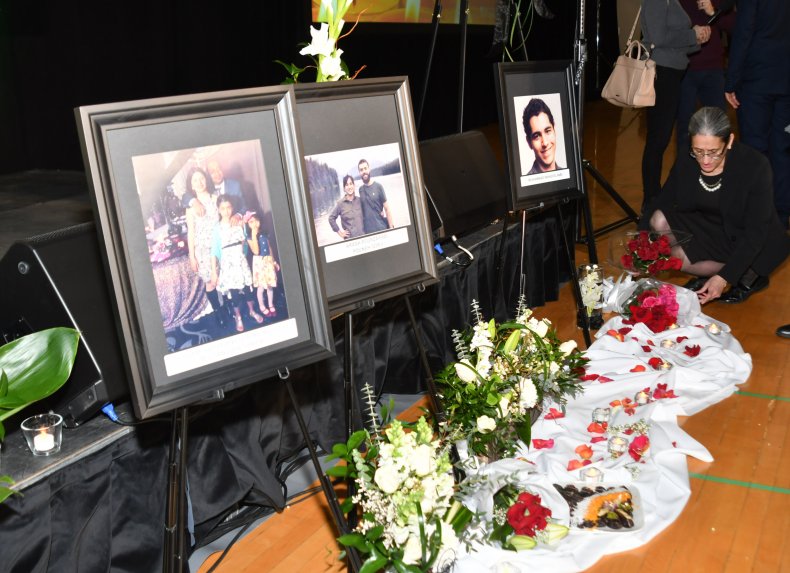 Mendicino's comments doubled down on those previously made by Canadian Prime Minister Justin Trudeau, who said on Saturday that Iran must take full responsibility for the "horrific" act, regardless of whether it was a mistake.
"I had the chance to sit with some of the families of the victims. They are hurt, angry and grieving," said Trudeau. "They want answers. They want justice."
Ukrainian President Volodymyr Zelenskiy has also demanded compensation from Iran following the downing of the passenger plane.
In a statement published on Facebook, Zelenskiy said: "We expect from Iran assurances of their readiness for a full and open investigation, bringing those responsible to justice, the return of the bodies of the dead, the payment of compensation, official apologies through diplomatic channels."
Canada's Immigration Minister Demands That Iran Take 'Full Responsibility' For Compensating Downed Plane Victims' Families | World