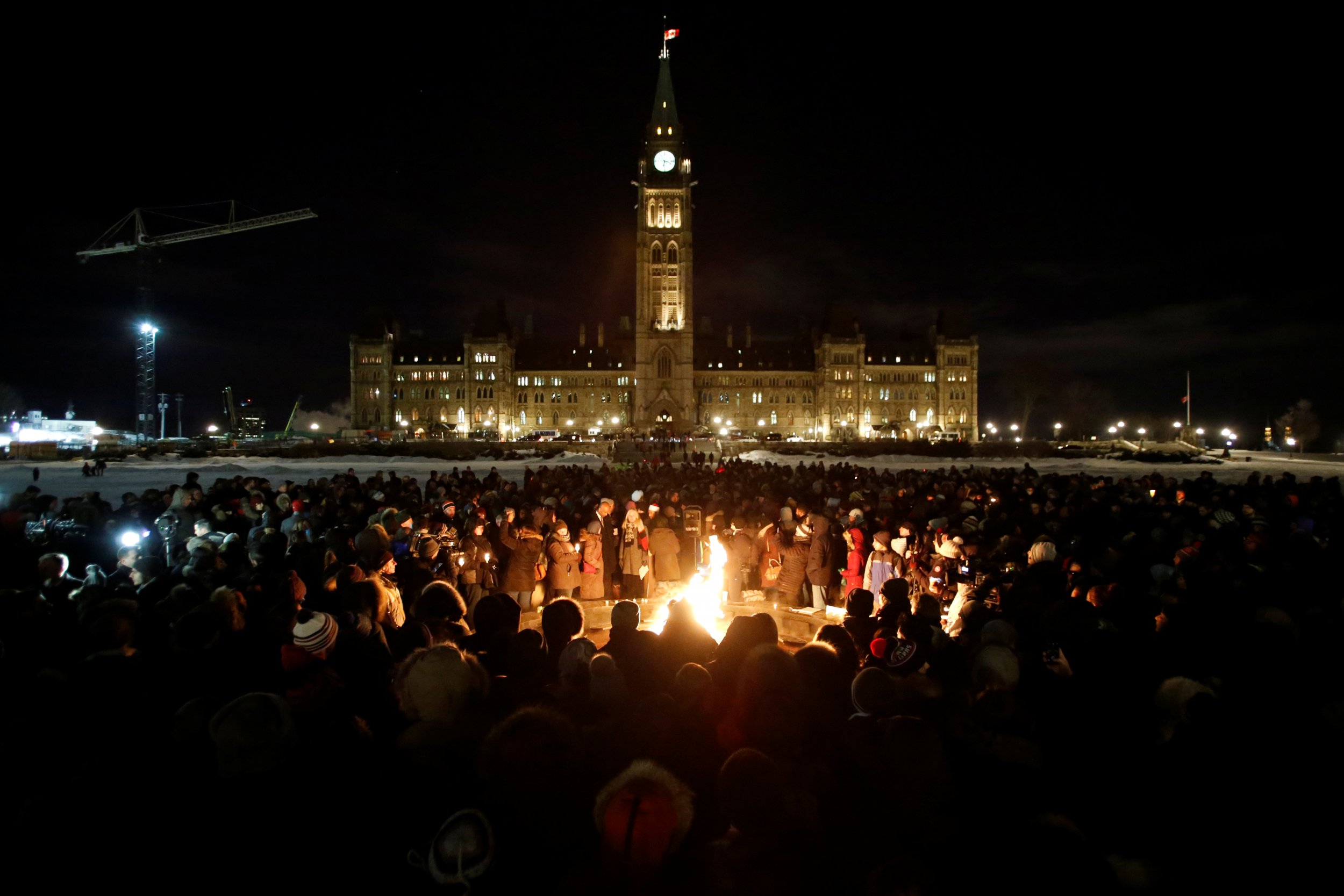 Canadian police visibly patrolled mosques and schools in Muslim communities in several cities on Monday following the shooting attack at a Quebec City mosque that killed six worshippers.
Authorities said a French-Canadian university student was the sole suspect in Sunday's shooting that also wounded 17 people and was described by Prime Minister Justin Trudeau as "a terrorist attack."
While mass shootings have become commonplace in the United States, Canada's neighbor to the south, they are rare in a country with more stringent gun laws.
In Quebec City, police cars were stationed in front of various mosques, with officers checking the identification of reporters waiting outside.
Several blocks around the Islamic center that was attacked were cordoned off, with police officers parked outside questioning people passing by.
"We have been in touch with the police, asking for more protection for all the mosques of Quebec (City)," said Majdi Dridi from the Quebec chapter of the Muslim Association of Canada. "I don't think there will be another attack, but we have to reassure our people, to make them feel secure."
The Royal Canadian Mounted Police and other law enforcement agencies also reached out to Muslim groups, asking those with security concerns to contact their local police forces.
"Before the community even asked, the Toronto police chief's office already issued a statement that patrols around the mosques have increased because of this incident," Imam Abdul Hai Patel, a member of the Canadian Council of Imams, said.
Police from York region north of Toronto had also contacted him to say patrols were being increased.
"I think certainly this tragedy has heightened the urgency around ensuring that every precaution is taken," said Amira Elghawaby, a spokeswoman for the National Council of Canadian Muslims.
Others said a more obvious police presence would not necessarily ease the concerns of Muslims, who have often had a testy relationship with law enforcement.
"This is the dilemma. You don't want that kind of overt police presence, but maybe this is the direction we're going in," said Mubin Shaikh, a former extremist turned police informer who is now a national security consultant.
U.S. Police Response
The shooting influenced policing in the United States as well. The New York Police Department directed special attention to all mosque and other houses of worship throughout the city, the NYPD said in a statement.
New York's armed Critical Response Command was assigned to extended coverage at certain mosques, the statement said.
Near New York City in northern New Jersey, home to a significant Muslim population, authorities planned to increase patrols around mosques, the Record newspaper reported, citing police officials.
Police in Chicago said in a Twitter message they would be "providing special attention to mosques and surrounding areas," even though there was no known threat.
Canada's public safety minister said the government was extending indefinitely a Tuesday deadline for communities considered at risk of hate crimes to apply for federal funding toward the purchase of security cameras and other protective measures.
"It's obvious with the circumstances in Quebec City that there may be other groups and organizations that perhaps haven't bothered taking advantage of this program that now might want to reconsider their position and make an application," he told reporters in Ottawa.
The fund will match private funds up to a total of C$100,000 ($76,000).