Canadian Chief Public Health Officer Dr. Theresa Tam told residents this week to get their "masks ready" amid ongoing discussions surrounding the possible return of mask mandates.
Tam and other Canadian health officials wore face masks during a press briefing on Tuesday. When asked about their decision to mask up, Tam said, "It is a layer of protection. We hope people have developed the habit to use masks as needed during the rest of our season, not just for COVID, but all the other respiratory pathogens that will be transmitted around this time."
Tam continued, "I do think now is the time to get your masks ready if you don't already have them. In our own particular context, we certainly, in our area, there's been an uptick in some of the COVID-19 indicators."
Her comments come amid ongoing speculation about the possible mask mandates. Earlier this month, some schools in the United States announced the partial return of mask mandates in response to rising COVID-19 hospitalizations, however many of these mandates were for a specific period of time and have since ended.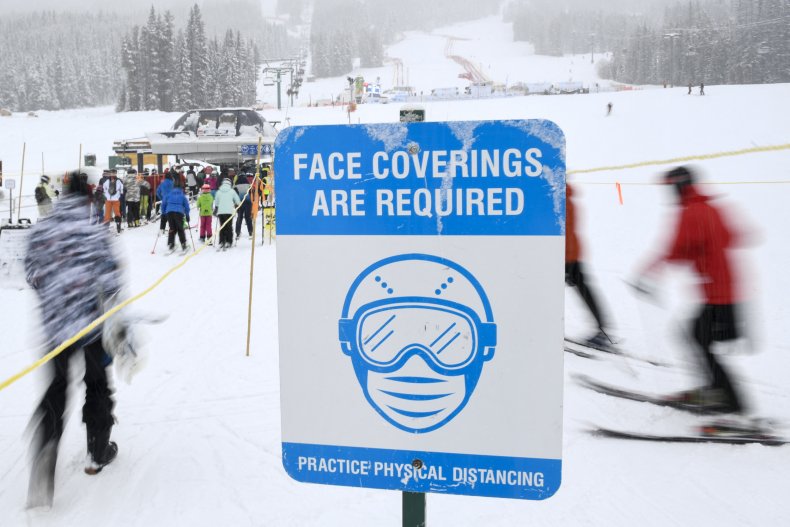 Newsweek reached out to Tam's office via email for comment.
"National percent positivity has been steadily increasing in recent weeks, with percent positivity at 15.1% in the latest reporting week," Health Canada says on its website.
"The total number of hospital beds occupied by COVID-19 patients increased from 2,125 to 2,165 beds" between August 30 and September 5, according to the country's health department.
In response to a slight increase in COVID-19 cases and hospitalizations in Canada, some hospitals have announced a return to mask requirements for patients, visitors and staff. Kingston Health Sciences Centre in Ontario says on its website that masks are required in the emergency department, children's outpatient clinic, and urgent care.
The Ottawa Hospital also issued a similar update on its website, saying that face masks are now required in waiting rooms and clinical areas, and are "encouraged, but optional," in hallways, cafeterias, elevators, administrative spaces and meeting rooms "for the duration of the respiratory virus season."
Several social media users responded to Tam's comments expressing opposition to a return to mask-wearing in Canada.
"We are living in a Twilight Zone episode in Canada. This is Canada's 'Health' Minister Theresa Tam today (not in 2020). Please send help," user Chris McKee wrote on X, formerly Twitter, sharing a video from the press conference.
X user Laura wrote, "Here we go again Conditioning us so we're not completely shocked when they enforce mask mandates. I have a feeling they're going to amp up the fear now. CONTROL," in response to a video of Tam's comments.
Uncommon Knowledge
Newsweek is committed to challenging conventional wisdom and finding connections in the search for common ground.
Newsweek is committed to challenging conventional wisdom and finding connections in the search for common ground.
About the writer
Matthew Impelli is a Newsweek staff writer based in New York. His focus is reporting social issues and crime. In January 2023, Matthew traveled to Moscow, Idaho where he reported on the quadruple murders and arrest of Bryan Kohberger. Matthew joined Newsweek in 2019 after graduating from Syracuse University. He also received his master's degree from St. John's University in 2021. You can get in touch with Matthew by emailing m.impelli@newsweek.com. Languages: English.