Canada Orders Diplomat Families to Evacuate Ukraine Amid Growing Fears of Russian Conflict
On Tuesday, the Canadian government ordered that families of Canadian diplomats must leave Ukraine amid growing concerns of conflict with Russia.
In a statement released Tuesday, Global Affairs Canada wrote that authorities made the decision because "the safety and security of Canadians, our personnel and their families at our missions abroad is our top priority."
"Due to the ongoing Russian military buildup and destabilizing activities in and around Ukraine, we have decided to temporarily withdraw Canadian embassy staff's children under 18 years of age and family members accompanying them," the statement said.
Canadian officials continue to monitor the situation, the statement said.
The order marked a reversal from remarks made by Canadian Prime Minister Justin Trudeau on Monday. During a press conference, reporters pressed him on whether or not the nation's diplomats' families would be evacuated from Ukraine, Reuters reported.
"There are many contingency plans in place. The safety of Canadian diplomats and their families is of course paramount," he said. "We will make determinations based on safety on the ground."
The United States ordered its diplomats' family members to leave Ukraine on Sunday.
"The Department of State made the decision to authorize departure from Mission Ukraine out of an abundance of caution due to continued Russian efforts to destabilize the country and undermine the security of Ukrainian citizens and others visiting or residing in Ukraine," the U.S. Embassy in Ukraine said in a statement.
"Military action by Russia could come at any time and the United States government will not be in a position to evacuate American citizens in such a contingency, so U.S. citizens currently present in Ukraine should plan accordingly," the embassy's statement said.
The decision comes amid concerns of mounting conflict with Russia, which has increased troops near its border with Ukraine, prompting concerns among some countries that they plan to invade; though Russia has denied claims that they plan to attack Ukraine.
Meanwhile, the United States has put more than 8,500 troops on stand-by as the White House and Pentagon decide whether or not they will deploy to Europe. U.S. leaders have pledged a swift response if Russia does invade.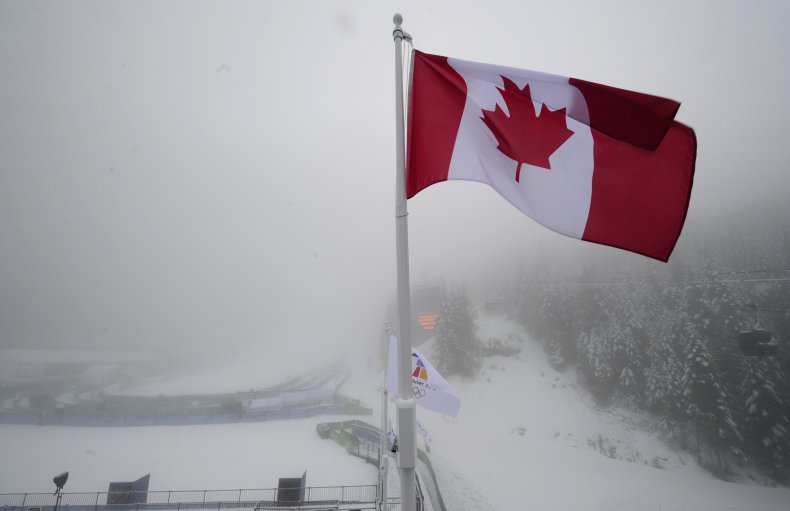 "We are clear and have been clear for quite some time, that our first approach and priority and preference is that these issues could be resolved diplomatically. We have also been clear and continue to be clear, that if Russia takes aggressive action, it will be with severe cost," Vice President Kamala Harris said on The Today Show.
Newsweek reached out to Global Affairs Canada for comment Tuesday morning. This story will be updated with any response.