Canadian Prime Minister Justin Trudeau on Tuesday said that he has been watching the protests for George Floyd in the United States with "horror and consternation."
Trudeau was asked by reporters about President Donald Trump's response to the recent protests by suggesting he will deploy military action as well as the incident where protesters were tear gassed, "to make way for a presidential photo-op."
After taking a measured 21-second pause, Trudeau answered by saying, "we all watch in horror and consternation what's going on in the United States. It is a time to pull people together, but it is a time to listen."
"It is a time to learn what injustices continue despite progress over years and decades. But it is a time for us as Canadians, to recognize that we too have our challenges, that black Canadians and racialized Canadians face discrimination as a lived reality every single day," Trudeau continued. He added that there is also systemic discrimination in Canada and something that "many of us don't see."
"We need to see that—not just as a government and take action—but we need to see that as Canadians. We need to be allies in the fight against discrimination. We need to listen; we need to learn; and we need to work hard to fix—to figure out how we can be part of the solution on fixing things," Trudeau said.
Trudeau's comments come as mass protests have begun in several states across the U.S. against police brutality following the death of George Floyd. Floyd was held down by Minneapolis Police Officer Derek Chauvin's knee and in a number of different videos of the arrest, Floyd can be heard repeatedly saying that he cannot breathe. Floyd later died in police custody.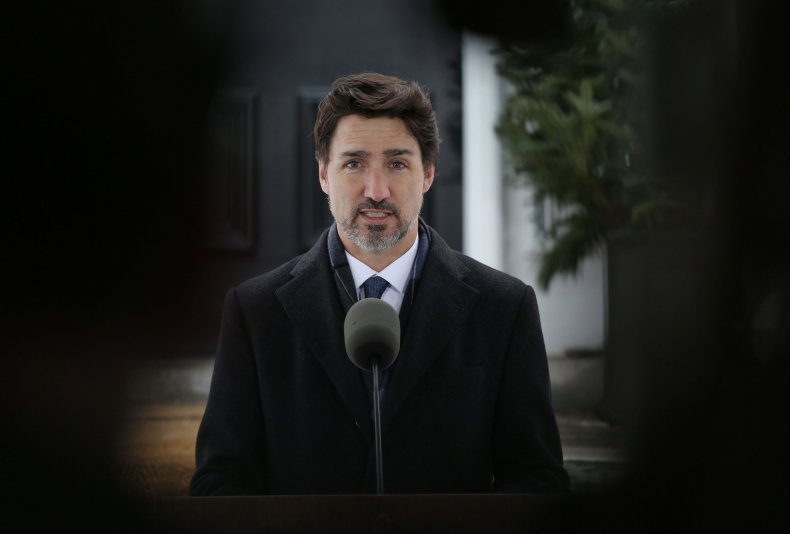 During his press conference on Tuesday, Trudeau spoke about past government responses in Canada to police brutality and racism and added, "This government has done a number of things over the past years, but there is lots more to do and we will continue to do that because we see, we see you; we see the discrimination that racialized Canadians live every single day."
In the past, Trudeau has faced criticism for racial issues after photos surfaced showing the Canadian prime minister wearing blackface while attending a college party. Trudeau has since apologized several times, and Trump responded to the pictures by saying he was "surprised."
Newsweek reached out to Trudeau's office for further comment but did not receive a response in time for publication.