The Canadian government is being sued by refugee rights attorneys who say their policy of rejecting asylum-seekers at the U.S. border and ports of entry is unlawful, forcing hundreds of people back into American custody to potentially face deportation.
The Canadian Association of Refugee Lawyers told Reuters Tuesday that they filed the lawsuit in federal court because the current asylum-seeker policy between the U.S. and Canada does not consider if these individuals have any alternative options. Instead, the group says, asylum-seekers are turned back to American authorities who have successfully deported at least one person who tried entering Canada. The vast U.S.-Canadian border has been closed for 14 months as a direct result of COVID-19 pandemic restrictions.
According to the Canadian lawsuit first obtained by Reuters on Tuesday, the current pandemic-era policy denies asylum-seekers their right to a hearing. The policy is reviewed for renewal monthly, and Canadian officials have defended it both as a necessary pandemic public health restriction and because the U.S. has given them assurances "most" asylum-seekers will be returned to Canada later to pursue refugee status applications.
Lawyers for one man seeking asylum in Canada said their client was brought to a U.S. immigration center in Batavia, New York, after being turned back by Canadian border officials. U.S. authorities then tried several times to deport him to Burundi, which Canada has suspended due to an ongoing humanitarian crisis.
A spokeswoman for Canada Public Safety Minister Bill Blair appeared to defend the current U.S. border police in an email to Reuters: "We are in an unprecedented global pandemic. The border is closed to all non-residents of Canada, with very few exceptions. … At this time, people should not be traveling, unless it is absolutely necessary or for recognized essential purposes."
The Safe Third Country Agreement was signed by former President Donald Trump and Canadian officials. It mandates that if a person passes through either country to seek asylum, they will be turned back because both countries are deemed "safe" enough to process asylum and refugee claims. In February, the Biden administration announced plans to formally end such Trump-era agreements.
According to the Canada Border Services Agency, Canadian authorities turned back 387 asylum-seekers trying to cross between ports of entry between March 2020 and April 2021.
The U.S. Department of Homeland Security confirmed this week that the land borders between the U.S., Canada and Mexico would remain closed due to COVID-19 and subject to month-to-month reevaluations through at least May 21.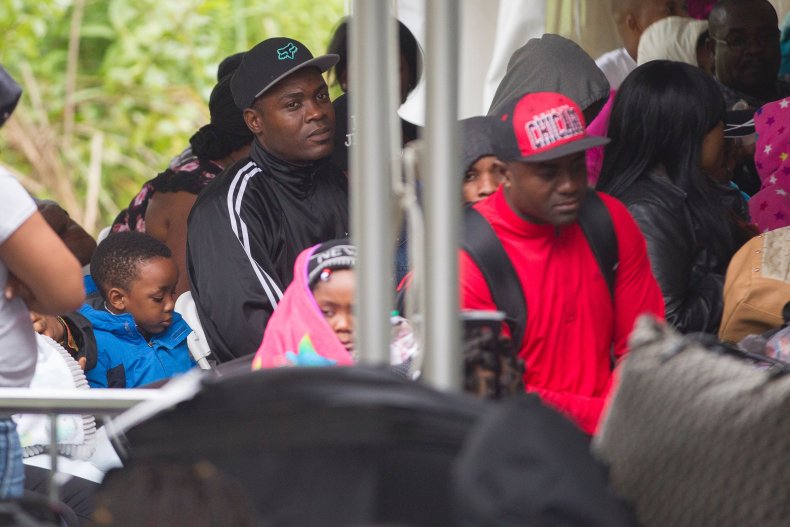 Newsweek reached out to both DHS and Canada's public safety agency for additional remarks Tuesday afternoon.
Dominic LeBlanc, Canada's intergovernmental affairs minister, told the CBC News recently, "For the moment, there's no active discussion" about easing border restrictions between the U.S. and Canada for general nonessential travel.
"We're all eager to be able to travel again," Canadian Prime Minister Justin Trudeau said Monday, according to CTV News. "But I think we're all going to wait patiently until such time as the health situation allows us to loosen border restrictions internationally. That'll be eventually, but not for today."