Canada and U.S. Extend Border Restrictions Until Late June
Canadian Prime Minister Justin Trudeau announced that Canada and the U.S. have agreed to extend border restrictions until June 21 at his daily coronavirus briefing.
"This is an important decision that will keep people in both our countries safe," Trudeau said on Tuesday.
The border has been closed to nonessential travel since March 18 in efforts to contain the COVID-19 outbreak. Essential travel includes work and study, critical infrastructure support, economic services and supply chains, health, immediate medical care and safety and security. The current closure was set to expire this Thursday.
"The border is a vulnerable point in terms of the possibility of cases coming in from the outside," said Trudeau said.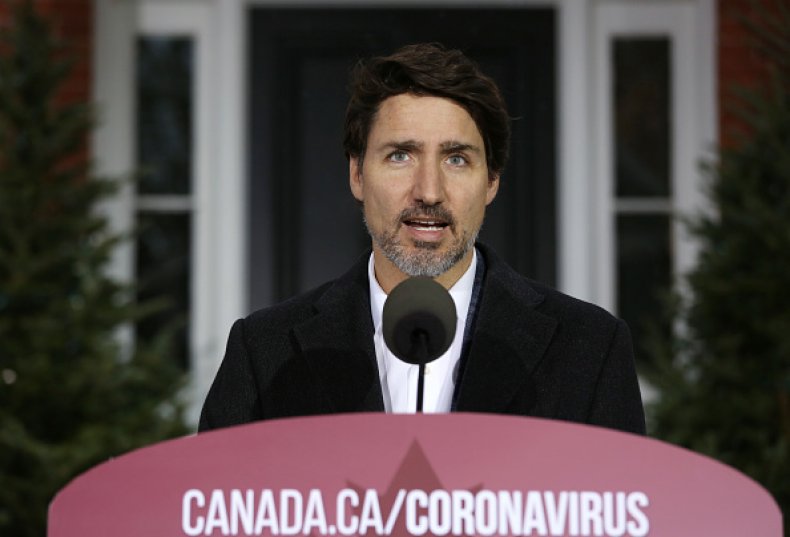 A new poll published by DART and Maru/Blue found that 83 percent of Canadians think the border should remain closed.
While the U.S. has become a global hotspot for the new coronavirus, Canada has managed to limit the number of infections in the country to 78,072. The U.S. has seen more than 1.5 million confirmed cases.
States and provinces across both countries have began reopening.
By Memorial Day weekend, every state in the nation will have begun lifting lockdown measures, including New York and New Jersey, the states that have been hit hardest by the virus.
Connecticut will be the last to join the nation in reopening. On Wednesday, the state will reopen outdoor dining, offices, retails and malls, museums and zoos and outdoor recreation businesses.
In Canada, British Columbia has already entered Phase 2 of their reopening plan, while Ontario businesses will be allowed to begin business for the first time since the beginning of the pandemic, starting Tuesday. More than half of Canada's COVID-19 patients have recovered.
Ontario Premier Doug Ford has been adamant that the international border remains closed.
"I always say we love our American neighbors to the south, but right now we're going to have to keep the borders closed, especially just for visits and that," he said at a press conference on Friday, "We just can't risk it."
Nearly 94 percent of coronavirus cases in Canada are in three of the country's provinces, Quebec, Ontario and Alberta.
In a Tuesday press release, Acting Secretary of Homeland Security Chad Wolf said, "We have been in contact with our Canadian and Mexican counterparts and they also agree that extending these restrictions is prudent at this time. We appreciate our partnership with Mexico and Canada in ensuring that North America is working together to combat the ongoing global pandemic.."
When asked how much longer the border will remain closed, Trudeau said decisions will be made on a week-by-week basis as the pandemic continues to evolve.