Canadian Army Considering Shortening Skirts to Attract More Female Enlistees
To increase female enrollment, the Canadian army is considering redesigning uniforms to shorten skirts and referring to medals as "bling," The Ottawa Citizen reported.
The newspaper reported that the proposals are being floated to increase female enlistment by 25 percent by 2026. The changes include clothing guidelines and social media presentations.
The Ottawa Citizen used the country's access to information law to obtain strategy documents dating from 2016 through 2018 from the Armed Forces that outlined these proposals.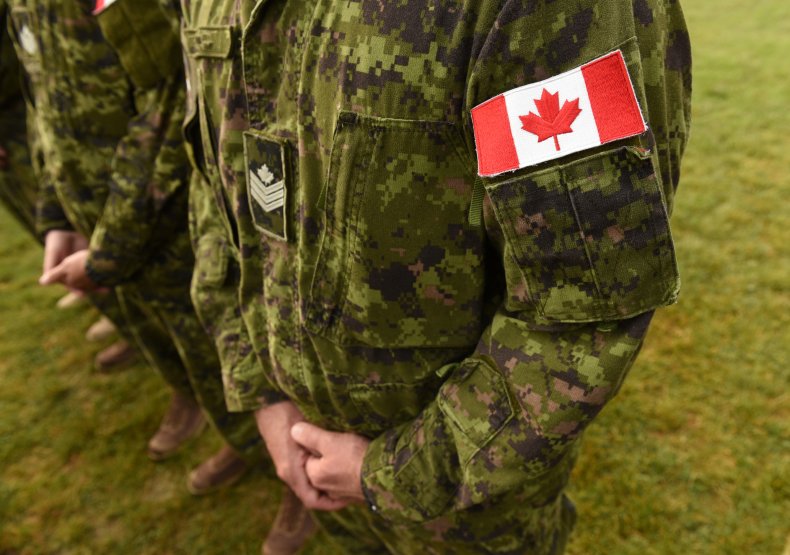 A "Tiger Team" was formed to address the specific issue of female recruitment. That team created a number of documents examining various impediments to increasing female enlistment from the 15.9 percent it is at today, the paper reported.
In the report, the team notes that "systemic barriers remain in place, making the military a less than desirable choice for the majority of young Canadian women."
The issue of uniforms was presented as a concern. The Canadian Armed Forces Dress Committee, the group that determines standards for military clothing, is primarily male. That has resulted in uniforms for female soldiers that are uncomfortable and difficult to move in.
The group recommends that the committee be reformed to consist of no fewer than 25 percent of women to provide feedback on the fit and style of official garments. One functional change would be shortening and slimming the skirts worn by female soldiers, as well as changing their regulation dress shoes.
The documents also contained proposals to advertise careers in the Canadian armed forces that emphasize friendship and trust in co-workers. One featured a group of male and female Canadian military members roasting marshmallows over a beach campfire.
One social media proposal the Citizen reviewed had ads bearing slogans such as "My bling are my medals." Messaging around the Canadian army's roles in disaster relief and peacekeeping, as opposed to direct combat, was also recommended.
The Department of National Defence did not respond to a request for comment from Newsweek.
The role of women in the Canadian armed forces has evolved over the years. During World War II, they were only permitted to serve in non-combat capacities such as administration, cooking and nursing.
With the passage of 1985's Canadian Human Rights Act, military opportunities for women expanded further, and by 1987 they were permitted to take direct combat posts.
Recruitment of both genders has recently been an issue, however. A 2018 article in Legion, a magazine that focuses on Canadian military history, examined the problems the CAF is having keeping recruitment to levels mandated by the country's Strong, Secure, Engaged defense policy.
According to CTV, the CAF's total membership fell from 58,000 to 56,300 between 2011 and 2016, even as staffing needs increased.