Canadian CEO Blames 'Narcissist' Trump for Iran Plane Shoot Down Using Company's Twitter Account
The CEO of a Canadian food company has attacked President Donald Trump's administration over its Iran strategy, suggesting that the president is ultimately responsible for Iran accidentally shooting down a passenger plane outside Tehran last week.
Fifty-seven Canadians were among 176 people killed when Ukraine International Airlines Flight 752 was shot down by Iran's armed forces, dragging the country into the simmering U.S.-Iran conflict.
Maple Leaf Foods chief Michael McCain posted a series of tweets on Sunday describing his anger at the incident, in which a colleague lost his family. McCain made the posts on the company's official Twitter page though described the messages as "personal reflections."
"I am very angry, and time isn't making me less angry," McCain said. "A MLF colleague of mine lost his wife and family this week to a needless, irresponsible series of events in Iran."
The Ukrainian plane was shot down just after taking off from Tehran airport, just hours after Iran launched missile strikes against Iraqi military bases hosting U.S. troops.
This was a retaliation for the U.S. assassination of Iranian commander Qassem Soleimani in Baghdad the week before. Iranian anti-aircraft teams were on high alert in the hours after the strike, and an operator mistook flight 752 for a U.S. aircraft.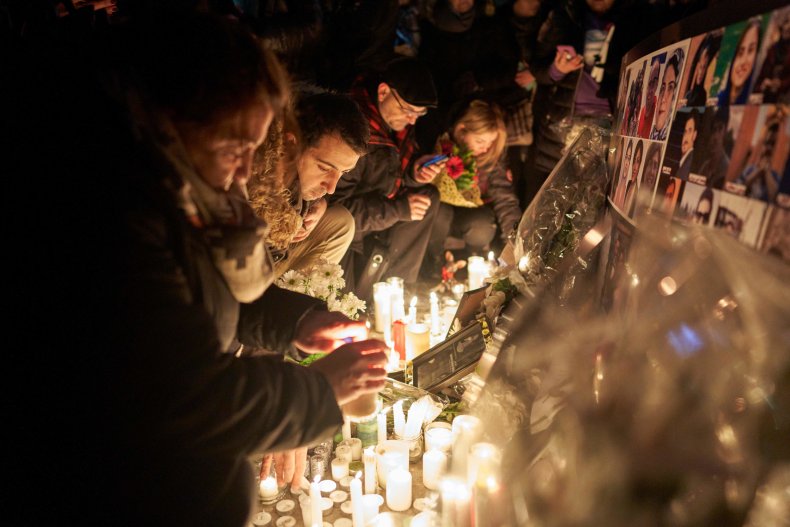 Trump has claimed that Soleimani—the commander of the Islamic Revolutionary Guard Corps' clandestine Quds Force and one of the most powerful men in the country—was killed to prevent imminent attacks against four American embassies in the Middle East.
But the administration has failed to provide evidence to support the explanation, and on Sunday Secretary of Defense Mark Esper appeared to contradict the president when he said he had not seen evidence suggesting four embassies were being threatened.
McCain said the Trump administration was "unconstrained by checks/balances" and "concocted an ill-conceived plan to divert focus from political woes."
The president's opponents have suggested that Trump ordered the strike to take attention off his impeachment and looming Senate trial, while seeking a bump in national approval ratings.
"The world knows Iran is a dangerous state, but the world found a path to contain it; not perfect but by most accounts it was the right direction," McCain added, referring to the Joint Comprehensive Plan of Action—also known as the Iran nuclear deal—from which Trump withdrew in 2018.
"A narcissist in Washington tears world accomplishments apart; destabilizes region," McCain continued. "U.S. now unwelcomed everywhere in the area including Iraq; tensions escalated to feverish pitch. Taking out despicable military leader terrorist? There are a hundred like him, standing next in line."
McCain said the Canadians killed—including the wife and 11-year-old son of one of his colleagues—were "collateral damage" of Trump's He added, "We are mourning and I am livid."
In an interview with the Canadian Broadcasting Corporation's The Current, Canada's Minister of Immigration, Refugees and Citizenship Marco Mendicino commented on McCain's tweets, saying: "I think his statement certainly taps into and reflects the anger that is being felt by the families and by Canadians right across the country."
Trump administration officials have expressed their sadness at the incident. Secretary of Defense Mark Esper told CBS News Sunday said the "terrible tragedy" was clearly "a horrible mistake" but one that Iran must take responsibility for.
National Security Advisor Robert O'Brien, meanwhile, told ABC News that "the president's condolences and sympathy goes out to the passengers, their families, and their friends and loved ones."
He said the Iranian regime is "reeling from their incompetence" and must apologize. "They have to pay compensation to the families, and they need to make sure this never happens again," he added.
This article has been updated to include comments from Marco Mendicino and the Trump administration.