Canadian Chef Butchers And Eats Deer Leg In Front Of Animal Rights Activists
A Toronto chef tired of animal rights activists crowding outside his restaurant to protest his meat-heavy menu, which includes venison and boar, decided to hold his own demonstration, butchering deer meat in the window of his shop before eating it in an apparent bid to taunt protesters.
"He just started carving it in front of us and then he walked away," activist Marni Ugar said of Antler Kitchen and Bar owner and chef Michael Hunter.
"Eventually, he walked away but about half an hour later he came back with a cooked piece of meat, which was presumably the same piece of meat, but he just sat there and ate it in front of us," she told Newsweek.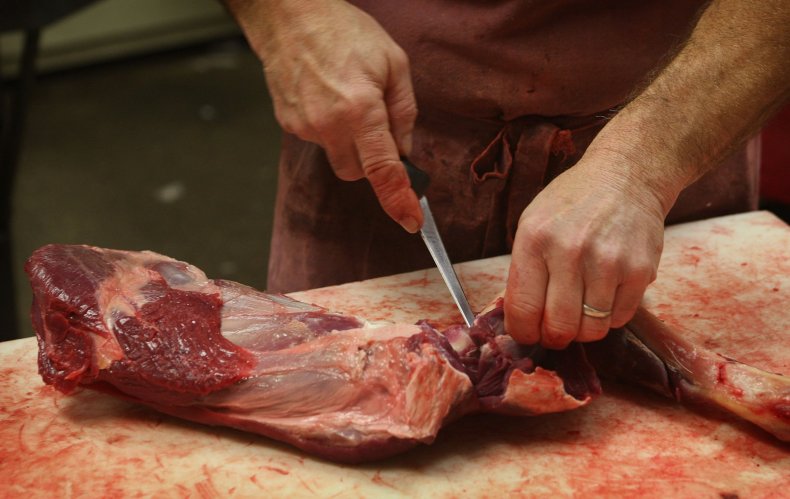 Hunter told newspaper The Globe and Mail that he had decided to "have his own protest" last Friday after three months of repeated demonstrations outside his restaurant, with activists calling him a "murderer" and chanting: "You've got blood on your hands."
The restaurateur is both a hunter and forager who feeds his family meat that is almost entirely caught in the wild. While it is against Ontario policies to serve those meats in a restaurant, Antler's menu is dedicated to nose-to-tail eating, which centers around using all parts of the animal in cooking.
The restaurant reportedly came under the scrutiny of animal rights activists after an Antler employee wrote on a promotional chalkboard outside: "Venison is the new kale," in a bid to draw customers.
"There was no offense meant," Hunter told The Globe and Mail. "I'm not trying to promote a meat diet. I have a lot of respect for the vegan diet because I know how hard it is."
However, it was too late. Ugar spotted the sign and organized an initial demonstration outside Antler for December 7. She said Friday's protest was likely the fifth she has organized outside Antler since then.
Ugar said she chose to protest outside the restaurant to highlight that consuming animals that have been raised in pastures without the use of hormones and antibiotics is still considered unethical to animal rights activists, even without the use of factory farming.
"People are under the impression that he's serving wild animals, it's so great... but what they are losing sight of is that, number one, these are intended to be wild animals, but they're being farmed. The deer are being farmed and the boar," Ugar said.
She added that the restaurant also serves foie gras, a controversial luxury food product made of the liver of a duck or goose that has been fattened through force-feeding. "Even the non-vegans support us on that one, so it doesn't really add up," she said.
Read more: Which State Is the Worst at Protecting Animals?
Hunter said the protests were "hurting his business" and eventually he decided he'd had enough and "went and got a deer leg." The chef butchered the leg in full view of the protesters before cleaning the table down and going to prepare the meat. After, he ate the dish once again in front of the window.
The chef said he regretted the move later on, however, admitting he "didn't feel good about it" and "felt like they got me and I played into them."
Ugar said she reached out to Hunter over email and offered to limit the number of protests she holds outside his restaurant if he agrees to put a sign in his window that says, "Attention, animals' lives are their right. Killing them is violent and unjust, no matter how it's done."
She said the restaurant owner responded by inviting her and fellow protesters out on a foraging trip to "talk about" the issue.
"I haven't responded yet," she said. "It's all cute and everything, but really, I would rather just sit there and talk to him.
"There's a part of me that feels for him. I understand that he's just a human trying to run a business, but what about the animals?" Ugar said. "That's just dismissing the fact that they are the victims."
The animal rights activist said she has received hate mail over the incident and has stressed that her "primary focus isn't to attack anyone. It's to raise awareness and to educate."