Canadian Couple Made Over $70,000 Reselling Lysol Wipes on Amazon at Inflated Prices
A Canadian couple reportedly made CAD$100,000 (around $72,000) buying large quantities of Lysol disinfectant wipes and reselling them at inflated rates on Amazon amid panic over the ongoing COVID-19 coronavirus pandemic.
Manny Ranga, 38, and his wife Violeta Perez, 37, have quickly cashed in on fears caused by the virus by buying up stocks of wipes from local Costco outlets in Vancouver, Canada and selling them for more than four times the amount online, according to a Thursday article in The Toronto Star.
"It's a big opportunity with all these products," Ranga told paper. "I've got to pay the bills. With a regular job, I won't be making this money... I know it won't last forever."
The couple were said to have begun their price gouging scheme a few weeks earlier, when the emerging outbreak inspired them to go on a shopping trip for themselves. Their new business model was hatched when a woman stopped them in the parking lot and offered to pay double for their supplies.
"Everything we do, we're in the moment," Perez told the paper. "We're hustlers."
The pair frequently travel from store to store in their area, loading up their truck whenever new stocks of items like wipes and cleaning liquid become available. Bulkier in-demand items like toilet paper are less favored because they are difficult to store and ship.
When one Costco location threatened to place limits on the amount of wipes the couple could buy, Perez claimed that such a limit was "not fair" because other people were also engaging in price gouging schemes.
The couple were said to be trading on Amazon's marketplace platform under the name "Violeta & Sons trading ltd," according to the article. One listing was said to feature a CAD$20 (about $14.50) package of wipes being offered for CAD$89 (around $64.50).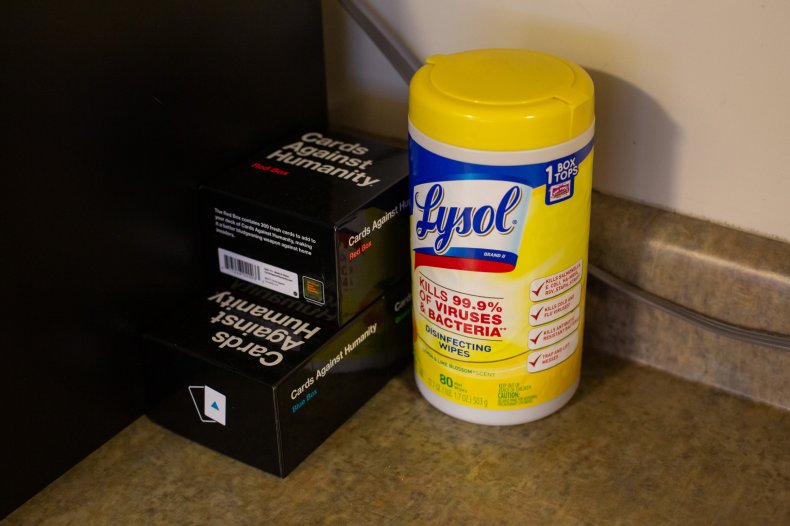 Although a check of the account revealed no items listed at the time of writing, one review from Thursday remarked that the "seller cancelled my order the day before delivery only to put it back online and jack up the price."
Amazon has policies intended to prevent opportunistic price gouging schemes and recently began cracking down on listings in light of the pandemic.
Newsweek reached out to Amazon to ask how the couple were able to continue making large amounts of money through the platform despite the policies but did not receive a response in time for publication.
However, Newsweek did obtain an earlier statement from the company, which insisted that measures were being taken to prevent the unscrupulous practices.
"There is no place for price gouging on Amazon," the statement read. "We are disappointed that bad actors are attempting to artificially raise prices on basic need products during a global health crisis and, in line with our long-standing policy, have recently blocked or removed tens of thousands of offers. We continue to actively monitor our store and remove offers that violate our policies."