Canadian Man Facing Charges After Allegedly Posting Personal Details About Portland Federal Agents Online
A Canadian man is facing charges after allegedly posting online the personal information of federal agents deployed to Portland.
Robert Bernard Hickey, 44, was arrested by agents from Homeland Security Investigations and U.S. Customs and Border Protection on Friday, U.S. Attorney Billy Williams' office announced on Monday.
Hickey is facing charges for "harassing and stalking federal employees assigned to assist the Federal Protective Service with ongoing civil unrest in Portland," Williams' office said in a news release.
The Canadian national used his Twitter account, @TawasiSoce, to "knowingly release personal information of these employees in an attempt to threaten, intimidate, or incite violence against them," the release said.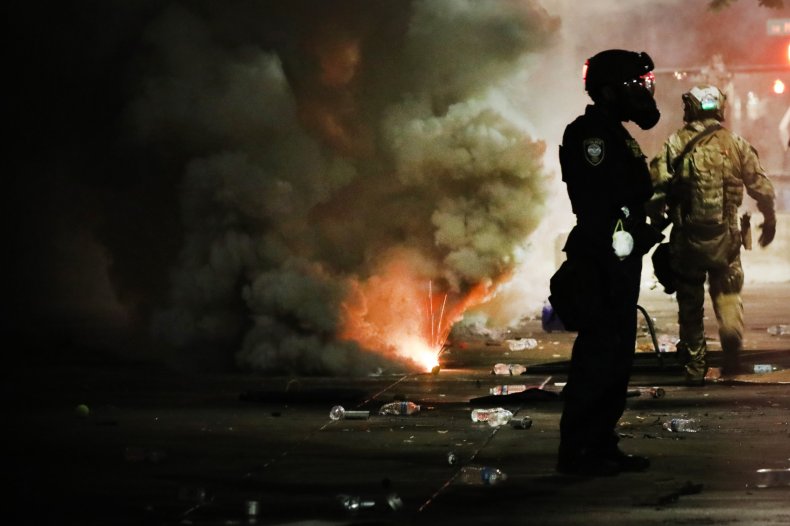 The last tweet posted on the account was sent on Friday, suggesting the person running it had been outside the Mark O. Hatfield United States Courthouse in downtown Portland.
"Fireworks are being fired at the courthouse. The goons are likely to come out soon," it said. "Seems like the goons wait for someone in the crowd to attack, then use that to justify force."
Twitter has been contacted for comment.
Portland has seen protests against racism and police brutality for more than 60 consecutive nights since the death of George Floyd in Minneapolis police custody in May.
Over the July 4 weekend, President Donald Trump deployed federal forces to the city to quell unrest and protect federal property, but local and state officials have said they are exacerbating the situation.
Numbers of nightly protesters outside the federal courthouse in downtown Portland had been dwindling until the deployment of federal forces galvanized protesters into action.
Thousands of protesters have been gathering on a nightly basis in recent days and have clashed repeatedly with federal agents, who have repeatedly fired tear gas and flash bangs at protesters.
While the majority have been peaceful, some have thrown objects at federal agents and attempted to tear down fencing erected in recent days to protect the courthouse.
Portland Mayor Ted Wheeler and City Commissioner Jo Ann Hardesty have called for a meeting with Acting Homeland Security Secretary Chad Wolf to "discuss a cease-fire and the removal of heightened federal forces from Portland," he wrote on Twitter.
But earlier on Monday, Williams, whose office is located inside the federal courthouse, said militarized federal agents would remain in Portland until attacks on the building stop.
"It is not a solution to tell federal officers to leave when there continues to be attacks on federal property and personnel," Williams said, according to The Associated Press. "We are not leaving the building unprotected to be destroyed by people intent on doing so."
Some protesters have slammed Wheeler for speaking out against the presence of federal agents since Portland police used tear gas and other riot control weapons on peaceful protesters under his watch before their arrival.
Last week, Wheeler was met with jeers when he joined protesters near the courthouse and was later teargassed.
President Donald Trump tweeted on Monday that federal buildings in the city "wouldn't last a day" without the protection of the federal agents.
"Homeland Security or Federal Forces are little involved in Seattle, other than we have a large standby team in case of emergency," he wrote. "In Portland, we are protecting Federal property, including the Courthouse, which wouldn't last a day!"