Canadian Man Finds Kidney Donor from Billboard Posts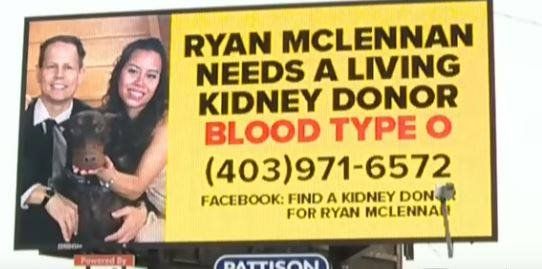 A Canadian man has found a kidney transplant donor after posting several digital billboard signs around Calgary earlier this year.
Ryan McLennan, a shop teacher, found a match in Tony Timmons, who saw the billboards and decided to donate his kidney during a surgical procedure scheduled for Wednesday, according to CTV News.
"A match has been found and a surgery date booked," McLennan revealed in a Facebook post, written on Friday. "It is the most incredible thing and a chance to live without pain every day; a chance to get some of my life back! The road ahead is unknown, but I have hope."
In February, McLennan and his wife Shakina purchased 27 black and yellow digital signs around Calgary, which included the message: "Ryan McLennan needs a living kidney donor" who has blood type O.
The billboards featured a photo of the couple, a phone number for potential donors to contact them and a Facebook page launched by the family in order to spread the word of McLennan's story in hopes of finding a potential kidney donor match.
"I didn't think it was going to happen," McLennan told CTV Calgary. "I just thought, this is going to be my life; I'm going to be on dialysis forever."
The billboard campaign led to 170 inquiries to The Kidney Foundation, while 50 people applied to donate their organs and 30 underwent testing, according to CTV News.
Timmons said that he noticed the billboard en route to work and decided to call that night.
"There's people waiting for organs that are dying," Timmons told CTV News, noting that he hopes a stranger would do the same for him. "I've got two, so why not?"
McLennan told CBC that he was surprised that the billboards worked.
"You don't believe it," he said. "Your head is in the clouds and you just can't believe that this day is going to come....
"It's almost like you're drowning and someone jumps in and saves you — and it takes sometimes a very, very, very special person to do that."
McLennan also revealed that he has since gotten to know Timmons, who was initially a stranger, leading up to their scheduled surgical procedures.
He also expects the transplant to change his life "100 percent."
"I'm getting a third chance. I mean, right now, I'm very restricted in so many of the things I can do," he said. "I know what it's like to have a transplant and I know what it's like to change my life, so that's why this one's so important."