Canadian Man Fined $13,000 for Lewd Gestures and Burping at Neighbors
A Canadian court has fined a man the equivalent of almost $13,000 for belching, farting and making lewd gestures at his neighbors for years.
Reno Pellegrin had filed a claim against John and Sherri Wheeldon for assault and ongoing nuisance in a court in British Columbia. The couple filed a counter-claim, alleging years of torment by Pellegrin that had turned what they described as their "dream home" into a nightmare.
Judge Catherine Crockett sided with the couple and ordered Pellegrin to pay $16,801 CAD (around $12,700), much of it for damage done to a wall separating their properties in Campbell River, British Columbia.
"People need to be discouraged from similar 'bad neighbour' type behavior," she wrote in her decision. "He, and others, must be deterred from similar conduct in the future."
But John Wheeldon told CBC News the damages awarded to them were a "drop in the bucket" compared to the emotional trauma he and his wife have endured for years. According to his estimate, he has spent around $85,000 on the case.
"Money doesn't replace six years for the way this guy's carried on," he told the outlet. "I see a nightmare with my eyes wide open."
Tensions arose between the neighbors in 2008 after the Wheeldons built a sports court as well as a retaining wall between their property and Pellegrin's, according to the judge's ruling.
A miscalculation of the property line led to Wheeldons to inadvertently build part of the wall on Pellegrin's property, Crockett said, and the incursion is at most around seven inches. But the judge noted that Pellegrin had testified the wall actually benefited him.
The relationship broke down in 2014, the judge said, after Pellegrin dumped around 20 pounds of dog faces along the property line on April 26 that year.
"Mr. Pellegrin believed the dog feces was on his side of the line, but, in fact, it was not," Crockett noted. "Regardless, he testified that he put the feces there as a message to the Wheeldons to stay off his property."
Crockett said the incident was prior to a limitation period, but otherwise, she would have awarded the couple damages for that too.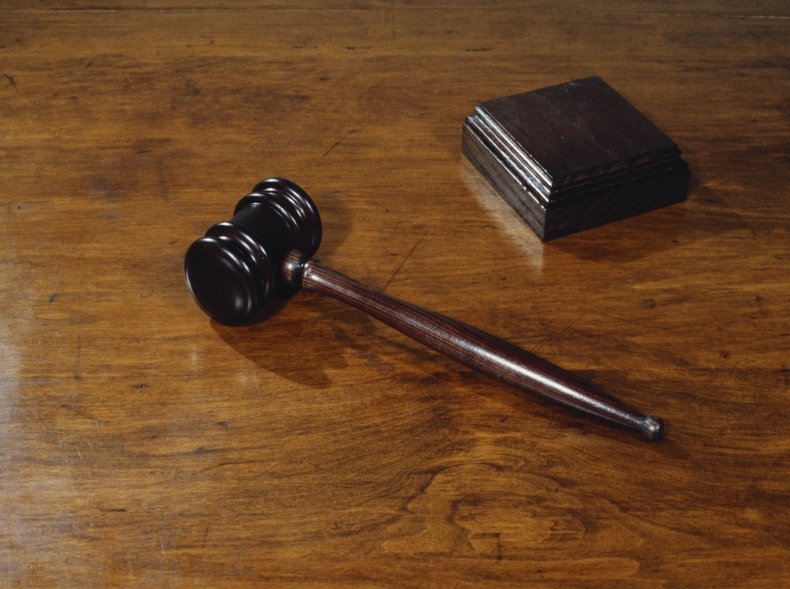 A short time after that incident, John Wheeldon decided to build another fence on the property line and Pellegrin ripped out his line and stakes twice before it was completed.
In June 2014, when Sherri Wheeldon handed a friend who worked for a surveying company a copy of a 2007 property line survey, Pellegrin grabbed it from the man and crumpled it up. He then grabbed his crotch and made lewd comments at Sherri Wheeldon, which was witnessed by her son.
"It is important because Mrs. Wheeldon testified that this was the first in a series of lewd gestures and comments that Mr. Pellegrin made to her in the subsequent years," Crockett wrote in her ruling.
On December 15, 2015, Pellegrin, dressed in orange coveralls and a hard hat, took to the retaining wall with a jackhammer, the judge said.
When Sherri Wheeldon rushed outside and told him to stop, Pellegrin "started laughing" and told her that "her husband should not have thrown a rock at him, and said repeatedly that Mr. Wheeldon was going to spend the night in jail."
A police officer was called, but became upset and left because Pellegrin had started his jackhammer in close proximity to her and she had recently recovered from a concussion. The officer told Sherri Wheeldon it was a civil matter.
When the Wheeldons' son and a friend tried to take down a mesh fence, Pellegrin continued using his jackhammer and "laughing like Santa Claus, saying 'Ho ho ho. Merry Christmas," the judge wrote.
The judge added that she had reviewed video footage where Pellegrin can be heard saying "hope you and yours have a merry merry Xmas" and "this is what you get for treating people like sh**."
Sherri Wheeldon testified that Pellegrin had taunted her during that incident, making a lewd that he regularly used.
"One gesture Mr. Pellegrin made repeatedly was poking his tongue in his cheek to simulate oral sex," the judge wrote. "Mrs. Wheeldon testified that Mr. Pellegrin will also grab his crotch, put his hand into the crack of his buttocks, and belch and fart as he passes her when she is outside on her property."
Crockett rejected Pellegrin's claim of assault, ruling John Wheeldon had acted in self-defense when he picked up a rock as Pellegrin advanced towards him with a weed-eater in May 2015.
She awarded him a total of $2 CAD ($1.50), half for the Wheeldons walking onto his property and the other half for the ongoing trespass of the retaining wall.
The Wheeldons have been contacted for comment. Pellegrin could not be reached.