Canadian Man Wins Lottery, Celebrates Birthday and Retires on Same Day
A man in Canada has had a truly amazing 24 hours, winning C$2 million ($1.5m) on the lottery on the same day as his birthday and retirement.
Vancouver resident Ping Kuen Shum was already in high spirits after celebrating his birthday and retirement on April 28, when he decided to buy a ticket for the BC/49 draw the same night.
Amazingly, all six of Shum's numbers—09, 12, 13, 18, 21 and 29—came through, winning the birthday boy the entire C$2m jackpot.
Shum said he celebrated with a dim sum meal alongside family and friends. He is also planning on spending his winnings on a trip to China.
"It's unbelievable that all three events happened on the same day," said Shum. "I have worked hard for so many years and I'm looking forward to sharing this fortune with my family."
Shum purchased the winning ticket at the Parker Place Convenience Centre in Richmond, British Columbia.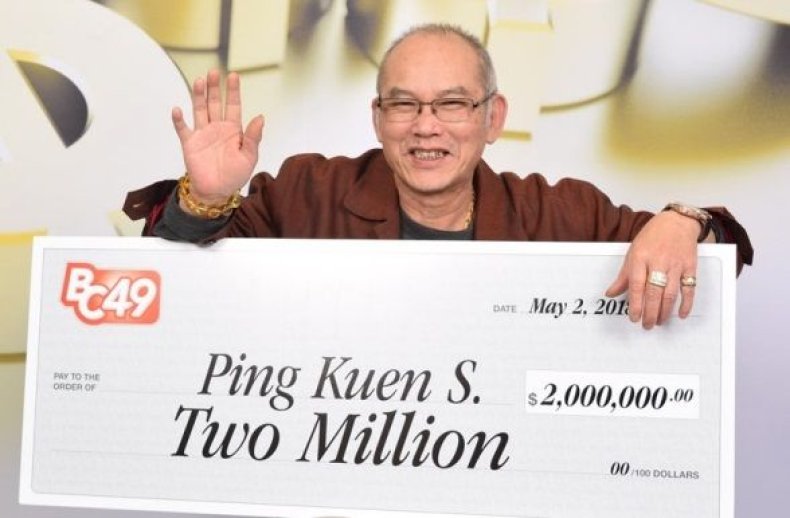 According to the British Columbia Lottery Corporation (BCLC) the odds of winning the BC/49 jackpot are one in 13,983,816.
The BCLC said they were unable to disclose how old Shum is or where he retired from, reports the BBC.
The BC/49 is a British Columbia-only lottery, which takes every Wednesday and Saturday in the Canadian state.
In March, a teenager in Canada celebrated winning the lottery on the milestone of her 18th birthday.
Charlie Lagarde, from Quebec, purchased the ticket along with a bottle of champagne to celebrate her birthday, and and won the C$1m jackpot.
Lagarde ended up taking the money in C$1000 weekly sums for rest of her life, rather than one lump sum.
"It's without taxes so it's equivalent to a salary of more than C$100,000 a year, so it's a great start in life for that young lady," Patrice Lavoie, a spokeswoman for Loto-Quebec, told the Canadian Press.
"That was her first lottery ticket ever and she fell upon a winning ticket."