Canadian PM Justin Trudeau Called a 'Phony' and 'Fraud' by Conservative Candidate in Debate
Canada's liberal Prime Minister Justin Trudeau immediately found himself on the defensive as the country's federal election debate began Monday night. Conservative leader Andrew Scheer started the evening by saying Trudeau was a "fraud" and "phony" who didn't deserve to govern Canada.
Someone from the audience asked Scheer how he would represent Canada's interests and values on the world stage, and Scheer took off the gloves and began swinging at Trudeau.
"Mr Trudeau you are a phony and you are a fraud, and you do not deserve to govern this country," Scheer said, according to the Canadian Broadcasting Company report.
Scheer brought up the fact of Trudeau wearing blackface, but saying the prime minister did not know exactly how many times he had done it. He said Trudeau pretended to value the Indigenous people of Canada, right before he fired his Indigenous attorney general.
Scheer went on to say that although Trudeau claims to be a champion of the middle class, he continually raised their taxes. Trudeau later refuted things Scheer claimed were fact.
Trudeau, since the debate, has used the Twitter platform—in both English and French—to say he has supported Indigenous people the last four years.
"In 2015, we promised a new relationship with Indigenous Peoples. We'll keep moving this important relationship - and our country - forward," Trudeau tweeted.
Trudeau also says he has cut taxes for small businesses and given bigger tax breaks to the middle class. He also claims Scheer wants tax breaks directed toward the wealthiest businesses and residents.
"@JustinTrudeau *cut* taxes for Canadian small businesses – from 11% to 9%. That's the lowest rate in any G7 country. Andrew Scheer is proposing a tax cut for the wealthiest 1%," Trudea wrote (with an accompanying tweet that followed in French).
In another tweet directed at Scheer, Trudeau wrote, "You're offering a $50,000 tax break — which is more money than most Canadians earn — to the wealthiest Canadians with your plan."
Trudeau also backed up his stance several fronts, from taxes to women's rights to stronger gun control, better drinking water, a sustainable plan to fight climate change and a better funding model for renovated housing units and K-12 education.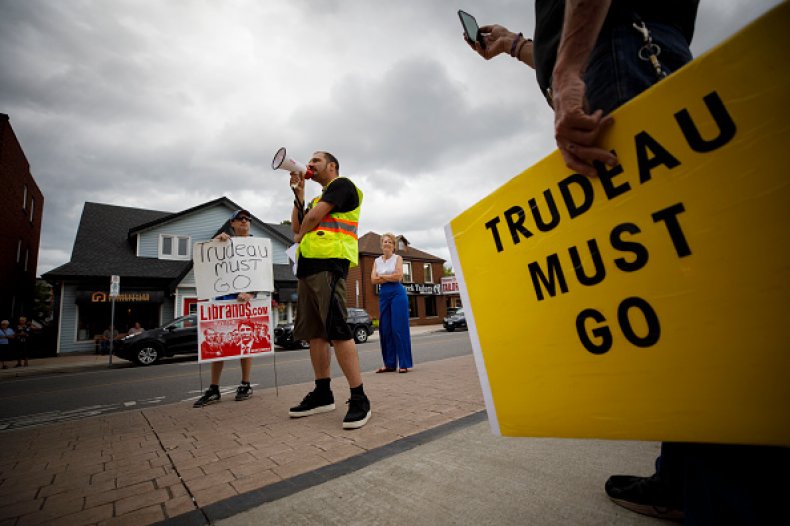 This was the lone English-only debate with all six major party leaders, and it was carried live on CBC Monday night. The Monday debate was a unique structure of five segments: a voter asking a question, one from a moderator, one leader asking another leader a question, and then two leaders going face-to-face.
Monday's topics centered around environment and energy, economic insecurity, human rights and immigration, Indigenous issues and Canadian leadership around the world
The moderators Monday were Rosemary Barton of the CBC, Lisa LaFlamme from CTV, Dawna Friesen from Global News, Althia Raj of HuffPost Canada and Susan Delacourt from the Toronto Star.
Canadian PM Justin Trudeau Called a 'Phony' and 'Fraud' by Conservative Candidate in Debate | World