Canadian PM Justin Trudeau Faces Backlash For Not Staying at Designated Quarantine Hotel After G7 Summit in UK
Canadian Prime Minister Justin Trudeau is facing backlash for not staying at a designated quarantine hotel after this weekend's G7 summit in the U.K.
Trudeau's office has confirmed that the prime minister and the Canadian delegation will quarantine in an Ottawa hotel once he arrives from his first international trip since the pandemic began, and will remain there until his PCR test comes back negative.
Trudeau flew out of the nation's capital of Ottawa on Thursday; Canadian prime ministers do not fly commercial due to security reasons. However, Ottawa is not among the Canadian cities that accept international flights during the coronavirus pandemic.
International arrivals have been diverted to major airports in four cities—Toronto, Montreal, Vancouver and Calgary—where Canadian travelers have had to quarantine for up to three days (pending a negative PCR test) in a government-designated airport hotel.
The mandatory hotel stay has been in place since February with officials suggesting that the 72-hour stay would rack up to $2,000.
On Wednesday, the government announced that fully vaccinated Canadian citizens would no longer have to complete a hotel quarantine, instead isolating at home until the negative COVID test comes back.
But Trudeau has only received his first dose of the AstraZeneca COVID vaccine.
In a press release issued last week, Trudeau's office said, "The Prime Minister and the Canadian delegation traveling to the U.K. and Belgium will follow strict public health protocols and procedures during their visit, while in transit, and when they arrive home."
In comments sent to Newsweek, Trudeau's press secretary Alex Wellstead added that, "These strict public health protocols, which include hotel quarantine in Ottawa, are for the Prime Minister and all of the delegation—including media—and are the same strict protocols every other traveler has to abide by."
However, other elected officials have disagreed that Trudeau's plan follows the same protocols that other Canadian travelers have had to adhere to.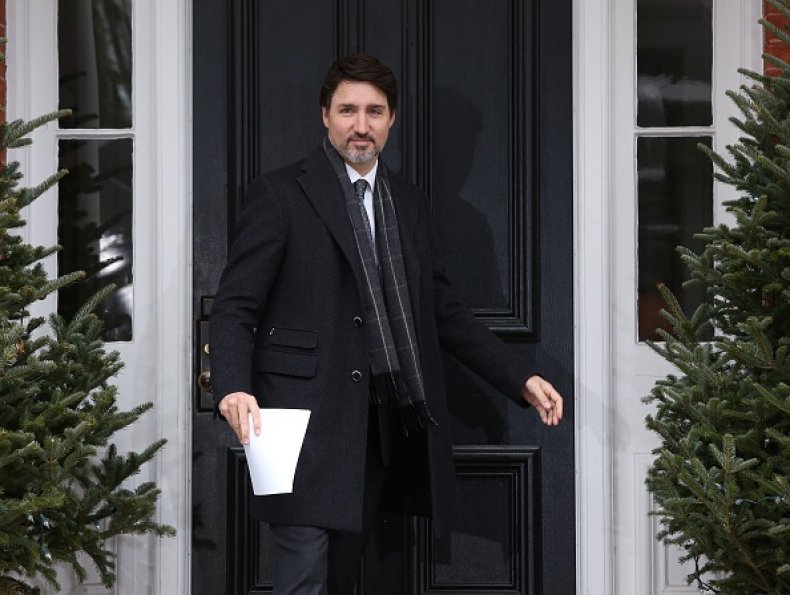 At the House of Commons Health Committee, Conservative MP John Barlow questioned the head of Public Health Agency of Canada Ian Stewart about Trudeau's quarantine plans.
"I just find it strange that the prime minister of our country is traveling internationally, which he's asking every Canadian not to do, and there wouldn't be a very detailed strategy and plan for his quarantine," Barlow said.
Stewart said the agency was focused on making sure that international travelers are being tested and not spreading the virus, which Trudeau's plan follows.
Conservative MP Michelle Rempel Garner also called out Trudeau in a tweet, writing: "I guess the hotels where the alleged sexual assaults and COVID-19 outbreaks didn't cut it for Trudeau—he gets his own special hotel at your expense. One set of rules for him, one for everyone else."
On Tuesday, Garner proposed a motion demanding that the prime minister stays at an already approved site in one of the four cities where international arrivals have been limited to.
A government advisory panel has already recommended an end to the hotel quarantine program but the recommendation remains under review by the federal government, which on Thursday, increased the fine to $5,000 for travelers who refuse to complete the program.
Because Canada has focused on getting at least one shot into every citizen's arms, few will be exempt from the hotel quarantine. While nearly 70 percent of Canadian adults have at least one dose of a COVID vaccine, only 7 percent are fully vaccinated.
All nonessential travelers, including tourists who are neither Canadian nor permanent residents, are barred from entering the country at this time.
The Canadian-U.S. border has also been closed for more than a year now, with current restrictions set to expire on June 21.
Newsweek reached out to Trudeau's office for comment but did not hear back before publication.