Canadian Protesters Face Investigation After National Hero Statue Defaced, Swastikas Found
Canadian police have opened several investigations into Saturday's anti-vaccine mandate protest in Ottawa after a statue of national hero Terry Fox was defaced and several swastika flags were seen at the demonstration.
Authorities are also investigating reports that protesters were intimidating officers and other city workers throughout the day as the Freedom Convoy, a cross-country trucker protest of COVID vaccine mandates, arrived at the nation's capital.
Photos from the weekend rally show that a statue of Canadian icon Terry Fox had been covered with a sign reading "mandate freedom" with an upside-down Canadian flag placed in the statue's hands.
Fox, a cancer patient and activist, became a national hero in 1980 when the 22-year-old amputee ran across the country for the "Marathon of Hope" to raise awareness and money for cancer research.
Although Fox lost his battle to cancer before he could complete the journey, he became hailed a national inspiration. The annual Terry Fox run continues to take place each year as the world's largest one-day fundraiser for cancer research. His foundation has raised over CAD $850 million to date.
"Several criminal investigations are underway in relation to the desecration of the National War Memorial/Terry Fox statue, threatening/illegal/intimidating behavior to police/city workers and other individuals and damage to a city vehicle," the Ottawa Police Service announced on Sunday.
"Illegal behavior will not be tolerated and will be fully investigated," the police statement said. "We have investigative and evidence-gathering teams in place to support the management of the demonstration."
Saturday's incident drew widespread criticisms, with politicians on both sides of the aisles condemning the desecration of the statue.
"No one should ever try and take the feelings Canadians have about Terry Fox and use them for their own political purposes," Brad West, the mayor of Fox's hometown Port Coquitlam, told Global News. "It's disgusting, it's wrong and it's also not going to work. I think this has backfired tremendously on whoever thought that was a good idea."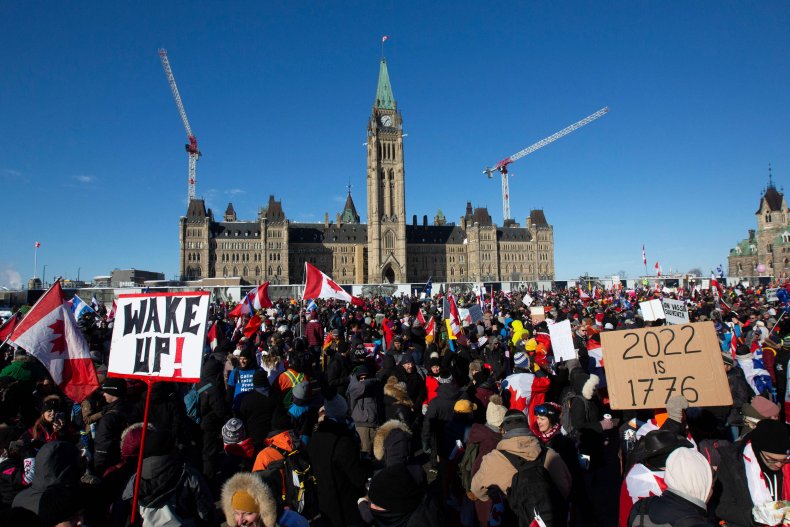 Federal opposition leader Erin O'Toole also tweeted, "Our country was built by Canadians who sacrificed and inspired for their generation and for generations to come. These individuals include Terry Fox, who ran across our country to raise awareness of cancer, and Nathan Cirillo who paid the ultimate sacrifice."
"I support the right to peacefully protest but that should not be confused with blatant disrespect for the men and women who have served, inspired, and protected our country," O'Toole wrote. "The individuals desecrating these memorials should be ashamed and their behavior undermines the brave Canadians who have sacrificed for our country."
In its latest update, Ottawa police said it saw "multiple cases of disruptive, inappropriate and threatening behavior from demonstrators" over the weekend.
Footage from the rally shows protesters climbing on the cenotaph at the National War Memorial and a woman dancing on the Tomb of the Unknown Soldier. The appearance of several swastika flags was also captured on camera.
General Wayne Eyre, the chief of the Defense Staff, said he was "sickened" by the videos, adding that "Generations of Canadians have fought and died for our rights, including free speech, but not this. Those involved should hang their heads in shame."
Police are continuing to warn residents to avoid the downtown core of Ottawa now that a number of the protesters have expressed their intentions to stay and continue demonstrating.
Authorities are advising people to work from home and check with their children's school to ensure buildings will be open Monday.
Ottawa police have priced the financial costs of policing the demonstrators at $800,000 per day.