Canadian Teen's Potential Drug Overdose Filmed And Then Shared On Social Media, Family Says
A 14-year-old from Langley, British Columbia died of an apparent drug overdose on Wednesday at a skatepark, while witnesses stood by and captured video on their cellphones.
Carson Crimeni was still breathing when his grandfather, Darrel Crimeni, found him lying on the ground Wednesday evening at Langley Skatepark, but after paramedics performed CPR and rushed him to the hospital, the young teenager was pronounced dead, according to CBC. The RCMP (Royal Canadian Mounted Police) are still looking to talk with anyone who may have spoken to Crimeni in his final hours.
Crimeni's family said on Friday they believe someone gave the boy drugs. Witnesses stood by and captured video of the boy overdosing, they said, those videos later posted to social media. The teen was alone when his grandfather discovered him about 9:30 p.m.
"They left him to die," Darrel Crimeni said.
Carson was seen at the skatepark in the early afternoon Wednesday, according to CTV News Vancouver, with a group of boys who witnesses say were taunting him and recording video as his condition worsened.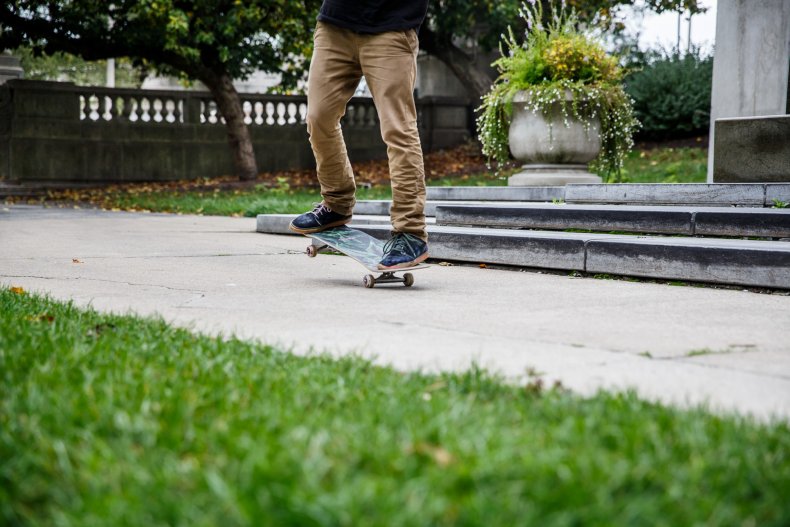 Darrell Crimeni said he saw some of the social media posts, including videos showing Carson in distress as others laughed and filmed him. One photo of the event, taken later in the evening, shows a young man laughing with a caption that read, "Carson almost died LOL."
Aron Crimeni, the teen's father, said he became worried on Wednesday when his son failed to return multiple phone calls earlier in the evening.
"Next thing you know, I got a call from my dad saying he found him. The ambulance is working on him," Aron Crimeni said. "'He's in bad shape, really bad shape.'"
On Thursday night, several hundred people gathered for a vigil at the skatepark.
Aron Crimeni said he was uplifted by the show of support at Thursday night's vigil, calling his son's death a tragedy.
"Even just the smallest thought that a call to 911 a couple hours earlier could have changed...the whole story is devastating. It really is," Aron told reporters on Thursday. "I just would expect when people see somebody in danger to do something to help them."
Friends and family of the Crimenis have started a GoFundMe page in Carson's memory. At this point, doctors who treated Carson haven't been able to tell his parents what he ingested that could have contributed to his death.