Canadian truckers in the southern Alberta town of Coutts ended their blockade at a U.S. border crossing Tuesday, one day after Prime Minister Justin Trudeau invoked extraordinary emergency powers in response to the protests taking place across the country.
Canadian police arrested and detained 11 people at the Coutts protest Monday after finding a cache of weapons and ammunition. The abandonment of the blockade is only a partial win for Canada and Trudeau as the protests and blockades continue in other parts of the country, such as Ottawa. The Canadian capital's residents have complained of being harassed and intimidated during the demonstrations by hundreds of truck drivers and others against COVID-19 restrictions.
The blockade at the Coutts crossing had obstructed trade for two weeks before the truckers drove out with blaring horns, the Associated Press reported.The Canada Border Services Agency (CBSA) tweeted Tuesday afternoon that normal border processing had resumed at the crossing.
The blockade ended just a day after the Alberta Royal Canadian Mounted Police (RCMP) announced that they had arrested 11 individuals at the Coutts protest. Police had been made aware of a small organized group at the protest and executed a search warrant on trailers associated with the group.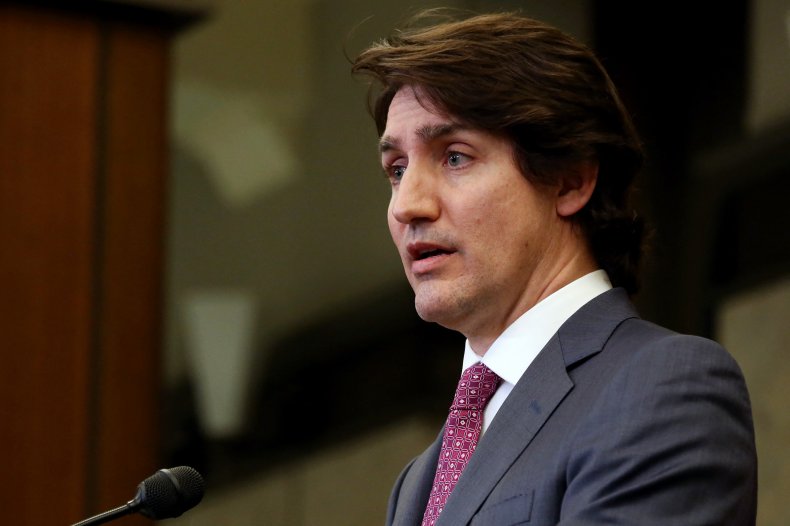 The search uncovered guns, body armor, a machete, ammunition and high-capacity magazines, Newsweek previously reported.
The night before the arrests, a large farm tractor and a semi-truck from the blockade allegedly tried to ram a police vehicle, but the officer was able to reposition his car to avoid being struck, the RCMP said. Police identified the tractor's driver and seized both the tractor and semi-truck.
The Alberta RCMP confirmed in a tweet Tuesday that the border crossing was open, but said that traffic was moving slowly and urged people to avoid the area when possible.
Newsweek has reached out to the RCMP for comment.
Ottawa Police Chief Peter Sloly resigned Tuesday amid backlash for not squashing the protests in their early stages. The protests began in response to Canada's mandate that requires truckers to either get fully vaccinated against COVID-19 when crossing the U.S.-Canadian border or quarantine for two weeks.
The movement has since expanded to protest other pandemic measures like mask requirements.
A government official who spoke on condition of anonymity confirmed Sloly's resignation to the AP.
Trudeau's invocation of the emergency powers on Monday included measures and steps meant to bolster local and provincial law enforcement with federal police and cut off funding for the protestors.
"The blockades are harming our economy and endangering public safety," Trudeau said during a news conference. "We cannot and will not allow illegal and dangerous activities to continue."
Update 02/15/22, 2:55 p.m. ET: This article has been updated with further information from the Alberta RCMP and background.
Update 02/15/22, 2:25 p.m. ET: This article has been updated with additional information and background.