A truck driver fighting Canada's vaccine mandates hasn't been able to see his sick 9-year-old daughter in months because neither he nor his wife are vaccinated.
Jake Klassen, 39, is among the truck drivers blocking the Emerson crossing on the U.S.Canada border between Manitoba and North Dakota in protest of vaccine mandates and pandemic-related restrictions. A critical border crossing for imports, protesters have been blocking the passage for about a week, although an agreement was reportedly reached this week and truckers reportedly have started leaving the area.
Klassen, a trucker for close to 20 years, told Fortune he brought two campers and a semi-trailer to the Emerson blockade. The vehicles could be seized, according to Fortune, and Klassen said he's risking "everything I have" because he wants to "have my own choice."
The 39-year-old and his wife aren't vaccinated against COVID-19 and it's meant giving up physical access to their daughter. He said their 9-year-old daughter is receiving palliative care at St. Amant, a care residence in Winnipeg, and the facility requires that visitors be vaccinated.
"This is something worth fighting for," Klassen said.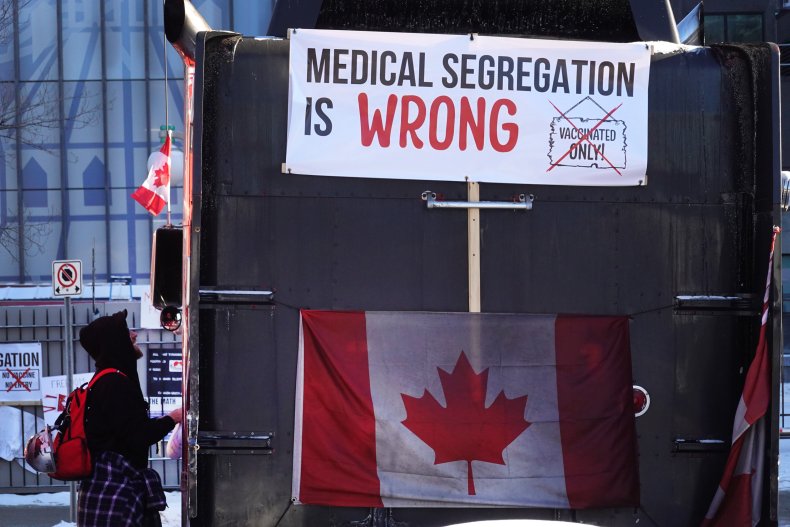 The "Freedom Convoy," a group of Canadian truck drivers, has been protesting COVID-19 restrictions for weeks, causing turmoil with trade across the United States and Canada border. Prime Minister Justin Trudeau activated the Emergencies Act, a rarely used emergency power, that was intended to cut off funding to protesters and reinforce law enforcement with federal police. It allows the government to ban public assembly in specific places and requisition trucks to manage the situation.
In announcing the invoking of the Emergencies Act, Trudeau said the blockades were harming the "economy and endangering public safety." Manitoba Premier Heather Stefanson and Justice Minister Kelvin Goertzen said the Emergencies Act isn't necessary in the area, according to CBC News, and the Canadian Civil Liberties Association said the government didn't meet the necessary standard.
However, Simon Resch, who co-owns the Duty Free Shop on the border in Emerson, backed Trudeau's decision. Customers have not been able to get to his shop since the protest began last week and he said Trudeau invoked the Emergencies Act to avoid "situations like what I am faced with."
Chief Superintendent Rob Hill with the Manitoba Royal Canadian Mounted Police said in a statement on Tuesday that they were "confident" a resolution was reached and full access to the Emerson port of entry would be "restored." He added that they expect the process of people leaving the area to be completed by Wednesday afternoon.
Along with not believing the Emergencies Act is necessary, Stefanson and Goertzen called for the lifting of border restrictions, including the vaccine mandate for truckers. They added that the federal government needs to ease tension by "clearly communicating a plan and timetable" for relaxing all border measures.
Protests began as opposition to a requirement that all truckers cross the U.S.-Canadian border be fully vaccinated. However, they've since transformed into rallies against all COVID-19 restrictions.