Canadian Truckers Blocking Emergency Vehicles at Border May Face 'Appropriate Action'
Alberta Premier Jason Kenney on Sunday called for an end to a demonstration of truckers blocking the Canadian border with Montana, saying that the convoy violates laws and that "appropriate action" would be taken against protesters who break the law.
The blockade is situated along a highway at the border. The demonstration is part of what's known as the "Freedom Convoy," which protests a COVID-19 vaccine mandate for truckers crossing the U.S.-Canada border. The protests have wreaked havoc in Ottawa and around Canada in recent days.
"As I said last week, Canadians have a democratic right to engage in lawful protests. I urge those involved in this truck convoy protest to do so as safely as possible, and not to create road hazards that could lead to accidents or unsafe conditions for other drivers," Kenney said in a statement.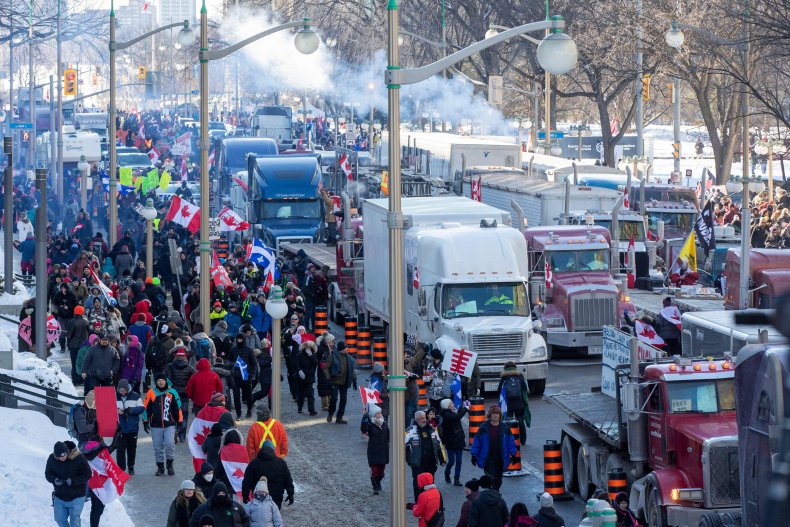 The Canada Border Services Agency said the Coutts border crossing in southern Alberta remained open over the weekend, but the Royal Canadian Mounted Police noted it was accessible only by foot traffic. On Sunday, Mounties continued to attempt to negotiate with protesters to allow for the highway to reopen for vehicles where trucks blocked the border.
"The current blockade of Highway 4 at the Coutts border crossing violates the Alberta Traffic Safety Act," Kenney said. "It is causing significant inconvenience for lawful motorists and could dangerously impede the movement of emergency service vehicles. This blockade must end immediately."
In the statement, which was posted on Twitter, the premier added, "If participants in this convoy cross the line and break the law, I expect police to take appropriate action."
Kenney has said in the past that vaccine restrictions could disrupt the supply chain between the U.S. and Canada, and a member of Kenney's United Conservative Party posted a photograph on Facebook of himself between trucks at the protest.
"I brought the grandkids down to the Coutts border today to show them the importance of standing up for freedom and liberty," Grant Hunter, the MLA (Member of the Legislative Assembly) for Taber-Warner, wrote in his post.
The political opposition in Alberta called on Kenney to come out stronger against the blockade, as well as to condemn Hunter.
Rachel Notley, the New Democratic Party leader and a former premier of Alberta, said her party "unequivocally condemns" the Coutts blockade.
"We are calling on Premier Jason Kenney to denounce this blockade of Alberta's only international border crossing and work to restore full access to Coutts for emergency vehicles and transportation," Notley said in a statement. "The premier must also formally direct his MLA for Taber-Warner to end his participation in this blockade of Alberta's economy."