Organizers of a demonstration protesting vaccine mandates outside Canada's Parliament have reportedly said they have enough money to keep trucks there for up to four years.
Thousands of protesters converged on Parliament Hill in Ottawa over the weekend, joined by truckers who had traveled across Canada as part of a "Freedom Convoy."
Although initially organized to oppose vaccine mandates for truck drivers crossing the Canada-U.S. border, it has grown in recent days into a movement against COVID-19 restrictions in general, and Justin Trudeau's government.
The demonstration in Ottawa on Saturday saw truckers block the streets around Canada's parliament building.
Some have pledged to stay in the area to continue their protest.
Convoy organizers say they have enough funds to keep trucks on Parliament Hill for up to four years, according to Keean Bexte, an independent Canadian journalist.
It comes as a GoFundMe campaign called "Freedom Convoy 2022" surpassed more than $7.1 million ($9.1 million CAD) in donations.
The page was launched earlier this month by Tamara Lich, the secretary of the Maverick Party, to help truckers with the cost of gas and other expenses for the demonstration.
Lich has been contacted for comment.
Ottawa Police said on Sunday that officers have been "actively and patiently managing a well-funded, major demonstration in the downtown core" and that there had been "multiple cases of disruptive, inappropriate and threatening behavior from demonstrators."
Police "are aware that many demonstrators have announced their intention to stay in place," the statement added. "This will continue to cause major traffic, noise and safety issues in the downtown core. We urge all residents to avoid travel to the core."
In an earlier statement, police said several investigations were underway into the "desecration" of monuments in the Canadian capital and threatening, illegal and intimidating behavior towards police and city workers.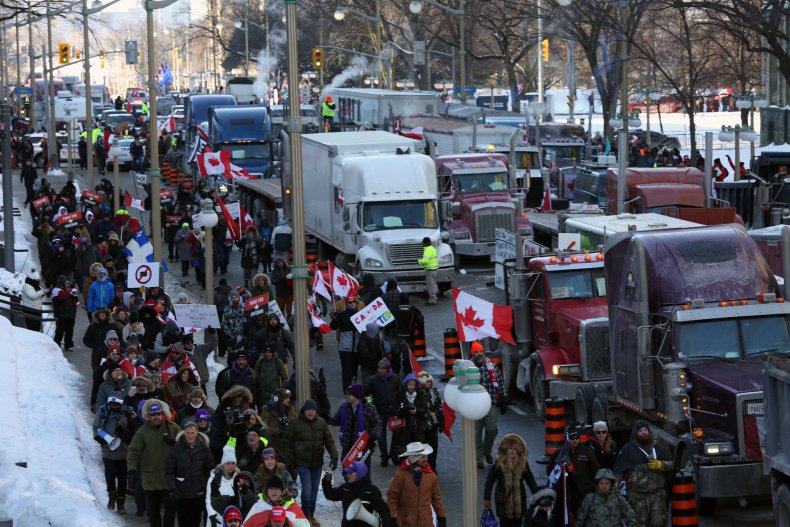 Trudeau and his family left their home in Ottawa over security concerns on Saturday, according to CBC.
The Canadian leader has called the protesters a "small fringe minority" and stressed that the vast majority of the country's truckers are vaccinated.
The Canadian Trucking Alliance, a group that opposes the protest, has said the protesters do not represent the views of most truckers.
"While a number of Canadians are in Ottawa to voice their displeasure over this mandate, it also appears that a great number of these protesters have no connection to the trucking industry and have a separate agenda beyond a disagreement over cross border vaccine requirements," the group said in a statement on Saturday.