Canadian Twitter Explodes After Likely Trudeau Win, American Twitter Does Not
Justin Trudeau has been projected to win a second term as Prime Minister with a minority Liberal government. In a tight race against Conservative Andrew Scheer, Trudeau faced criticism after pictures of him wearing blackface were uncovered. The prime minister also faced allegations of unethical behavior by attempting to get his attorney general to drop charges against a Quebec company, according to Vox.
While Trudeau's party didn't win by a landslide, the Liberals still will have more seats in the parliament than any other Canadian party. Right now, the Liberals are projected to win 161 seats, which is not enough to win a majority in the parliament. Conservatives are projected to win 116 seats.
Canadian Twitter was rapt as election results came in, with both conservative and liberal citizens tweeting their opinions. Canadian resident Marg Ford tweeted she knew Trudeau would continue to "make us proud to be Canadians!"
Get your unlimited Newsweek trial >
Democrats in America were supportive of Trudeau, including former President Barack Obama. The friendship between Obama and Trudeau has been well documented and some saw the former president's tweet as an attempt to sway the vote in a foreign country.
Celebrities got behind the Trudeau campaign on Twitter, encouraging Canadians to head to the polls. Canadian actor Ryan Reynolds said he was proud of the progress made in the climate of British Columbia.
Get your unlimited Newsweek trial >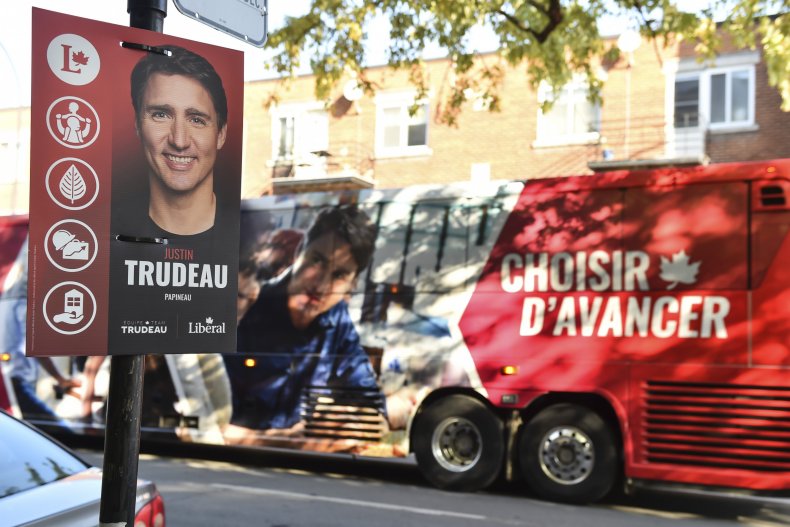 When Trudeau was projected as winner, Liberals celebrated, but Conservatives seemed to be in shock.
Canadian web developer Dale Mugford said he was fine with a minority government as long as things got done. "A divided vote does not means divided country- we're big and diverse and our election reflects that."
Leo Laister echoed the sentiment of many Conservative Canadians when he tweeted, "This is horrible day. 4 more disgusting years... I think I'm going to be physically sick."
Even with an election going on in a neighboring country, American Twitter seemed relatively unconcerned with the outcome. Jessica wondered, "Why is it that Canadians are well informed on American politics? However, Americans have no clue about Canada's federal election."
But the ones who were paying attention seemed to be greatly appreciated by Canadians.
@Zen_Ronin said this was the first election he could remember where Americans realized what was happening. He was surprised at how many Americans were following the Canadian elections.
Geophysicist Mika McKinnon emphasized that Canada is "not an urban country," and explained why environmental policy was so important to Canada. "Coasts are fisheries," she wrote. "West is fossil fuels vs pipelines. North is water shortages & thawing land."
Canadian Twitter Explodes After Likely Trudeau Win, American Twitter Does Not | Politics