A British Columbia resident is thanking heavy metal band Metallica for her narrowly missed brush with a cougar on July 23.
Dee Gallant, 45, and her husky Murphy were out for their usual evening walk just outside of Duncan, BC in the Cowichan Valley. Gallant was only a few miles into the woods when she said she felt "like something was watching" them according to KelownaNow — a local news outlet. They were being stalked by a cougar.
At first, she was intrigued because she'd never seen one that close before, according to CNN.
"I looked over to the right and there it was, I couldn't make it out at first and thought 'oh that is a strange color, that's not a tree,'" she recalled. It wasn't until the predator was moving toward them that she realized what it was.
"Initially I wasn't that scared, I remember thinking 'cool that's a cougar,' and then it was 'why is it still there?' before turning into 'oh my god it's coming toward me, I need to make it stop," she said.
When she realized the animal was approaching her, she yelled, and the cougar stopped moving, but it did not back away. Gallant tried waving her arms and yelling at the animal, saying things like "bad kitty!" and "get out of here!" but the cougar stayed.
According to Gallant, the animal "froze like a statue" keeping its eyes fixated on her and Murphy.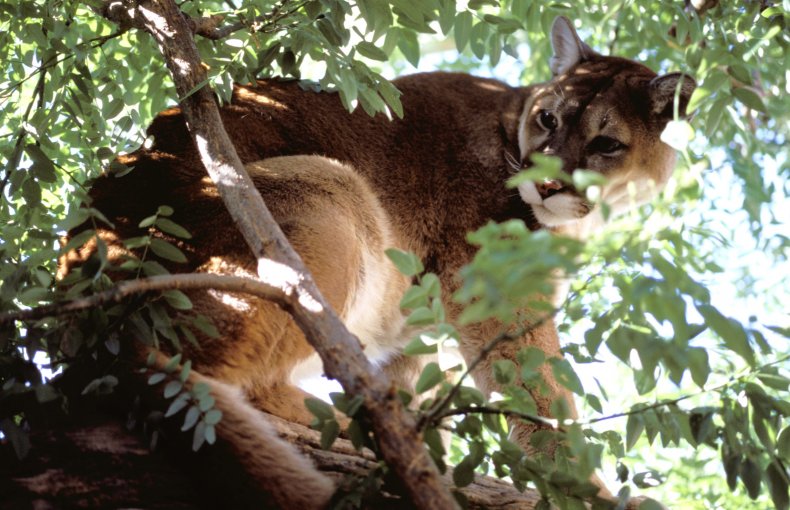 Gallant opened her phone and chose the loudest band she could think of: Metallica. She played the heavy metal band's 1991 hit, "Don't Tread On Me" as both a warning and a plea. "I thought it was the noisiest thing on my phone that would probably scare it, that was also the message I wanted to convey to the cougar," she explained in an interview last Sunday.
As soon as the first notes of the song blared out, the cat ran away into the bush.
The incident lasted a total of five minutes — "I actually thought it was really cool that I got to see a cougar for so long," she said. "I thought it was exciting."
Gallant kept the song on loop for the rest of her hike, making sure to stay in the middle of the road, keeping Murphy close and continuing to stay alert.
After making it back home, Gallant attributes her safety to Metallica, saying she will now never leave home without them.
"I would love to contact them someday and tell James Hetfield that he saved my life," she laughed.