Video of 'COVID Vaccine Death Memorial' Viewed 1 Million Times
A video showing what it describes as a "COVID vaccine death memorial" in Canberra, the capital of Australia, has been watched more than 1 million times on TikTok.
The clip mentions news reports that Canberra is the world's most vaccinated city—and suggests that COVID-19 vaccines have been responsible for many deaths.
This claim is often made by groups opposed to vaccination and conspiracy theorists. The "memorial" posters in Canberra appear to be a stunt by these activists.
However, health authorities in Australia, the U.S. and elsewhere have found no evidence for their claims about deaths.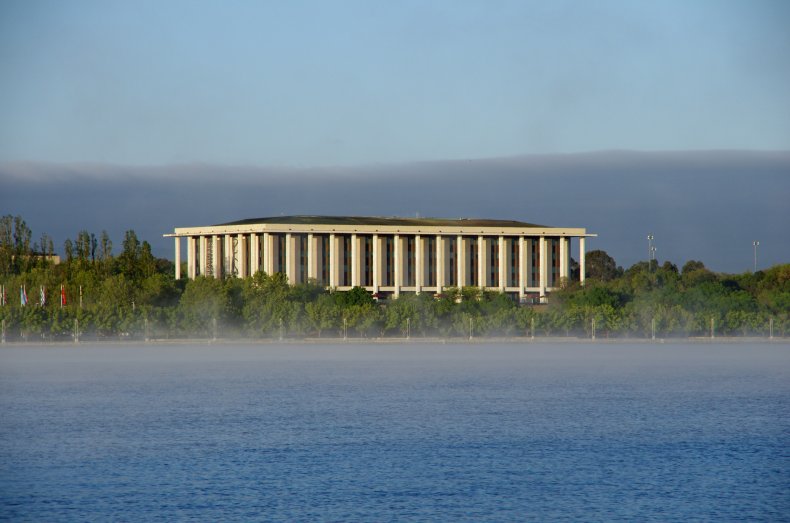 The Australian Department of Health's latest COVID vaccine safety report, published in January, states: "Vaccines can lead to death in extremely rare instances. However, most deaths that occur after vaccination are not caused by the vaccine."
The department "has identified 14 reports where the cause of death was linked to vaccination from 959 reports received and reviewed" since the start of the COVID vaccine rollout.
A spokesperson for the Australian Therapeutic Goods Administration (TGA), which regulates medical products, told Newsweek that only one of those 14 people was under the age of 30, and that no children or adolescents had been found to have died due to the vaccine.
"There have been no new vaccine-related deaths identified since 2022," they said.
More than 65 million doses have been administered in Australia and 96.2 percent of the population has had two or more shots.
Medical events such as heart attacks have occurred among a small number of people who have been vaccinated against coronavirus, but research has found that these incidents are far less common than those among patients infected with the virus itself.
The memorial depicted in the TikTok video appears to have been set up on the Queen Elizabeth Terrace, near the National Library of Australia on the bank of the Molonglo River. Posters describing people who have purportedly died after having the COVID vaccine have been taped to sticks planted in soil.
Similar posters have been put up across Australia in recent weeks, according to Evie magazine. The campaign, known as "Forest of the Fallen," was reportedly started by a woman in Tasmania but has since been taken up by a group called Reignite Democracy Australia.
"The pain that big pharma and the government enforced on all of us also cannot be forgotten," the group said in a January 23 statement. "It is our responsibility to spread the truth."
A video showing one of the memorials was published by Reignite Democracy Australia on March 7.
Australia had 17,900 excess deaths in the first 11 months of 2022, according to the country's Actuaries Institute, which is 11 percent above expected levels for the year. Just over half of those deaths, 10,300, were attributed to COVID-19 and the virus was a contributing factor in a further 2,900.
In October, Alex Berenson, an author and anti-vaccination activist, claimed that the vaccines "are killing people, plain and simple," noting an uptick in deaths in Australia after COVID vaccines began being administered.
However, the Actuaries Institute suggested the excess deaths that were not attributed to COVID could have been down to several other factors, including a higher risk of other underlying conditions deteriorating after fighting the virus; delays in emergency care; and "mortality displacement," wherein people who might have died earlier in the pandemic succumb to an underlying illness later on.
"In large populations in which a new vaccine is given, there are people with underlying diseases who may die from these diseases," the TGA spokesperson said. "When a vaccine is given in that same population, the link between the vaccine and death is usually coincidental—not caused by the vaccine.
"These deaths are carefully reviewed to assess whether vaccines could be the cause and for the vast majority that is not the case."
Newsweek has reached out to Reignite Democracy Australia.
Update 03/10/23, 3:00 a.m. ET: This article was updated to include comment from a Therapeutic Goods Administration spokesperson.